The Curious Incident of the Dog in the Night-Time: The show must go on
When the Apollo Theatre's ceiling collapsed last year, its big production was left homeless. Now, it's playing to a full house of rather surprised school children
Simon Usborne
Wednesday 05 February 2014 01:00 Comments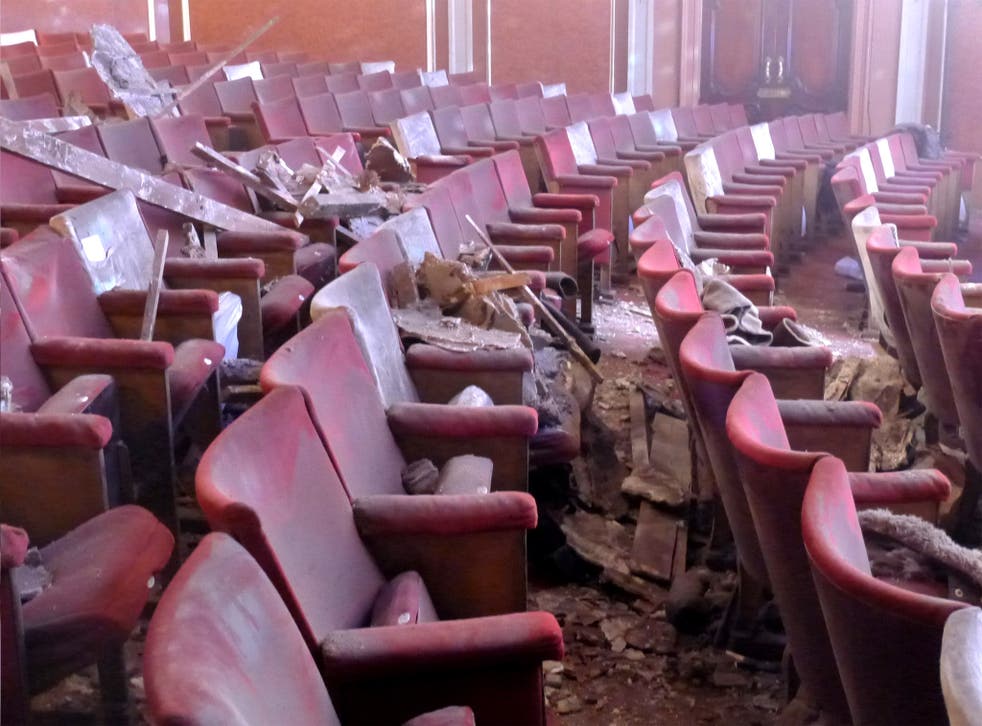 Mike Noble remembers the night the house came down. It was shortly before the interval during The Curious Incident of the Dog in the Night-Time. The young actor plays Christopher Boone, the teenage protagonist of the award-winning production. During a flashback scene featuring the boy and his mother, the packed audience at the Apollo Theatre in the West End – which happened to include me – became distracted by cracking noises.
"As an actor, you can have two minds running on stage," Noble says, recalling the night of 19 December for the first time. "I was really involved in the scene but, at the same time, something in my brain was making up a story of what was happening. At first, I'm thinking someone's been taken ill, and, as they're leaving, there's a load of chairs going, 'buh-dum, buh-dum, buh-dum'."
Many in the audience assumed that the noise was part of the play's innovative soundtrack. But the actors, who had performed it more than 100 times, knew otherwise. The cracks lasted for no more than two seconds. "Then came a big crunch, and I saw the ceiling just collapse," Noble, 25, recalls. "I remember very little about that exact moment because you go into survival mode. I thought the building was coming down, and I ran."
A large section of ornate plasterwork had fallen from the ceiling of the Edwardian theatre in a deluge of dust and debris, taking with it parts of the balcony and a lighting rig. Almost 80 people were injured, six of them seriously. As insurers continue to assess a potentially very costly incident, a leaking roof remains the most likely cause.
For six weeks, the play has been homeless. But it returns this week in a very different setting. On Monday afternoon, seven miles east of The Apollo, more than 150 pupils from schools in Newham, one of the most deprived boroughs in the country, file into Stratford Old Town Hall. The historic room, more typically the scene of functions and trade fairs, has been turned into a temporary theatre. Around 200 seats surround a stage laid over the parquet floor.
The National Theatre, which resumes the play's West End run at the Gielgud Theatre in June, has joined with Newham Council to stage eight special lunchtime performances. During the next two weeks, more than 1,000 pupils from 14 secondary schools will come here to watch it for free. Sir Robin Wales, who has led Newham Council for almost 20 years, greets pupils as they arrive. "Hiya! Looking forward to it?" he asks, beaming. At this point, few students appear enthusiastic. "Some of these kids have never been to the theatre," the mayor says. "They don't know what to expect. I've just been asking some of them what they think of the National and they don't even know what it is."
Last September, Wales launched the "every child a theatregoer" campaign. He plans to fund theatre visits for all the borough's secondary pupils in each year group, starting with pantomime and working up to Shakespeare's Globe. But he never expected the National to come to him – and not with new a play that last year won a record seven Olivier Awards. "To have this calibre of theatre here in Newham is just fantastic," he says.
The adaptation of Mark Haddon's novel tells the story of a gifted15-year-old boy with social difficulties whose investigation of the titular "curious incident" transforms his life and family. The first line – "What the fuck have you done to my dog!" – elicits guffaws from the teenaged audience but also shocks them into rapt attention. They remain transfixed for two and a half hours, some appearing to forget the crisp packets in their hands.
The first act ends in an intensely dramatic, emotional scene. In the interval, I ask Ben Yamen, who's 13, what he thought of it. But he's speechless, so his teacher steps in. "For someone like Ben, I think it will take a while for something like this to sink in," Scott Wallace, the head of drama at Cumberland School in central Newham, says. "He's in a bit of shock about something so raw and in his face."
Mr Wallace received the council's invitation just two weeks ago, and has brought along 90 Year 9 students. "These guys are right at the beginning of their drama development so the chance to see something so cutting-edge really raises their aspirations," he says. "A very small percentage get to go to the theatre with their families."
Later, Ben, who before Monday had previously seen only Cinderella on stage, says the play was "really good. It makes you imagine." His classmate, Yaseed Baptista, also 13, adds: "I expected a typical cliché of a normal play about a heroic person trying to find out about the dog, but now I understand that it's a lot different than I thought. I never knew actors could be that good."
I return to my seat alongside Marianne Elliott, the director, who jointly won a Tony Award in 2011 for the Broadway production of War Horse, the National's last big hit. She and Simon Stephens, the playwright who adapted the novel, convened a meeting of the Curious Incident cast and crew a few days after the Apollo collapse. Most of the actors have contracts that end next month.
"As soon as we knew everyone was OK, we wanted to keep the spirit of Christopher going," Elliott says. "He finds the world overwhelming and yet he pursues his mission. We felt very strongly that, as the National Theatre, which is subsidised, we had to find a venue we could perform in for schools, for free, and make this into a kind of different story for us all."
Stephens, a former teacher at a secondary school not far away in Dagenham, says his play's unexpected transfer to the East End represents a return to its roots. "When Mark asked me to adapt it, he was keen on using hi-tech production. I said to him, this book is so democratic. It's adored by everyone from 10-year-olds to serious intellectuals – it's important we write it so it can be produced in any conditions, without big budgets."
Yesterday, Stephens attended the second of the Stratford performances, sitting alongside pupils he had invited from his old school. "What I love about this is that it's reclaiming a bit of the play's spirit," he says. "It seems like a really appropriate, inspiring response to a terrible event."
Curious Incident was first performed in 2012 at the Cottesloe, the smallest of The National's own theatres. The original "in-the-round" staging, which had to change when the play transferred to the Apollo last March, returns in Stratford. It will remain for further special performances at London's Rambert Dance Studios from 17 February. This time, audience members who were at the Apollo during the collapse have been invited.
Going small again was a welcome challenge for the current cast, which had only played on the bigger stage. "What's lovely but also terrifying when you first come on here is that you're so exposed," says Daniel Casey, who plays a character called Mr Shears. "But you can also see their faces. To watch them so engaged, even when they're eating crisps – which is hilarious – is fantastic."
In one scene, Casey and other actors lift Noble above their heads in a beautifully choreographed scene in which the boy imagines he is floating in space.
"There was a big gasp when he went up," the actor says. "As a performer, that is your lifeblood – it felt like we had lifted him about another foot higher."
Noble, who is eating an energy bar after a performance in which he appears to use all of his muscles, all of the time, adds: "I loved it. I think kids in theatres react in a more honest way because they don't know the rules. They laugh at inappropriate moments. But I like that because I think the impact for them will be big."
Casey is the only current cast member who will stay with the London company when it moves to the Gielgud. It's next door to the Apollo, where repairs to the ceiling made a return financially unviable for the National. Casey, too, has vivid memories of the collapse and the total incongruity of a new, unexpected drama.
"I remember standing there when it fell and feeling I had become part of the audience in an odd and horrific way," he tells me. "You were all watching us and then suddenly something happens and we're watching you and totally out of control."
Casey improvised a new line, yet had no memory of it afterwards. "It wasn't until a week later when we had our meeting when someone told me they kept seeing me stand up and shout, 'look out!' Then I was at the front telling people in the audience to come up on the stage to escape. And then it was invisible – just that cloud of dust."
As emergency services and the world's media circled outside, many cast and crew retreated to a bar inside the Lyric, another theatre on Shaftesbury Avenue. The thunderous sounds inside of Thriller Live, the Michael Jackson musical, only enhanced the surrealness of their predicament. After returning to the dressing rooms to collect their belongings, they gathered in a nearby pub.
"There was a feeling of not wanting to go home," Neil Mickel, the company stage manager, says. "We were subdued, bewildered, but at the same time we were all saying to each other that could have been a whole lot worse."
As the last of the Newham children leave the town hall after a performance that leaves all of us stunned – this time in the best possible way – Daniel Casey adds: "Over Christmas, I remember thinking, right, I've got to process. But I also got thinking, OK, people haven't died here, amazingly, and now we can make something good happen out of this."
Register for free to continue reading
Registration is a free and easy way to support our truly independent journalism
By registering, you will also enjoy limited access to Premium articles, exclusive newsletters, commenting, and virtual events with our leading journalists
Already have an account? sign in
Join our new commenting forum
Join thought-provoking conversations, follow other Independent readers and see their replies