The Hothouse: Harold Pinter's hauntingly prescient nightmare
The Hothouse was written in 1958, but the author's second play now seems chilling in its prescience. Matt Trueman talks to the director and stars of a new production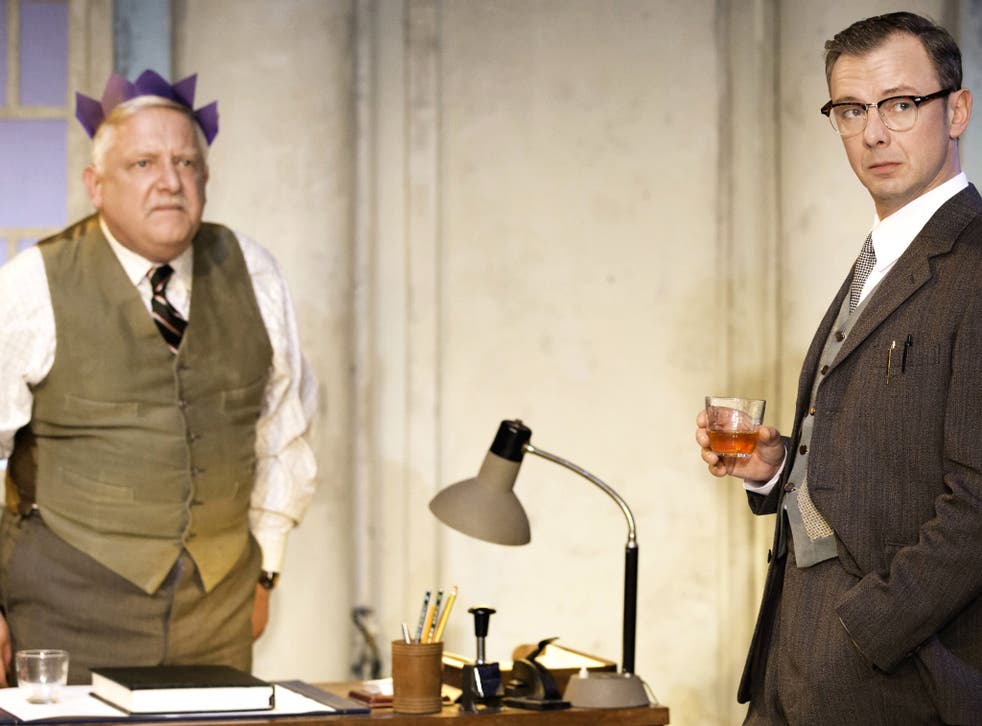 Harold Pinter didn't think much of his second play initially. "It was heavily satirical and quite useless," he wrote later. "I never began to like any of the characters, they really didn't live at all. So I discarded the play at once." The script went into a drawer in 1958 and stayed there for 22 years.
Few modern plays have been so thoroughly rehabilitated as The Hothouse. The playwright's official biographer, theatre critic Michael Billington, calls it "one of Pinter's best", and now the play is about to get its second West End run, courtesy of the sparky young director Jamie Lloyd, with two former Hamlets, Simon Russell Beale and John Simm, leading the cast.
It's a curious piece; immediately identifiable as one of Pinter's and yet remarkably unlike any of his other plays. Set in a state-run sanatorium where the so-called "patients" are actually political dissidents undergoing various excruciating corrective treatments, The Hothouse shows the casual inhumanity and corruption that creeps into institutional authority and festers beneath anodyne bureaucracy. One patient, 6457, has recently died. Another, 6459, has given birth, after being raped by a staff member. Roote, the man in charge, is apparently unaware of either situation, despite having signed the death certificate and met the pregnant woman days earlier. Meanwhile, inmates are restrained and electrocuted. Muffled screams seep through the walls.
All this, Pinter handles with a broad, over-the-top comedy. Several scenes have the rat-a-tat patter of old-school vaudeville and there's even an exploding cigar. It's like Kafka gone giddy and its closest theatrical cousin is Joe Orton's farce What the Butler Saw, written more than a decade later. "He really does write with a music-hall rhythm," says Lloyd, "The lighter you play it, the more horrific it becomes."
Having previously directed three of Pinter's plays, Lloyd, 32, got to know the playwright before his death in 2008. "I spoke to Harold about which ones I might want to do and The Hothouse was top of my list, mainly because it's so funny, but it's also dripping with subtext. For me, that's the mark of a great play."
Simm and Russell Beale agreed, accepting their roles almost immediately. Simm had read the playwright's entire canon while doing Betrayal in Sheffield last year and "The Hothouse stood out. I remember saying to anybody that would listen: 'Have you read this play? Have you ever heard of this?' It's a buried masterpiece." However, it very nearly didn't surface at all. Over the years, Pinter gave several reasons why he shelved the play. He wrote The Hothouse after The Birthday Party's disastrous premiere and, discouraged, Pinter felt it stood no chance with critics or audiences. It was too overtly political, too directly satirical. "The characters were so purely cardboard."
Then, in the late Seventies, he changed his mind, a decision he explained in the original production's programme: "It was a fantasy when I wrote it, but now it has become, I think, far more relevant. Reality has overtaken it." By that point, the Soviet Union was detaining political dissidents in asylums, Northern Irish prisoners were rebelling against the authorities at the Maze prison, near Belfast, and Pinter himself was becoming increasingly politically active. He directed the world premiere himself at the Hampstead Theatre in 1980, before its West End transfer. By the time of the acclaimed National Theatre revival in 2007, there were further political parallels with Guantanamo Bay and artistic comparisons to Sarah Kane's Cleansed and Martin McDonagh's The Pillowman.
"It's a play about unchecked state power and the decisions leaders make – spurious decisions that are potentially dangerous – in the name of a better society," says Lloyd. "You could argue that's what's happening at the moment: an effectively unelected government is making decisions in the national interest, all with a gloss of 'We're fucking you over, but it's all for you.'" Mischievously, Lloyd points out that the play will run at the Trafalgar Studios, "just a few hundred metres away from the centre of British politics". However, pictures on the rehearsal-room wall are not of Coalition ministers, but of Captain Mainwaring and Kim Jong-un, gazing through binoculars and surrounded by generals. Lloyd finds the latter image both terrifying and absurd. "What's going on in these people's heads? Do these men inflict horrific pain or make some horrifying decision and then go home and weep?" He's keen to remind audiences that The Hothouse's institutionalised staff are human: "Roote's a mini-dictator in a microcosm of society and yet he's clearly in a lot of pain." Ultimately, he's simply following orders. "What's interesting is that we're all capable of this."
"It's that awful madness of a self-contained community," Russell Beale chips in, "You can convince yourself of anything, not least the moral worth of what you're doing. Totalitarian states absolutely rely on that self-delusion."
To that, add other forms of coercion. In 1954, a young, cash-strapped Pinter signed up for medical testing at the Maudsley hospital for "ten-bob or something". He was given headphones, through which, unexpectedly, an extremely loud noise was played. "I was trembling all over," he recalled years later. "I was well aware of being used for an experiment and feeling quite powerless." Lloyd sees the glint of Orwell in that experience and in the play it inspired: "At the time, shock treatment was brand new. It must have felt like science fiction." That extends beyond the patients and, for Lloyd, none of the staff show their true selves either: "It's like everyone's a CCTV camera. You can't say what you think because you have no idea what someone else will do with that information." Therein lies the play's extraordinary subtext. It's never entirely clear what has actually taken place; neither 6457's death nor 6459's rape are satisfactorily accounted for. "It's a like a huge puzzle," says Simm, "It's so ambiguous. It could be anything." "I love that mystery," adds Russell Beale, "His great skill as a dramatist was to give the impression of threat and aggression without actually explaining it."
That's typical Pinter, of course, but interestingly most of the cast, with the exception of Indira Varma who worked with him several times, are relative newbies to his plays. Even Russell Beale, an actor celebrated for his versatility, has only done two shorts, A Slight Ache and Landscape. Lloyd likes that: it helps to break the norm. "These established rules start to appear: how you play Pinter. When I worked with him, he'd often say, 'Bollocks to the pauses. Be free with it.' He was tired of being seen as a punctuation tyrant." Varma confirms that: "He liked it to be accurate, but he wasn't there with his nose in the script."
But escaping the tropes isn't as simple as that. "I'm always surprised by the softer edges," says Russell Beale. "At one point, Roote's given a Christmas cake and twice he says, 'A cake? For me?' I don't know if you allowed to go soft in a Pinter play, but for this man – possibly a murderer and a rapist – Christmas is... " – he lets out a camp, excitable gasp – "Christmas!" Hanging over that, is the fact that Pinter played Roote himself in 1995. "I knew Harold very vaguely just before he died, so I know his voice," says Russell Beale. "The real difficulty is getting that out of my head." The Hothouse, so recognisably and yet so atypically Pinter, might help us all do that.
'The Hothouse', Trafalgar Studios, London SW1 (0844 871 7632) to 3 August
Join our new commenting forum
Join thought-provoking conversations, follow other Independent readers and see their replies