The NHS and me: A tale of two sicknesses
Director Max Stafford-Clark's 2006 stroke has now inspired a play, written by wife Stella Feehily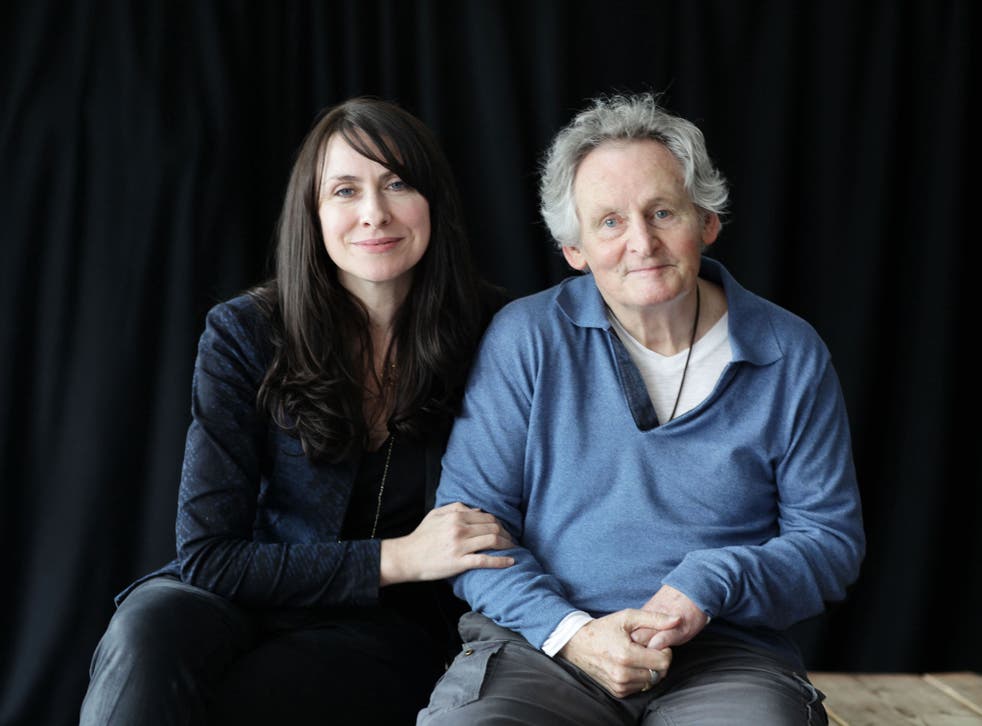 Buy a ticket for the play This May Hurt a Bit and you'll be getting two dramas for the price of one. There's the big political story – the current NHS crisis – and then, underpinning it, esteemed director Max Stafford-Clark's rather more personal one. Between 2006 and 2007, Stafford-Clark lost six months to a stroke – or rather, three strokes that left him disabled and partially blind. And it was his experience in hospital that inspired him and his partner, the Irish playwright Stella Feehily, to create This May Hurt a Bit's damning portrait of an underfunded health system in action.
Elderly protagonist Iris's hour-long wait for an ambulance after she hits her head and loses her memory, for example? That really happened to Stafford-Clark. Feehily, who is sitting behind a desk next to her husband at one end of a north London rehearsal room, recalls ringing 999 repeatedly to check on the progress of the emergency vehicle from a hospital that's barely a 10-minute walk from their Holloway home. "The operator kept saying, 'It's on the way'. When they came I asked, 'Where were you?' And they said, 'We just got the call, love'."
Feehily was Stafford-Clark's carer throughout his recovery, despite being warned it would destroy their relationship; the reality was quite the opposite. Another upshot was that when the National Theatre wanted to commission a play about "a public subject", recalls Stafford-Clark, "they knew that Stella and I had, as it were, personal experience of the NHS, and I imagine that's why they turned to us." (In the end, the National workshopped the script but took it no further; the staging opening in the West End this week is a co-production between Stafford-Clark's theatre company Out of Joint and the Bolton Octagon.)
Iris's memory loss turns out to be the result of a neurological condition called transient global amnesia (TGA) and was based on the four or five episodes of TGA that the director has had over the past eight years. "I know the premonition of it coming, and I know the state you're in – the concern that you have," he explains. Feehily, who periodically hands her husband elements of the lunch he can now, once again, feed himself, adds: "The first time it happened Max thought we were somewhere in the 1980s, which I felt was a useful device for the play because I feel the coalition [government] has taken us back to the Eighties in many ways, particularly with the way they're starving hospitals of funds and shutting down hospitals."
"I did say [to Stella] in the first one, which happened in the Algonquin Hotel in New York, 'Are you my lover or are you my wife?'" says Stafford-Clark, laughing over Feehily's urgent whispers of "I don't think that's very useful, Max!" "Oh, it's very useful," he adds, ignoring her, "and Stella said, 'Sort of in between the two'. And I said, 'Well, as soon as I get my mind back, I'll marry you!" Sure enough, the pair wed in 2010.
Others might comment on the age gap, her 44 years to his 73, but the couple work brilliantly together, personally and professionally, which is helpful when you're the type of person, like Stafford-Clark, who never switches off. Despite battling brutal funding cuts, Out of Joint, which he founded in 1993 after stepping down as artistic director of the Royal Court, has a busy year ahead with three new plays on top of This May Hurt a Bit. They span the Bounty mutineers; 17th-century witchcraft; and Gareth Thomas, the gay Welsh rugby star from Bridgend. "It's called Crouch, Touch, Pause, Engage and it concerns two stories, Thomas and the impact the Bridgend suicide epidemic in 2006 had on the community," he adds.
Without wishing to seem heartless, I'm curious to know whether Stafford-Clark gained anything from his near-death experience – his doctors said he was lucky to live. "Well, you get assistance at airports. That's always an advantage. What else? I think I appreciate [working] more. I was in hospital for six months and there were people who were lovely to me – Stella, my brother [Nigel Stafford-Clark, a TV producer], colleagues – but I really missed being in rehearsal and the camaraderie so I value that now even more. I think also I'm a nicer person but that might just be a product of ageing. I think of myself at 30 and I stank of ambition. It's good to leave that behind." Within reason, of course: "I still like good reviews and hate bad ones as much as ever!"
Ah, the reviews. Feehily is just telling me how the play, which like all of Out of Joint's plays has toured the country before coming to London, has surprised them by going down well "even in Tory heartlands, like Bury St Edmunds", when Stafford-Clark pipes up. "However, it's got four stars in The Observer, The Guardian and the Morning Star, three in The Telegraph and two in The Times, which shows you that people divide on political lines."
The duo had the chance to see for themselves how politics might divide an audience when the cast gave a one-off performance at the House of Commons in March. The evening was "brokered by Neil Kinnock", a neighbour and friend. The former Labour leader played NHS founding father Aneurin Bevan – who crops up in the play to provide commentary – during the play's two-week development workshop at the National in 2011. "It was a very curious and interesting evening. And the MPs who we talked to were terrifically supportive," Stafford-Clark says. But no, Jeremy Hunt didn't turn up. "He obviously didn't get the memo!" adds Feehily, diplomatically.
Another evening they took the play to Guy's Hospital. "There was spontaneous applause at certain political points the play makes and by the end there were several people weeping openly," he says. Feehily describes the "hear, hears" and claps at a couple of the outbursts that the overstretched nurse Gina has, adding: "Two nurses came up afterwards and said, 'Thanks for giving us a voice. You've created a fictional character who can say those things'."
Stafford-Clark prides himself on his plays being outspoken, as he is in life. Hence his recent book, Journal of the Plague Year, which documents how Out of Joint has coped with a 20 per cent cut to their budget. "I think the Arts Council was particularly supine in this rush to austerity. I think they have to act as advocates. And it's always a very difficult argument. If you say we need kidney machines, and police, and plays, which comes third in that order?"
He holds little hope that the new Culture Secretary, Sajid Javid, will open the door to any riches. "He doesn't look very promising to me. Why on earth they don't get a culture minister who's interested in culture I can't imagine. Their job is to have influence in the Treasury and really advocate and pitch for the arts."
In the meantime, he'll just have to hope his plays get enough bums on seats to ensure that the cuts don't hurt his company as much as they're hurting the NHS. So far, so good.
'This May Hurt a Bit' is at the St James Theatre, London (stjamestheatre.co.uk) until 21 June
Join our new commenting forum
Join thought-provoking conversations, follow other Independent readers and see their replies