The theatrical version of The Lion King has become the most lucrative entertainment event in history, but who is profiting?
The musical has been seen by an estimated 75 million people in 22 productions around the world
Adam Sherwin
Thursday 25 September 2014 01:09 Comments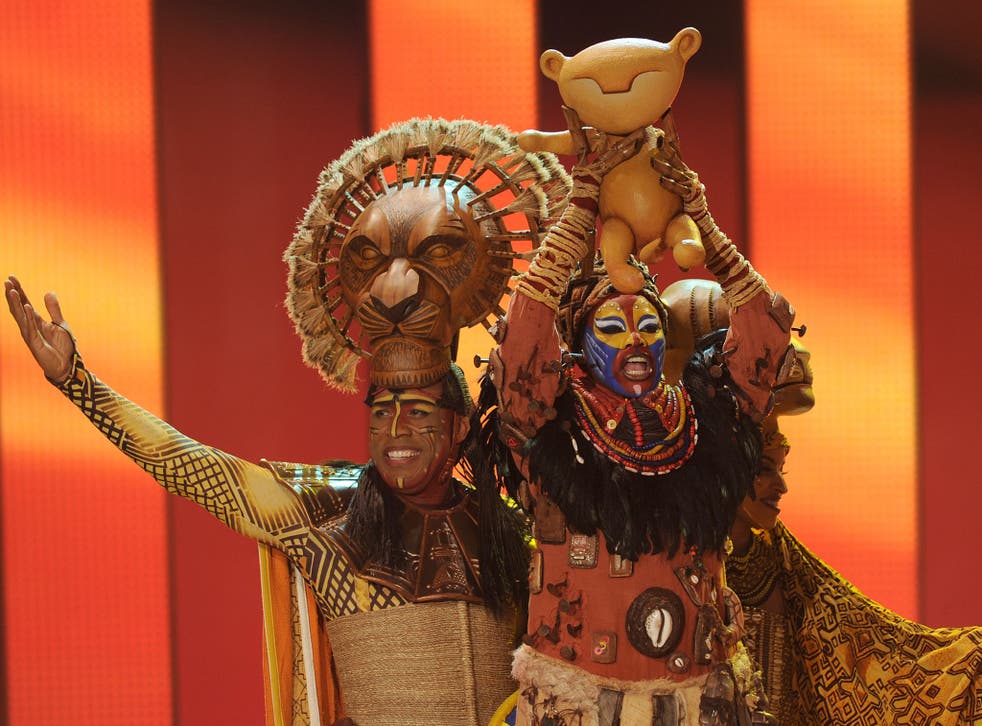 Titanic? A mere trifle. Harry Potter, Avatar and Star Wars? Cult movies.
The stage musical of The Lion King is not just Broadway's biggest beast – it has generated more box office dollars, pounds and euros than any other production in any entertainment medium.
The worldwide takings for the musical, which has been running on Broadway since 1997, with the West End following in 1999, has exceeded $6.2bn (£3.8bn) – far outstripping the $1bn takings for the 1994 Disney animated film upon which it was based.
The journey of Simba, a young lion born into animal royalty, who is ousted into the wild by his evil uncle but gains his rightful place as King of the Jungle, quietly overtook the $6bn-earning Phantom of the Opera late this summer, according to representatives from both shows. The figures exclude posters, CDs, other merchandise and revenue from the film, which has inevitably been re-released in 3D.
It's an improbable achievement for a movie spin-off which lyricist Sir Tim Rice described as "Hamlet with fur" and which only reached the stage after Michael Eisner, the feared Disney chief executive, dropped his objections to investing £10m – then Broadway's costliest show – in a production which relied upon experimental puppetry.
Thomas Schumacher, now president and producer at Disney Theatrical Productions, admitted that when the project was first suggested, he declared: "That's the worst idea I've ever heard. The movie is fundamentally cinematic and there's nothing theatrical about it."
Schumacher's masterstroke was to ask Julie Taymor, who was then a director of more left-field, arthouse productions, to bring her knowledge of African costume design and Asian puppetry to the project.
Taymor convinced Eisner that her motorised gazelles and masked actors could deliver a spectacular recreation of the Serengeti and Plains and the Disney boss green-lit her groundbreaking vision on the basis that the bigger the risk, the bigger the reward. The musical already had the advantage of a hit score by Sir Elton John and Sir Tim, including "Circle of Life", "I Just Can't Wait to Be King", "Be Prepared", "Hakuna Matata" and "Can You Feel the Love Tonight", for which they had been paid a one-off £2.5m soundtrack fee in 1994.
When the stage show triumphed on Broadway in 1997 and transferred successfully to London, Disney realised it was sitting on a global blockbuster. This was a family friendly show with instantly recognisable songs and a universal storyline, which appeals to audiences from America to Africa and Asia.
The musical has been seen by an estimated 75 million people in 22 productions around the world, but it doesn't require big-name actors. Shorn of their spectacular stage-wear, Jonathan Andrew Hume (Simba) and George Asprey (Scar), the current leads at the Lyceum Theatre production, may not prompt squeals of recognition in the West End.
Sir Elton and Sir Tim are among the biggest winners. They have earned at least £76m each from the box office take, with a standard 2 per cent of weekly receipts. However, Sir Elton was miffed when he wasn't offered additional royalties for the 3D film release and Sir Tim has complained that the pair's songs "didn't always make much of an impact" because they were "interrupted by dialogue". Soweto composer Lebo M, who arranged the powerful African choral sections and ensured that Simba's return to Pride Land consciously echoed Nelson Mandela's election as President of South Africa, also shares in the bounty.
With 150 stage hands required for each performance, The Lion King needs full houses to maintain its profitability. A smart ticketing strategy has kept attendances rising, with prices increasing or decreasing for certain seats depending on demand, for the Broadway show. The average ticket price at $128 is $50 is less than for The Book Of Mormon.
The next $3bn won't be far off. "It's the distance runner, it's the marathon runner," boasted David Schrader, managing director at Disney Theatrical Group. "It's taken 17 years of legitimacy to get there."
Register for free to continue reading
Registration is a free and easy way to support our truly independent journalism
By registering, you will also enjoy limited access to Premium articles, exclusive newsletters, commenting, and virtual events with our leading journalists
Already have an account? sign in
Join our new commenting forum
Join thought-provoking conversations, follow other Independent readers and see their replies