There's no business like 'Noh' business
The theatre of ancient Japan is too extreme for most Japanese, so why can't Edinburgh's audiences get enough of it?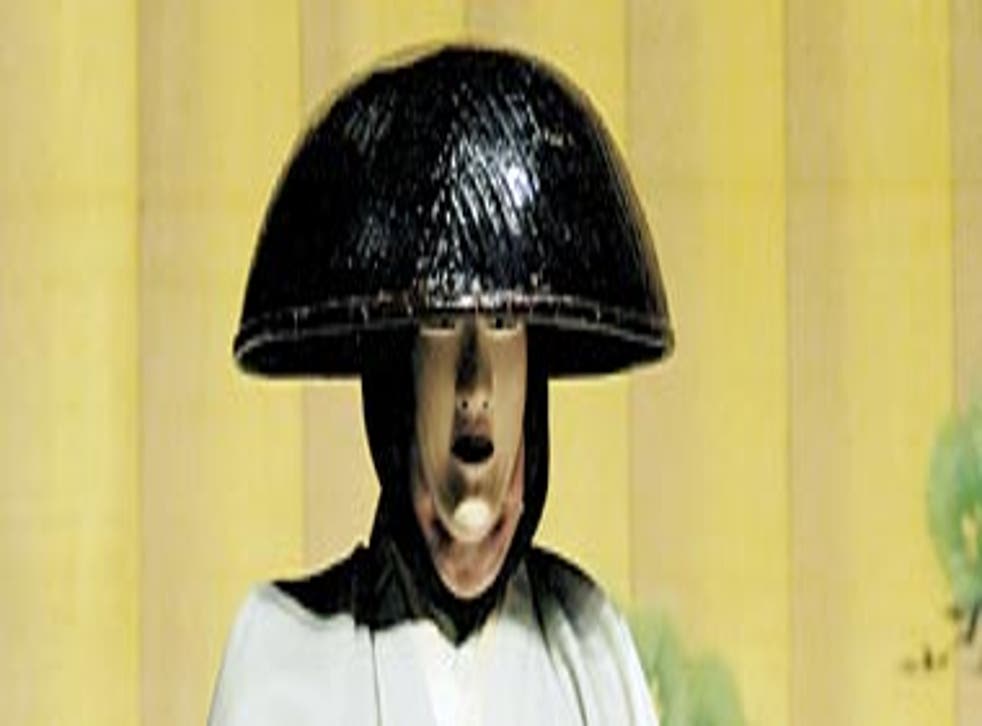 As director of Britain's only centre for Noh drama, at Royal Holloway, University of London, Dr Plowright recognises that Noh is so sparse, distilled and strange that many can't bear it as a means of expression. "In our age everything has to be explicit and experiences immediate, but for people who can be bothered to make the time and commitment, Noh makes a deep impact." This week at the Edinburgh Festival audiences have a rare opportunity to compare both the original Sumidagawa play, presented by the Association for Japanese Noh Plays, and the Festival's own production of Benjamin Britten's version, the church parable, Curlew River.
The tightly reined formality of Noh in Juro Motomasa's Sumidagawa dates back to the 15th century, when the aristocratic Samurai warrior-class prohibited the free expression of emotion. The tale describes a madwoman (this central role is always played by a man) desperately seeking her lost son. Her search takes her on a river-crossing, sees her mocked by a ferryman and pitied by a traveller, until she eventually arrives at a willow-covered shrine. Tremendously dignified, she glides daintily on from behind a brightly striped curtain - in this production a magnificently corpulent robed figure - betraying no vulgar indication of insanity, her grief-induced madness indicated only by the bamboo shoot she clutches. Against a backcloth of a pine tree, a slightly tilted mask (scarcely concealing a stubbly jowl), a carefully choreographed movement, and a graceful stance speak louder than words.
Benjamin Britten created the first of his three rather exotic church parables, Curlew River, in 1964, for performance in Orford Church, after being moved and impressed by Noh theatre in Japan. He and his librettist William Plomer elaborated freely on the basic ingredients of Noh presentation, however, giving it a Christian slant. The masked, all-male company becomes a group of monks who cast off their ecclesiastical habits to enact the ritualistic tale which here celebrates God's grace. And in giving a happier ending, the madwoman experiences that much-used concept in 21st-century counselling, closure. Britten and Plomer also uprooted the tale to the English fenlands and framed the action with an ancient plainsong chant.
Last summer, Graham Vick's production of Curlew River for the BBC Proms involved a hefty "police presence" in the Albert Hall with uniformed extras assisting in a "reconstruction". Olivier Py, directing it for Edinburgh, has also moved away from Britten's sacred setting, though in a less conceptual way. Despite the fact that Britten's score was tailored to church acoustics he prefers his theatre setting.
"The theatre is my church," he says somewhat loftily, "so we are actors playing monks reconstructing a mystery play. I don't know much about Japanese culture or the Noh tradition and although my interpretation is also extremely graphic, the choreography is more Pina Bausch's Wuppertal than Tokyo."
And the fenland? Py shudders at any possibility of decking the stage with "pretend nature," the thought of plastic leaves appaling him. "We create the river and water reeds through lighting, and that too is how we show river reeds and marshes."
As in the Noh Sumidagawa, musical instruments play a crucial dramatic role in Curlew River. The costumed chamber ensemble, including a range of evocative percussion, is integrated into the drama, positioned by Py close at hand above the all-male singing actors. Py is adamant that, despite being performed by men, the piece shouldn't come across as a camp work.
The young British tenor Toby Spence plays the madwoman. He has learnt from Py, he says, how to get inside the skin of a woman. When not directing, Py has another life as a chanteuse, a comic-tragic creation called Miss Knife, yet to make her Edinburgh debut. Spence was mesmerised when he caught Py's one-man/woman show in Paris. On the question of just how different a madwoman is from a madman, some of the same mannerisms are used.
Curlew River has the advantage over Sumidagawa of being in a language that the audience understands. And many of the gestures in both play and church parable, though subtle, are strangely familiar. When the madwoman raises her hand to her eyes, for instance, it is a simple and instantly recognisable gesture of grief. There are no histrionics. Noh actors treat their bodies like string puppets, letting their hearts control the gestures, explains Plowright. Even if you don't understand the words in Sumidagawa, or the musical language in Curlew River, you should still feel the power.
'Curlew River', Royal Lyceum, Theatre, Edinburgh (0131 473 2000) to tomorrow, 8pm
Join our new commenting forum
Join thought-provoking conversations, follow other Independent readers and see their replies