Understudies in the limelight: Why going from standby to star isn't always a fairytale
When Kim Cattrall was forced to drop out of 'Linda' at the Royal Court, her replacement, Noma Dumezweni, stepped up to save the day and became an overnight sensation. But does the sparkle ever last beyond the next morning's headlines?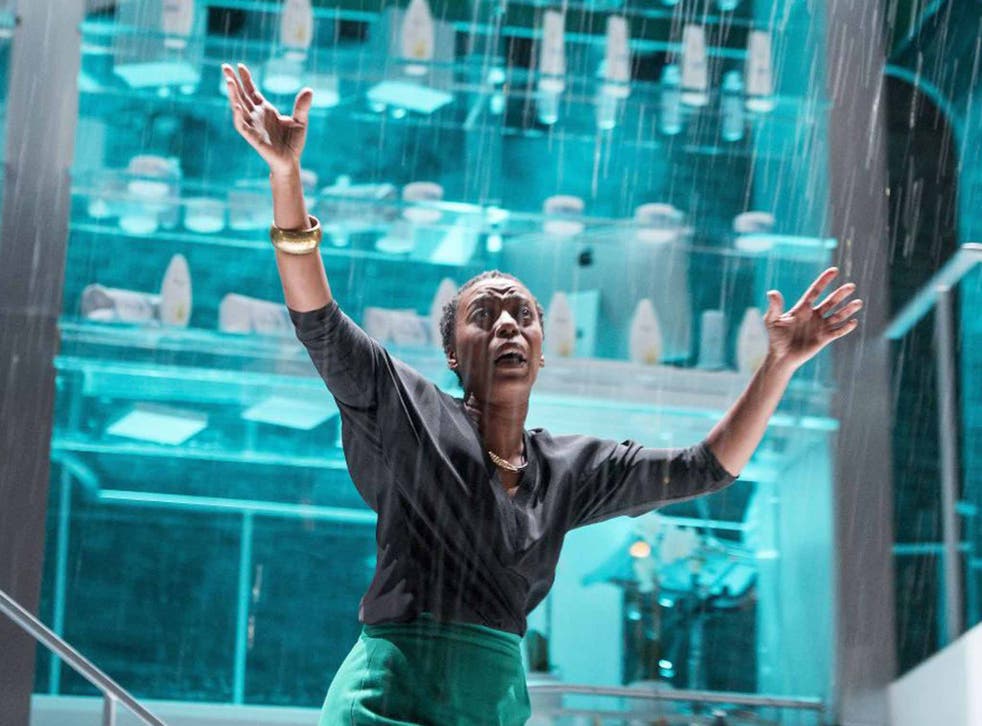 Noma Dumezweni had only just booked tickets to see Kim Cattrall in Linda when her phone rang. It was Michael Longhurst, the play's director. "I said, 'Aren't you meant to be in rehearsals? What's going on? Why are you calling me?'" recalls the actress. "He said, 'I need you.'"
He did. The Sex and the City star had quit the play on doctor's orders, just one week before curtain up. Dumezweni got the call late on Wednesday evening – "I heard myself saying 'yes' before I even thought about it. It was a gut reaction, because it was Michael and the Royal Court and the thought of the play not being able to go on was just ridiculous." She went to a film festival in Derry on Thursday, had her first rehearsal on Friday and performed for the first paying audience on Wednesday. The critics came in the following Tuesday and were unanimous in their praise, calling her "a knockout" and "a triumph" among other things.
It was a quite remarkable rescue of a giant role. As Linda, the cosmetics executive whose professional and personal life fall apart in her mid-forties, Dumezweni, 45, is barely off-stage for a moment. On press night she had parts of the script hidden around the set; in one scene, she had to have an argument with her on-stage husband and both of her daughters while knocking up a risotto on a real hob and rooting around for the right page in one of the kitchen drawers. "A nightmare. All these words and you're making her cook as well?" she laughs.
"I've been, in essence, rehearsing in front of an audience. I freaked out on the Tuesday [before we opened] and thought what have I done? Because I couldn't get the words in, they weren't sitting. People were saying, 'Don't worry, you've got the book'. But my ego was saying, 'No. You've got to learn it.' I was trying to push myself out of my comfort zone. I'm one of those actors who holds onto a script for as long as I can. With this, there was no process, just use your instinct. Don't think, just do."
Thus Dumezweni joins a small-ish but unforgettable list of theatrical heroes, a band of little-known troupers who step up to save the day and ensure the show goes on. Earlier this year, Andrew Linnie was yanked out of his comfort zone when, after 700-plus performances playing Dean in The Commitments, he had to go on stage as Jimmy Rabbitte with just a few hours' notice when Denis Grindel injured his knee. As with all West End shows, there were understudies but the first one was on holiday and the second was ill. So it was down to Linnie, then 23 years old and making his West End debut, to move up from band member to band manager and, suddenly, the most lines of anyone in the cast. "Having been in the show for so long and heard the lines so many times, they'd gone in by osmosis," he says. "But when my character was off-stage I didn't know what people were doing or where they were standing. It was mostly a crash course in how not to get hit by the scenery."
Having taken the emergency call at lunchtime, Linnie had to learn how to drive Jimmy's motorbike on and off stage, get fitted with two new microphones and be fitted for a new costume before 7.30pm – so there was no time to rehearse. "I just had to do it," says Linnie. "To a certain extent, it's a good thing after 700 or 800 performances, to suddenly hear the lines in a different way. It's sometimes good when understudies go on and freshen things up. Although when somebody has never rehearsed the part before, it can be a little bit worrying for the people around them."
It's not always a case of last-minute panic, though that almost always plays a part. At the RSC everyone in a production understudies someone else from day one. It's just a part of the job – and understudies only get paid extra if they go on. So when David Tennant played Hamlet in 2008, he was also understudying the forester in Love's Labour's Lost. In turn, Edward Bennett, 36, playing Laertes, was understudying Hamlet.
When he got the call to go on in the lead in the West End after Tennant injured his back, he hadn't had an understudy rehearsal for four months. In fact, the last time he had practised Hamlet's 1,400 or so lines was by a swimming pool in Sharm el-Sheikh on a holiday between the show's run at the Royal Shakespeare Theatre and the West End opening – and only then because his girlfriend made him do it. "I was like, 'Nah, can't be bothered. David Tennant's a machine, he'll never go off.' If I hadn't done that, I don't think I would have remembered everything – which is the first thing you need to do."
In the event Bennett had just a few hours to prepare before stepping on. "You're never ready to play Hamlet. I don't think anyone is, even if you rehearsed it for 10 weeks. I don't think Benedict Cumberbatch, when he was standing in the wings on the first night, was ready to play Hamlet. That's the great thing about Shakespeare. I was terrified, absolutely terrified, but wonderfully excited because I was prepared enough," he says.
"I don't remember it at all, apart from going on with a champagne glass and being pleasantly surprised that my hand wasn't shaking too much and then at the end, the curtain call which I sobbed through." He invited all of his friends to come and see his big moment, thinking it would be a one-off and that Tennant would surely return in time for press night the next evening. "And then I went out and got rat-arsed, thinking he'd be back. I woke up the next day at 2pm with another 30 messages on my phone asking me to come in and rehearse some more. That was the wrong thing to have done." He ended up playing Hamlet for a month. "A fairytale," he says.
Karen Mason was a full-time "stand-by" for Glenn Close in Sunset Boulevard in Los Angeles and on Broadway for two and a half years between 1993 and 1995. She had auditioned to play Norma Desmond herself and was not sure whether to take the job she refers to as a "very well-paid insurance policy." In the end, on the advice of her mother, she took it. "Listen, every actor wants to think of themselves as the star but it was for Glenn Close. It wasn't like I was covering another actress who was a pal or a friend, which I think would be more complicated. This was for a real movie star."
She waited months for her first call to the stage and spent her days at home, watching Star Trek. "I was not on stage right until I was called upon to be the star of the show."
"It's an imperfect situation. It's never comfortable to be that one person in the entire show who is not in the show and is just waiting for someone to not be there," says Mason. That said, she would happily be a stand-by again. Perhaps in April, when Close reprises Norma at the London Coliseum? "Listen, if she needs a stand-by, I'm all ready. I know where the costumes are in my size..."
While critics and journalists tend to root for the understudy, it's not always a fairytale. The disappointment from fans when they learn that the big star they have booked to see is not appearing is palpable, and usually audible. Mason was so excited to take the lead that she listened to the announcement of her substitution from the wings. "There were some boos… I listened to that once and then knew that I was never, ever going to listen to that again."
"You can hear the light, distinctive slap of seats being left as people decide they don't want to watch Hamlet without David Tennant in it," says Bennett. "Which I totally understand. You never want your career to be given a leg-up by someone doing their back in."
As for Dumezweni, she has tried not to think too much about the actress she is replacing. Cattrall gave her no advice – "Gosh, no. To leave a company must be very hard." – but sent her a big bunch of lilies on her first night. "I didn't see them until the next morning – luckily," she says. "You see that loads of seats have been returned and people aren't turning up because the star casting isn't there. That was a weird one but I can't let that get into my head."
"The hardest thing was walking in to meet the other actors who had been rehearsing for three or four weeks, and say 'Hi, I'm your new mum, I'm your new boss.' And let's talk about it, a totally different culture and look. The Court said, 'You're an actor first and we know you can do it, whatever demographic you're from.' I'm definitely not Kim Cattrall but I've really enjoyed stepping into this part because it's about all of us older women. No, it's about all women, from the young to the old."
Terrifying it may be, but going on as an understudy can do wonders for a budding actor's profile. Laurence Olivier's stand-in for Dance of Death at the National Theatre in 1966 was a then unknown Anthony Hopkins. Martine McCutcheon's stand-in for My Fair Lady was Laura Michelle Kelly, whose musical career has eclipsed that of the original star by miles. But does the sparkle last beyond the next morning's headlines?
"I didn't have an audition for a month after Hamlet," says Bennett. "Which made think I'd done something wrong, despite the reviews being very kind." Although he had made a name for "doing a good job", he suddenly fell between two stools. Having played the biggest role in theatre, he didn't want to go back to the sidelines. "But at the same time people said, 'Well he's an understudy, who is he? He's not going to put bums on seats.' So for about six weeks, I thought, 'That's that then. That's me done.' And then I got a job in Chichester and I've been very lucky since then to work full-on." He has just finished playing Francis Crick in Photograph 51 opposite Nicole Kidman.
As for Dumezweni, after Linda closes, she returns to the Royal Court to make her debut as a director – of a new South African play, I See You. And after that, well, the biggest role of her career has just been announced: she will play a grown-up Hermione in Harry Potter and the Cursed Child in the West End in May. "It's been an extraordinary thing. Three weeks ago I was pootling around, trying to figure out how Christmas was going to be and all of sudden just by saying 'yes' to something, which scares the bejesus out of me… I feel like I've done the most daring thing I've done in my life. And it's paid off – energetically and creatively." Would she do it again? "No! Oh my God, no. But the rush has been extraordinary. I haven't felt this alive since my daughter was born eight years ago."
'Linda', Royal Court, London SW1 (020 7565 5000; royalcourttheatre.com) to 9 January
Join our new commenting forum
Join thought-provoking conversations, follow other Independent readers and see their replies