Interview
Wendell Pierce: 'Right-wing nationalism is infectious – it's going around the world right now like a chronic disease'
'The Wire' star is about to become the first African-American in 40 years to star in 'Death of a Salesman' on the West End. He talks to Martin Chilton about racism, discrimination, and why he hopes his on-screen daughter Meghan Markle will come to see the play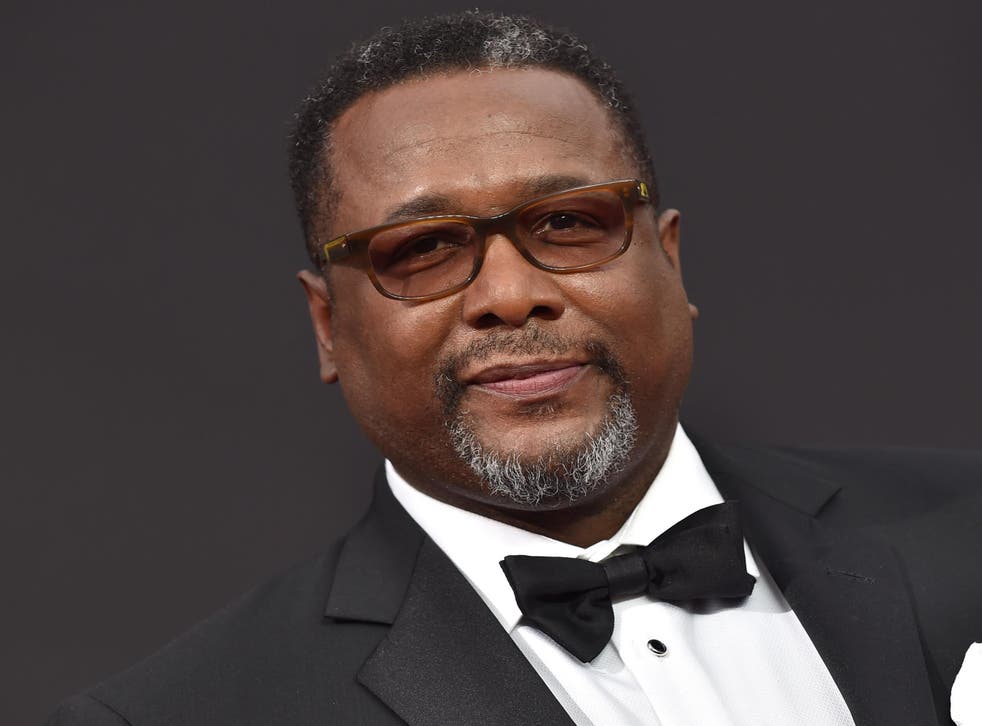 The mistake people made with the election of Barack Obama," says Wendell Pierce, staring intently, "was claiming, 'We are post-racial.' What? Tell that to all those guys who just got killed by police during traffic stops."
Sitting in his dressing room at the Piccadilly Theatre, where he is about to embark on a 10-week run as the star of Death of a Salesman, the 55-year-old is an engaging mix of humour and gravitas. One moment, he is doing a witty impression of New Orleans jazz legend Sidney Bechet; the next he is suddenly intense and forthright, particularly when he is talking about racism in America, a problem ingrained "since the original sin of slavery". He says the US is still blighted by discrimination. "We keep people enslaved under the false pretence that they are free. We have a criminal justice system that, over the past 150 years, was all about criminalising an under-class. To this day in Louisiana, our penitentiaries are working plantations."
It's unsurprising that the actor has uncompromising views on politics and race. Pierce, who was born in Louisiana during the civil rights movement, the son of a Second World War veteran who fought in a segregated army unit, is known for roles that expose uncomfortable truths about modern life. He's portrayed a detective in run-down, violent Baltimore in The Wire; a musician struggling in post-Katrina New Orleans in Treme; and a civil rights leader in Selma, Ava DuVernay's majestic account of Martin Luther King's battle for black voting rights. All these tackled racism in Pierce's home nation. But Britain, where Pierce is residing for the next four months as he prepares for the West End production, has its own problems.
"Class is such a defining part of the DNA here," he says, "and it is rolled up together with racism. You still have a monarchy, right? Privilege encourages discrimination. The concepts of purity and true blue blood are still alive. Right-wing nationalism is infectious and is going around the world right now like a chronic disease. The barbarians are always at the gate. It's not just Donald Trump and what he has done. Millions of people voted for him. They were always there – but right now we are seeing the veil lifted around the world, to remind people this is an ugly part of human nature and we have to be ever vigilant against it."
Casting a black Willy Loman in such fractious times is significant. Pierce is the first African-American in 40 years to take on the role – which has previously been played by Dustin Hoffman, Rod Steiger, George C Scott, Philip Seymour Hoffman and Brian Dennehy – on the West End stage. The production, directed by Marianne Elliott and Miranda Cromwell, had a critically acclaimed, sell-out run at the Young Vic this summer, and is now being transferred to the Piccadilly Theatre. He says he is particularly proud to be starring in London – a city he visited as a 15-year-old student, witnessing plays that helped convince him to be an actor – and is "incredibly moved" by the chance to make history. "It's a rarity to do Willy's role from a person of colour's perspective and I leapt at the chance," he says. "One of the things that excites me the most about this historic production is to bring a diversity of audience to the West End."
40 of the greatest plays ever written

Show all 40
Pierce says the role of Loman "is as large as King Lear or Hamlet". So how is Arthur Miller's play, which won the 1949 Pulitzer Prize for Drama for its tale of the final doomed days of a failing salesman crushed in pursuit of the American Dream, still relevant for a 21st-century audience? "It speaks to our humanity across time, across place, across race and across gender," says Pierce. "People go back and forth on whether or not they like or dislike Willy. He has the sin of hubris, apparent in all great drama. The audience is the voyeur, hating his mistakes and wishing they could just step on stage and say, 'Don't do that and it will be fine.' It is my job to give a sense of empathy for the man." He is no stranger to mistakes. A passionate supporter of Hillary Clinton, he was charged with battery in 2016 after a violent altercation with a Bernie Sanders supporter. He agreed to counselling, underwent community service, and the case was closed the following year.
The day we meet, the 55-year-old is having physiotherapy on his knee. "Playing Willy is a physical, technical and psychological challenge," he says. "Willy Loman is like the British Museum – you can't take it all in during one trip. It's like unpeeling an onion, layers and layers and layers. With every performance, I learn a little more about the man and why he is thinking what he is thinking."
Given that Pierce has spent so much time inside Willy Loman's head, I wonder what he thinks Miller's tragic salesman would do about Brexit. "Ah, Willy Loman would go where the money is," he says. "Willy would make a mistake. He would do what Boris Johnson is doing. He'd say, 'Let's leave,' and then try to cut the deal on the side; which is when Donald Trump says, 'Of course, you should leave… and now give me the NHS contracts.'"
When the West End run kicks off on 24 October, there's one person that Pierce hopes will be in the audience: Meghan Markle. Before the now-Duchess of Sussex left her role in the legal drama Suits in 2018, Pierce played her father, the high-powered attorney Robert Zane. "I wrote to her when I arrived but she was in the middle of having her baby," he says. "I think she will come to the play." What does he make of the recent negative press coverage of her? "I feel for Meghan. I definitely feel for her. It's tough for anyone to be in that bubble. The most important thing is that she is in love with this young man named Harry, who is a prince, in title and in person. In the midst of this whirlwind, she needs to hold on to that, focus on their love.
As well as an eclectic stage career, which included roles in The Cherry Orchard and a part in Duke Ellington's folk opera Queenie Pie, Pierce's extensive television catalogue includes parts in Ray Donovan​, The Odd Couple and Jack Ryan, whose second season premieres on Amazon in November. But it was The Wire, in which Pierce played the roguish Detective Bunk Moreland, that made him internationally famous. One scene in particular, where his character confronts the gangster Omar Little, is a pivotal moral moment in the HBO show. In an intense, powerful exchange, Bunk tells Omar that they are from the same district: "As rough as that neighbourhood could be, we had us a community. Nobody, no victim, who didn't matter. And now all we got is bodies, and predatory motherf***ers like you… makes me sick, motherf***er, how far we done fell."
"I'll tell you how that came about," says Pierce, with a broad smile. "David Simon and the writers did not like to share scenes, because they believed that if actors know where the story line was going then they would tip their hand. They had lots of scenes where I was trying to find out where a gun was. It was driving me crazy and I was saying, 'What is it with this gun s**t all the time?'
Scriptwriter George Pelecanos was standing within earshot. "George heard me bitching and complaining as we were setting up shop," laughs Pierce. "I had done loads of research and spoken to a lot of old African-American police officers about why they had become police officers. They said that during segregation, even the thugs knew that we had to keep a sense of community and steer talented youngsters towards any opportunities. The black police officers took up that profession because criminality does not reflect the 99 per cent of hard-working people who get up in the morning and just try to make a living and take care of their families. That is why Bunk became a police officer. So I was telling George all this. 'Wendell,' George said, 'I have to tell you something: the gun is going to lead you to Omar.' George wrote that scene after our discussion."
Michael K Williams, who played Omar, "is one of my dearest friends", says Pierce, "and he is so unlike Omar. He is the kindest, gentlest, most loving person I know, and such a talented actor. Now I will be able to go into television history with The Wire because I had my scene with Omar. That scene is precious, my favourite, and I also think it is unique. I wanted to explore why these African-American men and women became police officers."
The Wire finished in 2008 and two years later, Pierce worked with Simon again on Treme, playing New Orleans trombonist Antoine Batiste. "I actually believe Treme is going to last even longer than The Wire," says Pierce. "There will be people in every generation who will discover it. Treme is like a cultural document that years from now people will be able to pull off the shelf. It is the most unique thing in television."
The series was inspired by a 1978 documentary, Always for Pleasure, shot in New Orleans. In that film, says Pierce, "you see how New Orleans turns everything into a celebration. You see Mardi Gras, you see class, poverty and racial conflict in momentary things. When I saw it, it just rang out to me. In one scene, a girl is asked, 'Are you having a good time?' and she says, 'Oh yeah, it's Mardi Gras today and we're gonna have a ball and tomorrow we are gonna be n***ers again.' That moment just floored me. It was like a swift kick in your gut."
Music is a major part of Treme and of Pierce's life. He grew up with future star musicians such as Terence Blanchard. When he was in New York in the Eighties, studying drama at Juilliard, he lived with his old friends, trumpeter Wynton Marsalis and his saxophone-playing brother Branford Marsalis, two of the finest living jazz musicians. These days, Pierce hangs out at Ronnie Scott's Jazz Club in Soho.
"When I was as young as 12, I was introduced to some really heavyweight jazz cats," says Pierce. "I remember someone saying, 'What? You don't know the introduction to Louis Armstrong's West End Blues?'" He knows it now. "That tune is one of the greatest things ever. In one minute, it defined a change in music. It defined what jazz was – freedom in form. It actually is the sound of the American aesthetic – that within the constraints of order and law you can have individualism." Pierce pauses, before delivering a charming rendition of Armstrong's masterpiece, scat-singing and slapping his knees in rhythm.
As he starts to get changed into his Willy Loman suit for a final rehearsal, he talks again about Treme. In the aftermath of the traumatic storm, Pierce took part in a remarkable production of Samuel Beckett's Waiting for Godot, on a rooftop in a destroyed section of the Lower Ninth Ward in New Orleans.
"We staged the play where hundreds of people had drowned and houses had been lost," he recalls. "It was one of the most cathartic moments in my career and in my life. I really broke character. When I said the line, 'Let us do something, while we have the chance... at this place, at this moment of time, all mankind is us, whether we like it or not,' it rang out and connected us to other times when hopelessness seems to rule the day.
"There is that spark of optimism you have to find within yourself," he adds, "because you are not going to get it from anywhere else. Godot is not going to come."
Death of a Salesman is at the Piccadilly Theatre, London (0844 871 7630), 24 October to 4 January 2020 (www.thepiccadillytheatre.com)
Register for free to continue reading
Registration is a free and easy way to support our truly independent journalism
By registering, you will also enjoy limited access to Premium articles, exclusive newsletters, commenting, and virtual events with our leading journalists
Already have an account? sign in
Register for free to continue reading
Registration is a free and easy way to support our truly independent journalism
By registering, you will also enjoy limited access to Premium articles, exclusive newsletters, commenting, and virtual events with our leading journalists
Already have an account? sign in
Join our new commenting forum
Join thought-provoking conversations, follow other Independent readers and see their replies