Yuri Klavdiev on 'A Play, a Pie and a Pint': A Russian-Ukrainian season of plays
As the Russia-Ukraine conflict intensifies, John Nathan speaks to the playwrights from the region whose work can be seen in A Play, a Pie and a Pint season in Glasgow
John Nathan
Monday 23 March 2015 18:53 Comments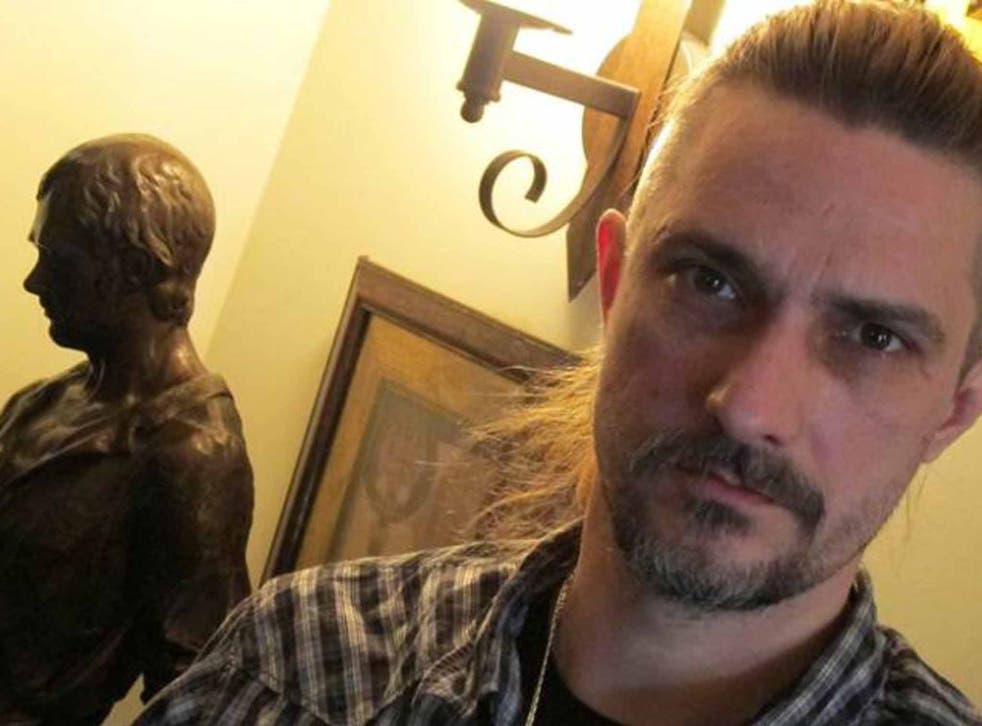 The man accused by Russia's conservative cultural establishment of being one of the country's most degenerate playwrights is eyeing a tall, blond beer. His name is Yuri Klavdiev and in the artful gloom of Glasgow's Oran Mor pub theatre the Russian looks perfectly at home. Perhaps it is the pony tail and black nail polish; more death metal roadie than contemporary dramatist, whatever that looks like.
Klavdiev is one of three playwrights – the others are fellow Russian Mikhail Durnenkov and Ukrainian Natalia Vorozhbyt – commissioned to write for Oran Mor's A Play, a Pie and a Pint international season. Curated by dramatist Nicola McCartney for the National Theatre of Scotland, the season's co-producers, the brief for the project was merely "to reflect what is happening in their countries". In Ukraine's case, what is happening is war. In Russia's, well, it's the war in Ukraine, because despite Russia's denials the country is widely thought in the West to be up to its neck in the conflict. So the season has ended up revealing perspectives from both sides of the disputed border.
"I liked the brief," says Klavdiev, speaking through a translator. "They said they were going to have a Russian-Ukrainian season and that I can write whatever I like." His play, Thoughts Spoken Aloud from Above, was still being worked on when we met, but at that time it contained a description of human bodies being eaten, which might not go down well with an audience who have turned up for a play, a pint and a pie.
"The Oran Mor audience is particularly tough," assures McCartney. "They are not going to be fazed. Yuri is pushing the boundaries of what's acceptable in Russia as well. Much of what he writes, you just can't write about there."
Write whatever you like is not an invitation contemporary playwrights get very often in Russia these days. Certainly Ukraine is a subject that in the country's increasingly law-laden cultural landscape – no homosexuality, no obscenity etc – is almost impossible to address on stage.
"That was precisely why I accepted the commission," says Durnenkov, speaking from Moscow. "This was my chance to write about these things in a direct manner."
Called The War Hasn't Started Yet, Durnenkov's work is a series of often very funny playlets that explore Russian attitudes to the conflict. Probably the most provocative features a television newsreader whose knowingly inaccurate bulletins about Ukrainian atrocities have put the fear of God into her or his (on the page it could be either) own family. It's a funny, ironic and deeply cutting attack on the way Russian broadcasters are disseminating news. It accuses them of broadcasting unverified reports of Ukrainian war crimes which, according to Durnenkov, in one real-life notable case was later discredited.
"I wanted to understand who is behind the reporting of such news and why they create an image of Ukrainians being so bestial," says Durnenkov. "I wanted to understand their mindset and how anxiety is so quickly turned into fear."
The three writers, who know each other well, may be focused on the same issues but their approaches are very different, says McCartney.
"There is a magical realism to Yuri's play, Durnenkov's is much more Absurdist comedy and Vorozhbyt is much more spiritual," she says. There is also something very stirring about the play written by Vorozhbyt whose work has been seen at the RSC and whose verbatim play, Maidan: Voices from the Uprising, about the Kiev uprising that sparked the conflict, was recently given a rehearsed reading at the Royal Court.
In her new play, Take Out the Rubbish, Sasha, a Ukrainian army officer who died before the conflict comes back from the dead to fight for his country. It is a piece imbued with a love of country, or at least a sense of the perceived injustice being meted out to it by a more powerful neighbour. Her translator, the poet Sasha Dugdale, agrees that Vorozhbyt writes from a perspective charged with emotion. "She is very patriotic," says Dugdale, "and although she has many Russian friends and fellow playwrights such as Durnenkov, she is appalled by the war and [what she views as] the Russian invasion of Ukraine."
Klavdiev is also appalled, and deeply suspicious of the Russian nationalism driving his country's policy towards Ukraine. Last year, the conservative newspaper Kultura said that Klavdiev's work "corrupts the viewer" and "creates the image of Russia as a dull and hopeless country". The piece included a list of playwrights from Russia's vibrant Novi Drama (New Drama) scene.
"In order to get rid of dirt, you must first asses the extent of the contamination," explained the paper, which is often viewed as reflecting the opinions of the Ministry of Culture. The article was seen by many as evidence that Russian culture was being subjected to a new Stalinism. In the world of theatre the term "unpatriotic" can kill a career, while in the world of politics it can kill. But Klavdiev – whose work in Western terms might be described as a potent mix of Tarantino and Sarah Kane – is dismissive of the attack and his place on the list.
"It was a great honour," says the 44-year-old. "At least I know I haven't wasted my life."
A former football hooligan – "when I wasn't fighting I would secretly read and write" – in the tough town of Togliatti, Russia's car-manufacturing equivalent of Detroit, Klavdiev does not have the air of a man who is easily intimidated.
"There are direct analogies between Putin's and Stalin's Russia," says Klavdiev. "But of course Stalin was much more severe. Usually I have to write two versions of my play if it is to be performed in Moscow. So I have a version that will go to the local authorities [who usually fund theatres and therefore have a say in the theatre's output] and then I have another version that will go to the theatre. Usually the authorities don't check." µ
A Play, a Pie and a Pint international season runs at Oran Mor, Glasgow (08444 771 000) to 6 June and the Traverse, Edinburgh (0131 228 1404) to 18 April
Register for free to continue reading
Registration is a free and easy way to support our truly independent journalism
By registering, you will also enjoy limited access to Premium articles, exclusive newsletters, commenting, and virtual events with our leading journalists
Already have an account? sign in
Join our new commenting forum
Join thought-provoking conversations, follow other Independent readers and see their replies