Gemma Arterton says live theatre should be experienced on stage not screen relays
Arterton takes the title role in a BBC4 broadcast of revenge tragedy The Duchess of Malfi
Adam Sherwin
Tuesday 20 May 2014 08:25 Comments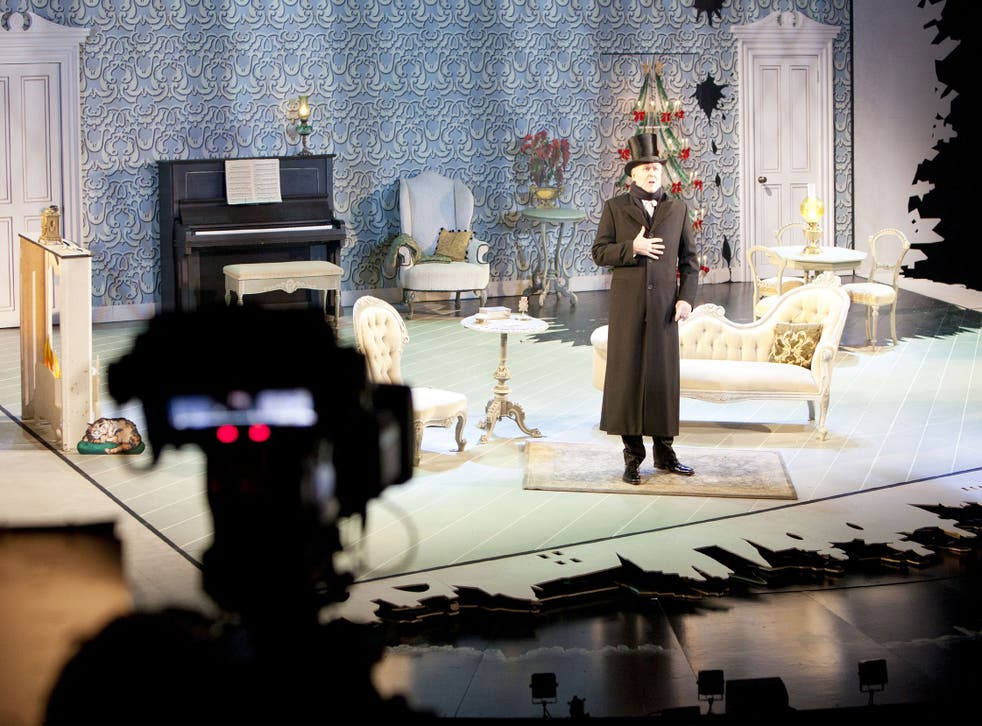 Live relays of theatre productions have allowed millions to enjoy performances they would not otherwise have been able to see. But the actress Gemma Arterton says live theatre should be enjoyed in the flesh and not on a distant screen.
Arterton takes the title role in a BBC4 broadcast of revenge tragedy The Duchess of Malfi, which has been filmed for broadcast following its staging in the Sam Wanamaker Playhouse at Shakespeare's Globe theatre earlier this year.
The broadcast will launch a new BBC Arts At... strand, bringing complete performances to viewers, which Tony Hall, the BBC director general, said would give audiences "front row seats" to cultural events across the year.
But Arterton, a former "Bond girl", told Radio Times that she harboured reservations when she shared a platform with Mr Hall at the launch of the initiative.
"I had to do that thing at the BBC. When they showed a clip I was mortified. And then I had to go, 'Oh yes, it's great'.
"To be quite honest, I don't really believe in filming theatre, that's not what it's about. I felt quite uncomfortable about the fact they were filming it at first – it's theatre, you're not performing it for the cameras."
Broadcasting performances into cinemas has been a huge commercial success for the National Theatre, enabling productions, including Simon Russell Beale's King Lear, to play to 3.6 million people in 600 venues worldwide. The RSC and Shakespeare's Globe have also enlarged their audiences with live screenings.
Arterton admits: "I guess for people that can't get to the theatre, and can't afford it, and I guess for educational purposes as well, it's great. When I was a kid I lived outside of London, and theatre was just not something that I did. It wasn't until I moved to London when I was 18 that I started going to the theatre."
The actress admitted that the cost of West End shows was now prohibitive for some. "I'm doing a new musical at the end of the year at the Adelphi, Made in Dagenham [based on the 2010 film], and we've got to sell it out. I'm like, 'How are we gonna sell out, with all these musicals that are closing, when the tickets are so expensive, and the theatres are so big?' I'm not that famous… It's not like they've got Keira Knightley or Natalie Portman. I'm sure people will see my name on the poster and they'll say, 'Who's that?'"
Asked if she could sing, she said: "I can sing and act at the same time. I remember when I saw Les Misérables I thought, 'Oh God.' That's X Factor-type musical theatre. I love the proper, Sondheim-y kind of stuff. I'm not going to be doing all the trills but hopefully it'll be a bit more sort of… moving."
If theatre must be transferred from stage to screen, Arterton said The Duchess of Malfi, screened this Sunday, should entertain viewers. "It's like Tarantino," Arterton said. "There's mass bloodshed, incest, violence, lots of kick-arse kind of stuff – and everybody dies in the end."
Register for free to continue reading
Registration is a free and easy way to support our truly independent journalism
By registering, you will also enjoy limited access to Premium articles, exclusive newsletters, commenting, and virtual events with our leading journalists
Already have an account? sign in
Join our new commenting forum
Join thought-provoking conversations, follow other Independent readers and see their replies