High Society, Old Vic, review: an effervescent musical
Kate Fleetwood glitters in Maria Friedman's revival of Cole Porter's musical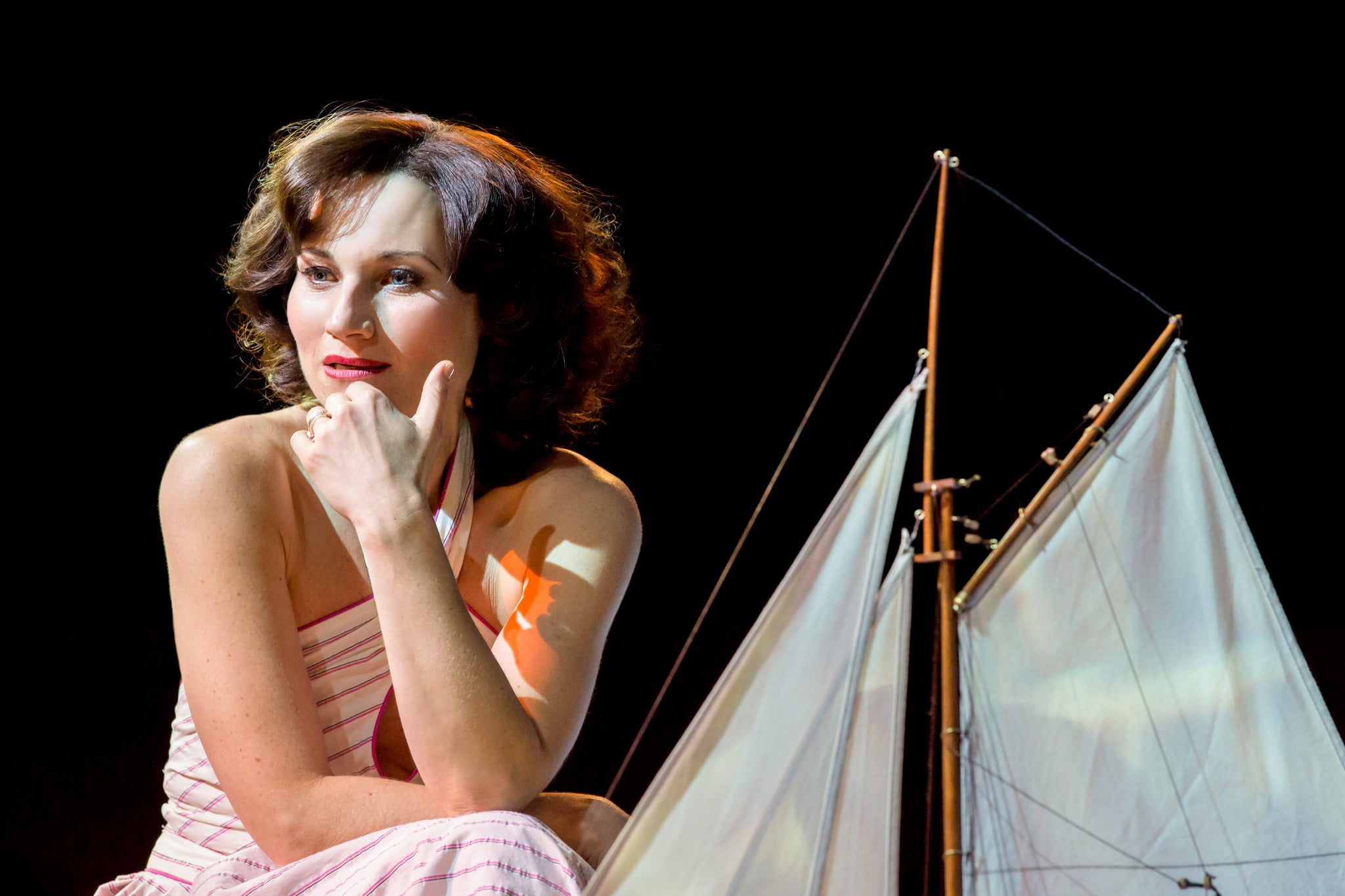 What a treat this show is. A hotchpotch of previouses - adapted by Arthur Kopit from Philip Barry's 1939 play The Philadelphia Story, but owing more to the 1956, Cole Porter-scored film version High Society, and with extra numbers from his back catalogue slipped in - this staging achieves the arguably rare feat of surpassing its filmic predecessor. Maria Friedman, a musicals veteran onstage, proves she's just as good in the director's chair, and the show certainly makes for a "swellegant, elegant" last hurrah for the Old Vic's outgoing artistic director Kevin Spacey.
The real name to shout about is Kate Fleetwood, however; she gives a gut-busting, shimmeringly varied performance, where a glittering surface masks hidden depths. In truth, High Society's plot is a flimsy, silly thing - a wedding party that features not one but three suitors jostling for the affections of imperious American socialite Tracy Lord, doused by jazz, moonlight, champagne and late-night swimming. It has no relevance beyond the circle of seats in the theatre, and Tracy herself can seem a silly, chilly woman. But Fleetwood makes her by turns sarcastic and scornful, naughty and sexy, vulnerable and weak - and a devilishly funny drunk. She propels a complicated and contradictory woman into this frothy fantasy.
If no other parts extend quite beyond screwball madcappery, this cast still rise to meet them with vim. Rupert Young's Dexter Haven is loose-limbed and lovely-voiced, with an old-fashioned cheeky chivalry that lets the character sneak by as lightly charming rather than manipulative. Jamie Parker is appealingly rough-edged as the chippy undercover reporter Mike (and also knows how to play pissed). And a small star in born in the shape of Ellie Bamber, Tracy's naughty little sister, a precocious and ferocious Pippi Longstocking-lookalike.
If you're going to stage such utter escapism, you better do it with panache - and this in-the-round production does. A spick-and-span chorus of uniformed staff glide through slick scene changes, but really come alive as guests in the party scene at the beginning of act two, for an irresistible "Let's Misbehave". There's a virtuoso piano duel, tap dancing, and even an outbreak of raunchy rock and roll, as an increasingly wild chorus of sherbet-coloured tulle dresses billow and jive across the stage.
Tom Pye's set doesn't skimp on semi-comic luxuries - a Hepworth and a Giacometti sculpture set the scene for "Who Wants to be a Millionaire?" alongside faberge eggs and silver soup tureens. I was less convinced by the onstage creation of a swimming pool through light alone, and the moment when Tracy sets a modern boat wobbling across its surface is a clanger.
But the in-the-round staging lends a rare intimacy for a musical of this pomp, helping the effervescent cast and swinging, superb band sweep the audience up with them. And while they may not have Louis Armstrong (as in the movie), Friedman has engaged the seriously impressive jazz piano-player Joe Stilgoe, who improvises fiendishly round audience requests and generally shows off in the most delightful manner.
To 22 Aug; oldvictheatre.com
Join our commenting forum
Join thought-provoking conversations, follow other Independent readers and see their replies