Great British Bake Off presenter Mel Giedroyc on swapping light entertainment for serious drama with new play Luce
The TV host wants to 'shake things up',  she tells Veronica Lee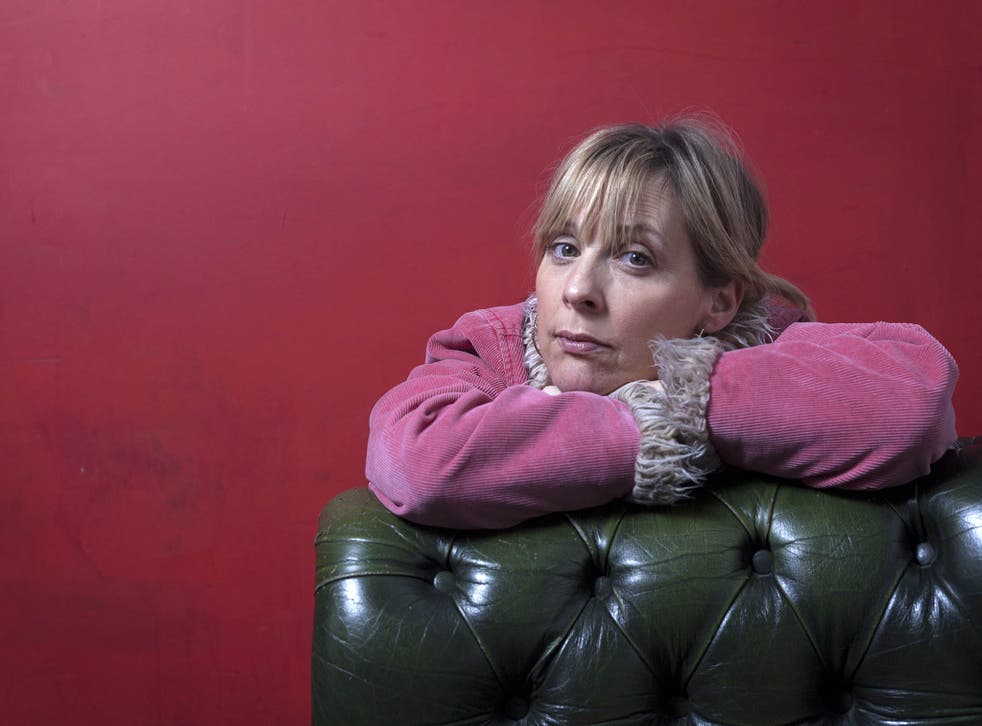 Mel Giedroyc is a very naughty girl. When I ask for tales of any off-camera high jinx on the set of The Great British Bake Off – the national phenomenon which Giedroyc presents with her comedy partner Sue Perkins – she tells me she has a habit that prompted a telling off from judge Mary Berry.
"The table we sit around, the really pretty one with teacups on? As the series progresses, I place more and more chewing gum underneath it. It drives Mary mad, but the more she gets cross the more I do it – typical arrested teenager ..."
Talk of teenage behaviour offers a neat segue into our main reason for meeting today at Southwark Playhouse in London, where Giedroyc is in rehearsals for the UK premiere of Luce, an edgy drama by young American playwright JC Lee.
In it, she plays Amy, a suburban American woman led to question her relationship with her adopted son, a refugee from an unnamed war-torn African country taken in by her and husband Peter when he was seven.
As the play opens, Luce is now a very bright 17-year-old who has written a provocative school essay about a 1970s Eastern European nationalist who was involved in terrorism.
Then when fireworks (capable of being used as explosives) are found in his locker, his concerned teacher calls in his parents. "This isn't the boy I know," says Amy, and we begin to wonder whether Luce is a star student or a sociopath – or maybe a bit of both.
It's a dark and threatening drama which deals with complicated themes – damaged children, miscommunication and the nature of parenthood. But although Giedroyc has two girls, the elder of whom is 13, she won't be drawing on her own experience of motherhood for Amy.
Musicians and Actors on Growing Old Disgracefully

Show all 5
"I am so unlike this character – she's a tiger mum, basically. There are times I stop and think, I would never, ever do what Amy and Peter do.
"Luce might have seen some horrific things, but we don't ever quite know what happened to him – how much do you dig, how much do you leave unspoken? And the idea of 'rescuing' somebody and rebuilding them has been done with the best will in the world but ...
"So much energy has gone into this 'project' that when the little fissures, and then a big crack, in that construction start showing, Amy will do anything to keep up the face of happy families. I've never had this experience, but I imagine you go into a kind of animal mode when your child is under threat; you forget the niceties and it all gets a bit visceral."
Happily, she and husband Ben Morris, a TV director, haven't yet had to deal with any teenage traumas, but I ask about her approach to discipline. "I start out strict but it all soon crumbles – mostly, I think, because I feel like I'm 15 inside my own head, which is useless when you're trying to sound authoritative."
Luce is a great chance for audiences to see Giedroyc on her own terms, given that she is so ingrained in the public consciousness as one half of a double-act.
She and Perkins met at Cambridge and went on to perform at the Edinburgh Fringe together, before landing gigs presenting Channel 4's Light Lunch and Late Lunch, two fondly-remembered programmes of live mayhem that ran in the late 1990s.
Even though they have worked separately from each other over the years, they will forever be, as one of Giedroyc's young nephews used to call them both, "Melandsue". Does she mind ever being mistaken for Sue? "No, I'm so used to it, but I hope she gets called Mel sometimes. Someone called me 'Dec' a bit ago – that hurt a bit."
Last year, Perkins released a bestselling memoir, Spectacles. I wonder if she learnt anything from it about her best friend that she didn't already know?
"What I got most from it was how much she loves her parents and in return, how much they love her too," she says. "She also devoted an entire chapter to the workings of my bowels. I feel if nothing else, they will be preserved for posterity. Wrong choice of word."
I've interviewed Giedroyc several times over the years and she is as funny off-screen as she is on it. Her previous stage roles have been in musicals or comedies but Luce is her first serious drama – was she trying to break out of the light entertainment box?
"I thought it would be good to shake things up a bit," she says. "It's a cliché but I'm challenging myself – I'm slightly bricking it, to be honest, but in a good way because it's so out of my comfort zone.
"The dialogue is fast and furious and it's David Mamet-y in that way. My major fear is of panicking and going into an ad lib and leaving the other people on stage with nothing to say."
However, these days, she can afford the odd career experiment or two, given the enormous success of Bake Off, which she has admitted she initially took simply as a paying job.
After Late Lunch ended, she had taken time out to have children; the work had begun to dry up, and the debts were mounting, such that she and Morris had to sell their family home and move into a tiny flat to pay them off.
Its runaway success has taken everybody by surprise, so when did Giedroyc realise just how big it had become? "It was an item on the Today programme – at the end of the second series, I think – about how the sales of weighing scales had shot up and they mentioned Bake Off as the cause."
Fans have become obsessed with the show and they dissect the minutiae of it each week on social media. What did she make of the so-called "Bingate" media storm in series five, when two bakers went to war over a failed Baked Alaska?
"There was a five-minute piece on it on Newsnight. Newsnight! I know it was a jokey item but I was flabbergasted – but then I was when someone said Mary's jacket was trending. What, trendy? No, trending on the internet, Mel. It's mad."
Giedroyc doesn't use social media, in contrast to her character Amy, who is obsessed with Google and Facebook, and wants to know who all her son's friends are and what they're getting up to.
"She says she wants to be in the loop but makes these awful, cringing errors – she talks about 'Facespacechat'. She gets it slightly wrong and I relate to that. I'm not on Twitter because I'm worried I'd be really dull, which would be tragic for someone who's supposed to be funny."
After Luce ends next month, Giedroyc's next gig will be co-presenting the Eurovision Song Contest semi-finals on BBC3, as she did last year – "If you can believe it, the crap gets taken away in the semi-finals, to get the really good stuff you see in the final," she says drily. And then it's back to Bake Off.
Does she worry that seven series in she and Perkins may run out of pastry-based puns? "Oh I think we've been recycling them from day one," she says, laughing loudly at the thought. Do the more risque innuendos get cut? "Actually 90 per cent of what we say ends up on the cutting room floor. And rightly so."
The producers have kept a simple idea fresh, tweaking the format in each outing, although Giedroyc says she misses "chats with medieval food historians dressed in fur loincloths" from the early series.
And although she is very happy to keep doing it – "the start of every series is like a family reunion" – she does concede it might come to a natural end. "There is surely a finite amount of European baked goods, isn't there?" Let's hope not – but then there's always more theatre to look forward to.
'Luce' is at Southwark Playhouse, London SE1 from 9 Mar to 2 Apr (southwarkplayhouse.co.uk)
Register for free to continue reading
Registration is a free and easy way to support our truly independent journalism
By registering, you will also enjoy limited access to Premium articles, exclusive newsletters, commenting, and virtual events with our leading journalists
Already have an account? sign in
Register for free to continue reading
Registration is a free and easy way to support our truly independent journalism
By registering, you will also enjoy limited access to Premium articles, exclusive newsletters, commenting, and virtual events with our leading journalists
Already have an account? sign in
Join our new commenting forum
Join thought-provoking conversations, follow other Independent readers and see their replies