Mother Courage and her Children, Southwark Playhouse, London, review: Josie Lawrence's portrayal of Brecht's anti-hero is unforgettable
Lawrence shines in a production that embraces the vaudeville character of the play's songs and music
Joe Vesey-Byrne
Wednesday 15 November 2017 00:06 Comments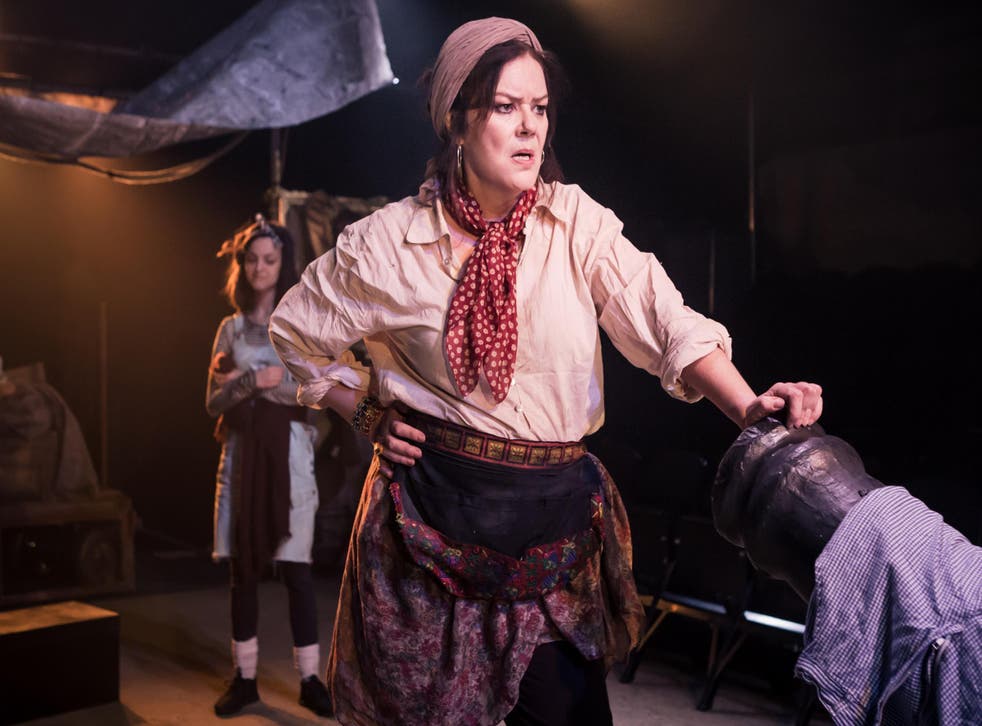 A child lays on the floor, playing with toy soldiers, accompanied by what sounds like aircraft and machine guns, but in fact are the child's imitation of these deadly weapons. Disrupted from his game by two recruiting officers, what follows this eerie scene is a moral lesson on war, and the money to made from it.
Mother Courage and her Children is possibly Bertolt Brecht's most accessible play, putting the universally understood emotion of a mother's grief into the context of the Swedish invasion of Poland in the 17th century.
The titular Courage, a kind of Thirty Years War version of Catch-22's Milo Minderbinder, is the ultimate symbol for the idea that capitalism is the extension of war. Courage herself is a tragic figure, willing to lose anything so long as her trade survives. As the conditions of war chop and change her circumstances, Courage sells to either side, swaps religions, and finally adapts to the looming, terrible, prospect of peace that threatens to drive prices down.
Brecht is translated by Tony Kushner in 2010, neither men known for their brevity, yet the tragedy that runs over two hours 20 drama is nicely broken up through use of songs and music performed by a live band. The lyrics are by Brecht, but the performance is owned by the players on stage.
Moreover, Brecht's fatalist play washes over you, as Mother Courage one by one loses her family. With a conclusion of doom telegraphed in the opening scenes, the audience is able to sit back and enjoy a brilliant performance by Josie Lawrence.
Casting Lawrence in the title role is a brilliant choice, raising the production from passable to first-class and hinting at Courage as a sad clown, an improvisor on her last legs. Her comedic performance within the performance, to outwit the army officials, instantly wins over the audience to the otherwise dubious saleswoman.
The sadder side of Courage is also performed beautifully, through belting songs for her children, and in moments of silent grief. These moments, as she mutely rubs dirt into her hair, in order that her remaining family can survive, are truly moving.
Yet Lawrence is not the only brilliant woman of the play. Most entertaining is Laura Checkley as wartime prostitute Yvette, who similarly walks the tightrope between tragedy and comedy, as the severity of her situation gets increasingly darker.
Phoebe Vigor as Courage's daughter Kattrin, who is unable to speak, makes a difficult and rather closed-in role extremely moving and sad. The strong supporting cast of rotating players adds to circus atmosphere created by Mother Courage's interpretation as an almost vaudeville star.
Lawrence's portrayal of Mother Courage is unforgettable, one that should not be missed.
Register for free to continue reading
Registration is a free and easy way to support our truly independent journalism
By registering, you will also enjoy limited access to Premium articles, exclusive newsletters, commenting, and virtual events with our leading journalists
Already have an account? sign in
Join our new commenting forum
Join thought-provoking conversations, follow other Independent readers and see their replies