Murder, Mystery and a Party, Sadler's Wells, dance review: A new triple bill from the Rambert dance company
Rambert, the UK's biggest contemporary dance company, present Macbeth, mystery, samba and skateboards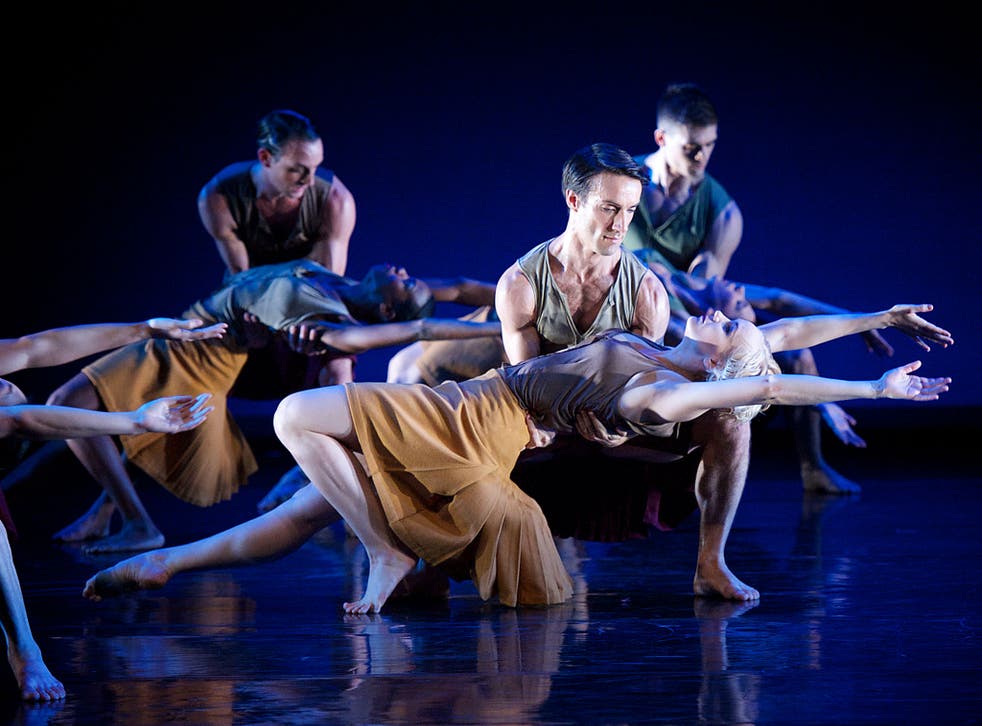 Murder, Mystery and a Party is the umbrella title for Rambert's new triple bill, but you could give the first two to Lucy Guerin's new Tomorrow. It's a prickly, intriguing work that creates a distinctive world on stage, but doesn't give its audience many ways in.
Rambert, the UK's biggest contemporary dance company, is also its flagship repertory group. Its strong, sleek dancers perform a range of styles and choreographers; this bill also shows off a new intake of dancers, already individual performers.
Guerin's Tomorrow follows the production of Macbeth that she created with director Carrie Cracknell for the Young Vic last autumn. It's an abstract retelling of Shakespeare's play: there are highly specific gestures, but little direct narrative. Conor Murphy's designs are minimalist, while Scanner's music, electronica orchestrated by Quinta, suggests seeping unease.
The stage is divided in two. On one side, seven human characters dressed in plain black go through the events of the play. On the other, seven witches in fringed cream costumes gather and seethe. Sometimes the two worlds overlap, one pressing against the other.
As storytelling, it's deliberately obscure. Macbeth and the other characters, they're all dressed alike, with a coolly neutral performance style; no acting. A threat of death is when one character points at another and turns away; it's sinister because it's so understated. If you don't know the play, you're unlikely to follow the story.
Guerin's self-absorbed stage world is a strength as well as a weakness. The black-clad dancers are purposeful and contained, turning in tight, inward circles. The witches, always present, shuffle and move through their own rituals, ignoring activity until they come to take possession of it.
Shobana Jeyasingh's Terra Incognita, created in 2014, is the mystery end of the bill. Dancers in kilted skirts move through the shadows of Lucy Carter's lighting design and Gabriel Prokofiev's music, propping themselves into angles. There's a sculptural elegance to Jeyasingh's poses and groupings, but the work lacks focus, losing itself in the murk.
Itzik Galili's A Linha Curva is determined to have a good time. Musicians play samba rhythms on stage as dancers strut, whiz through on skateboards and spend a lot of time bending over in tiny pants. It's relentlessly upbeat, but Miguel Altunaga brings astonishing flair to his shimmying solo.
Until 14 May. Touring this autumn
Register for free to continue reading
Registration is a free and easy way to support our truly independent journalism
By registering, you will also enjoy limited access to Premium articles, exclusive newsletters, commenting, and virtual events with our leading journalists
Already have an account? sign in
Register for free to continue reading
Registration is a free and easy way to support our truly independent journalism
By registering, you will also enjoy limited access to Premium articles, exclusive newsletters, commenting, and virtual events with our leading journalists
Already have an account? sign in
Join our new commenting forum
Join thought-provoking conversations, follow other Independent readers and see their replies