A brief history of the Harlem Shake
Forget Gangnam Style, a new dance craze has a billion followers online, Emily Dugan and Louise Fitzgerald show some moves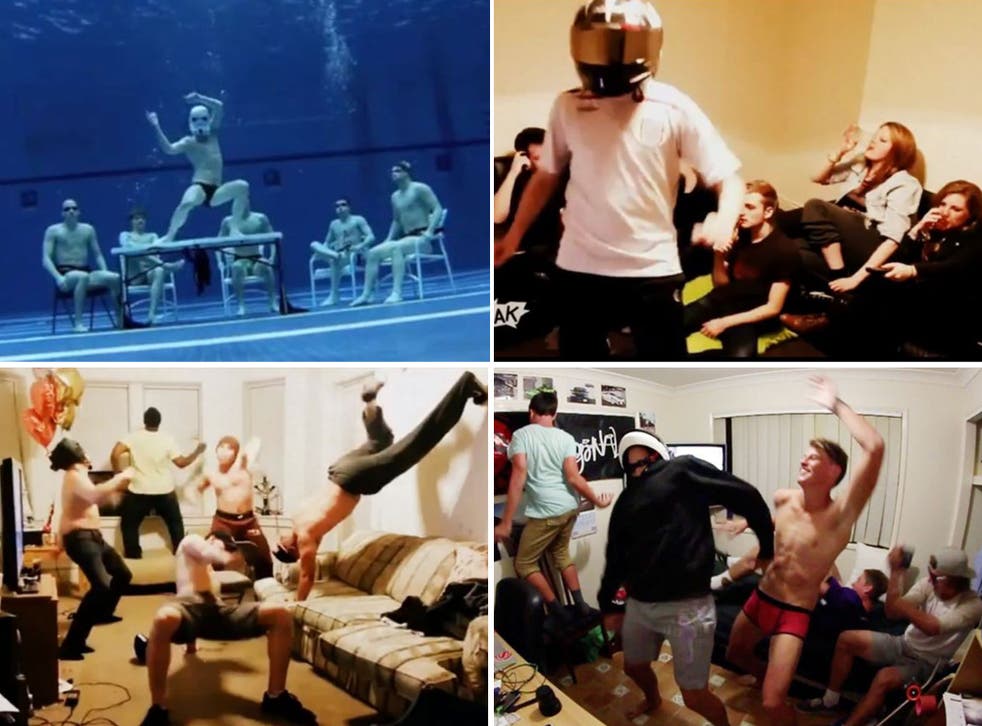 It may look like an uncoordinated display of flailing arms and wriggling torsos, but that has not stopped the Harlem Shake becoming an internet phenomenon, watched by more than 700 million people around the world in just one month. On 2 February, the first comedy video featuring five Australian teenagers dancing wildly around a room to a track called "Harlem Shake" was uploaded to the video-sharing site YouTube.
Since then, the Norwegian army, Manchester City FC and TV's The Simpsons and many others have produced their own versions. The moves have even been performed as a flashmob on a plane, thanks to an enterprising Colorado ultimate Frisbee team. But the globe-spanning internet meme would never have existed were it not for a drunk who wandered on to a New York basketball court in the 1980s.
Al B – full name Albert Leopold Boyce – died of heart failure in 2006 aged 43, after years of drinking heavily, but, in his prime, he was known for creating the Harlem Shake dance move. He used to perform it as part of the half-time entertainment show in basketball tournaments at Rucker Park, New York.
His 69-year-old mother, Sandra Boyce, told a New York newspaper: "When Al was dancing, we told him to try to put a patent on it."
Family friend Tony Arias, said: "He would be drunk, and when you went to get him to get off the court he would start laughing and performing the shake."
The dance became known around Harlem as the "Al B", but it was not long before local teenagers picked it up and it was renamed the Harlem Shake. Since then it has inspired a club track of the same name.
Al B could never have predicted the spectacular style in which the dance might come back – courtesy of the five Australian teenagers, known on YouTube as the Sunny Coast Skate. Their comedy music video, like all its 30-second imitations, begins with the shout of "Con los terroristas!" – Spanish for "With the terrorists!" – and one person, dressed in a helmet, dances alone while others in the room sit around looking oblivious. When the beat drops, another voice says "Do the Harlem shake" and everyone starts wiggling their shoulders and gyrating in wild outfits.
It has spawned more than 100,000 imitations, and the boys from south-east Queensland have been amazed by its success. "I think it's pretty crazy. I didn't think anyone would care at all," Corey Walsh, a 15-year-old high school student who appears in the video, told a local paper. "Some of the groups, like the US army doing it, it's pretty crazy the way it's taken off."
Baauer, a 23-year-old DJ from Brooklyn, whose real name is Harry Rodrigues, recorded the track last year and released it on 22 May with little fanfare. It was initially free to download, but he was already charging when the Australian video using it first went viral.
The song is No1 in the US Billboard charts for the second week, and is No3 in the UK Top 40 chart. As well as track sales, Baauer will have made money from imitations, thanks to a new YouTube feature that checks content for copies and ploughs some of the advertising revenue back to the maker of the original. Called Content ID, it is said to have contributed to the success of South Korean singer Psy, who shot to fame with his catchy video of the song "Gangnam Style", making a reported £580,000 from YouTube advertising alone.
In an interview with the American online magazine The Daily Beast, Baauer said: "It's gotten absolutely insane. All I did was make the song, so it's kind of a weird place for me to be at. I birthed it, it was raised by others, and now it's like my weird, teenage kid coming back to me."
Top of the shakes
2 Feb The original, in an Australian schoolkid's bedroom
7 Feb "Harlem shake with my son" has dad and son dancing feverishly
7 Feb The Peanuts version, featuring an edit of Snoopy, the cartoon dog
7 Feb American firemen turn into Spider-Man and a giant chicken
10 Feb The Norwegian army breaks into the shake mid-drill
11 Feb A US swim team do the dance underwater
15 Feb An ultimate Frisbee team shake on a plane to San Diego
20 Feb Members of Manchester City football club do their own version
28 Feb Protesters in Egypt shake outside the Islamist government HQ
1 March The Simpsons version is called the "Homer Shake"
Register for free to continue reading
Registration is a free and easy way to support our truly independent journalism
By registering, you will also enjoy limited access to Premium articles, exclusive newsletters, commenting, and virtual events with our leading journalists
Already have an account? sign in
Register for free to continue reading
Registration is a free and easy way to support our truly independent journalism
By registering, you will also enjoy limited access to Premium articles, exclusive newsletters, commenting, and virtual events with our leading journalists
Already have an account? sign in
Join our new commenting forum
Join thought-provoking conversations, follow other Independent readers and see their replies