Benedict Cumberbatch as Hamlet: Eager fans queue overnight for tickets to watch beloved actor at the Barbican
The fastest-selling production in British history has received mixed previews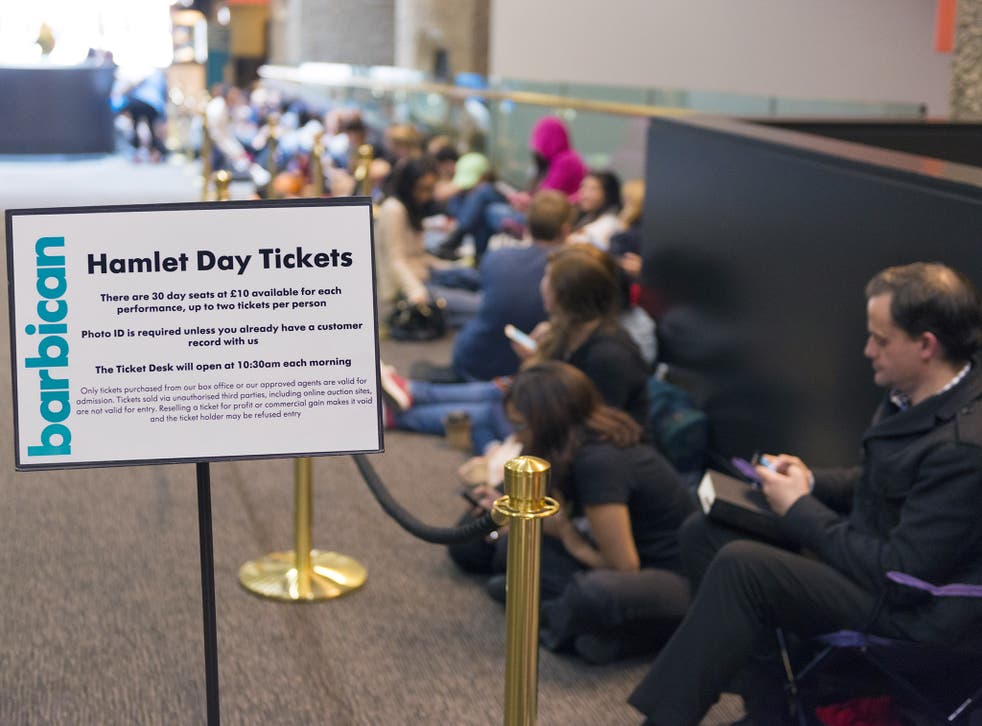 Benedict Cumberbatch fans have been queuing throughout the night for the chance to see the actor play Hamlet at the Barbican.
Fans waited in the cold for 17 hours on Tuesday night to get their hands on one of the 30 £10 tickets the Barbican are releasing daily throughout the 12 week production.
Italian students Chiara Russo, 19, and Giorgia Alongi, 18, were the first in the queue at 3pm on Tuesday afternoon and slept overnight to buy tickets at the box office at 10.30am.
"My friends are jealous but are so happy for me to get tickets," said Russo.
Nancy Jenkins, who queued for more than six hours to get a ticket, said: "He's a phenomenal actor, so intelligent and yet quirky. I think his interpretation of Hamlet will be really exciting so I'm looking forward to seeing that."
Tickets for Cumberbatch's Hamlet show sold out within hours of going on sale and are currently trading on eBay for up to £1,500.
But fans who fail to win one of the 30 coveted morning tickets can queue throughout the day for a chance of a return ticket, the Barbican has confirmed.
Press previews for the Hamlet production are mixed, with The Times giving Cumberbatch just two stars. Katie Maltby's preview began: "Alas, poor Benedict", and went on to dub the show "a production aimed squarely at those Cumber-fans".
The Daily Mail's Jan Moir was more full of praise, writing that the performance "veered from moments of genuinely hilarious comedy to plunge down to the very depths of a throat-scalding tragedy".
Hamlet runs until 31 October, with Sian Brooke playing Ophelia and Ciaran Hinds as Claudius.
The many faces of Benedict Cumberbatch

Show all 12
Join our new commenting forum
Join thought-provoking conversations, follow other Independent readers and see their replies