Disabled dancer returns to the stage in provocative new play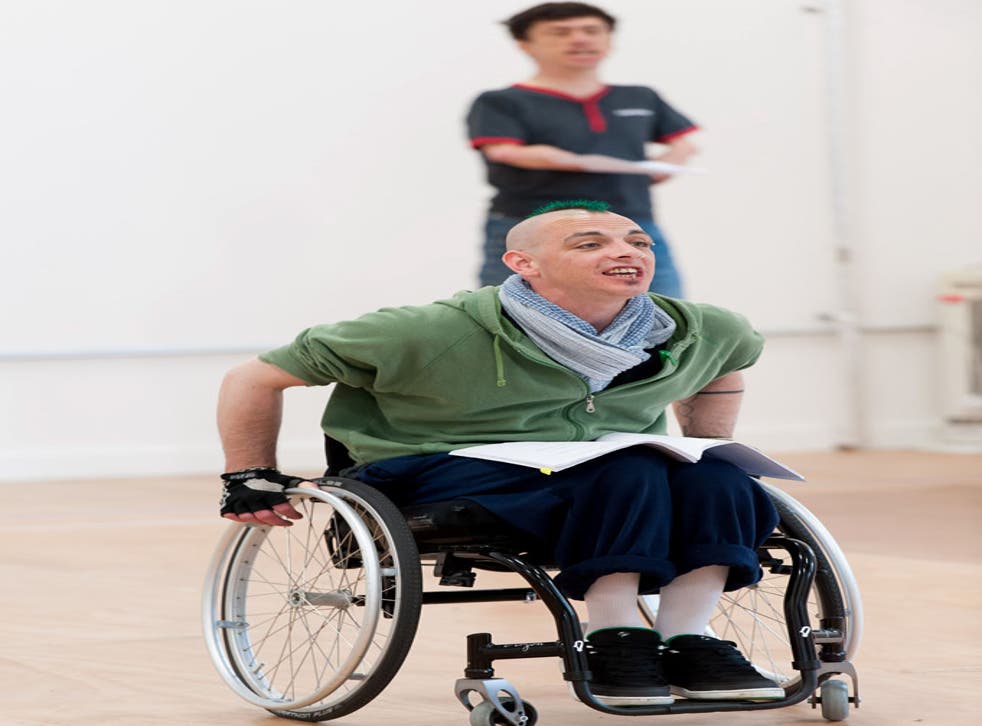 A dancer left paralysed by an accident at a house party has spoken of his joy after returning to the stage for his first major role.
Nick Phillips, 38, broke his back in a fall from the third floor while at a party more than 14 years ago.
He had all but given up hope of performing again following the physical and emotional pain he suffered.
But Mr Phillips, of Hafod, Swansea, has spoken of his joy after landing a part in a provocative new play.
In Water I'm Weightless has been billed as the first major production to feature an all-disabled cast and its creator says she hopes its provocative stories will challenge perceptions of what it means to have a disability.
For Mr Phillips it has been a joyous experience.
He said: "For so long after my accident I couldn't even bear to go and watch a play or performance.
"Just watching theatre or dance triggered too much unhappiness.
"Being a dancer who was paralysed, it felt like being a painter without any paintbrushes.
"But this performance has been a great catharsis for me and the way it makes the audience rethink their perceptions of disabled people really has hit home to me."
Penned by award-winning writer Kaite O'Reilly, In Water I'm Weightless features a series of monologues from disabled characters about their complicated relationships.
It was commissioned for the London 2012 Cultural Olympiad Unlimited, which celebrates the diversity of life in Britain.
O'Reilly, who has a visual impairment as well as degenerative spinal condition, said the main catalysts of the show was challenging what non-disabled people think about what having a disability means.
She said: "There are a lot of negative stereotypes which are still propagated and the UK Government have not helped matters with the cuts they have made to benefits and employment services.
"It basically increases the myth that disabled people are either too costly to employ or just spongers.
"We're moving from a model of independence back to one of charity - which encourages patronising views that disabled people cannot do things for themselves.
"But one in four people in the UK will become disabled at some point in their life."
O'Reilly - who comes from Dublin but now lives in Cardigan Bay - west Wales, also said her decision to have an all-disabled cast was a "no-brainer".
"It amazes me that non-disabled actors play people with disabilities," she stressed. "To me, doing that is like having a white person black themselves up to play Othello."
Former Penlan Comprehensive pupil Mr Phillips said his new role came as he was beginning to rediscover his identity following his sudden accident in 1997.
He said: "My life was dancing. It had always been my dream.
"I let the other things at school kind of slip by as I was convinced I was going to be a dancer.
"It took years and years just to get over the shock of the accident, not just what it meant for me as a dancer but what it meant for me.
"For the past 14 or 15 years I have shied away from performing. The image of myself in a wheelchair didn't feel beautiful or elegant.
"But about a year ago I went to see a rehearsal by a dance company I used to be with called Dynion."
Despite going along as part of the audience, he later found himself in thick of the action.
From there, he landed a bit-part in a Michael Sheen's out-door play The Passion in Port Talbot - which prompted National Theatre of Wales bosses to get in touch for a role in O'Reilly's new work.
Mr Phillips, who trained at the London-based contemporary dance school Laban, added: "I have come to realise that when I'm performing, I'm still me.
"It hasn't changed the way I feel on the stage, I just happen to have a wheelchair."
In Water I'm Weightless runs at the Wales Millennium Centre, Cardiff, until 4 August and at London's Southbank Centre from 31 August to 1 September.
Register for free to continue reading
Registration is a free and easy way to support our truly independent journalism
By registering, you will also enjoy limited access to Premium articles, exclusive newsletters, commenting, and virtual events with our leading journalists
Already have an account? sign in
Register for free to continue reading
Registration is a free and easy way to support our truly independent journalism
By registering, you will also enjoy limited access to Premium articles, exclusive newsletters, commenting, and virtual events with our leading journalists
Already have an account? sign in
Join our new commenting forum
Join thought-provoking conversations, follow other Independent readers and see their replies