Exit stage left: Royal Ballet in shock after losing leading man Sergei Polunin
Poached by rival company or just fed up? His departure is a mystery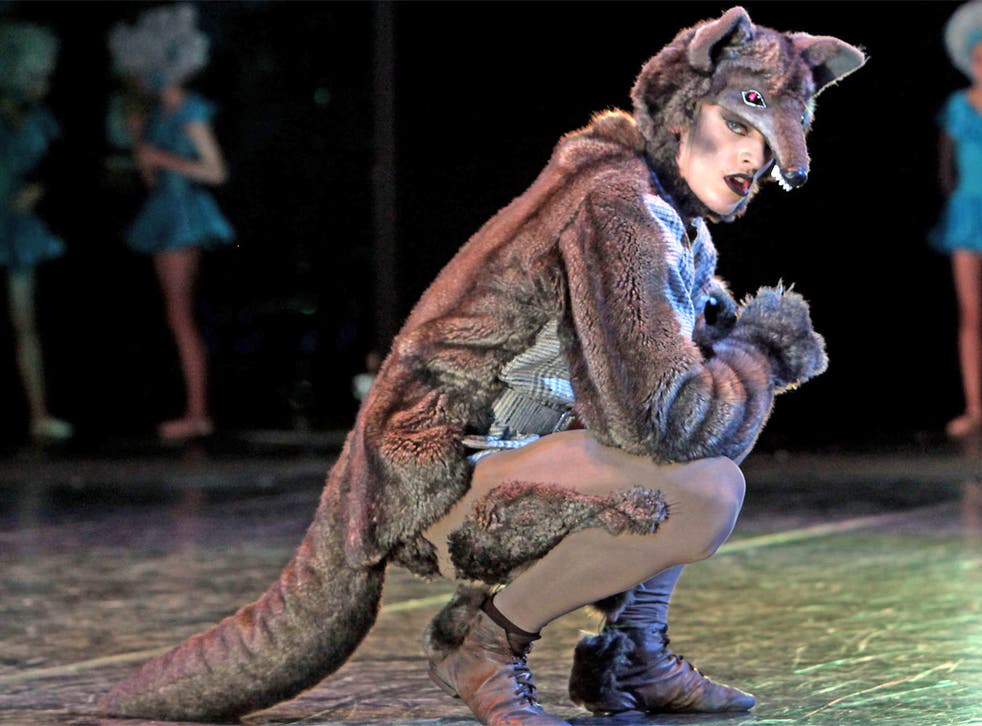 The Royal Ballet's biggest star, a 21-year old part-owner of a tattoo parlour who loves gangster movies, has left the industry in shock by walking away from Covent Garden. Not even his mother knows what he will do next.
Described by one critic as "better than Baryshnikov," Sergei Polunin was the great hope of British ballet and at 19 was the youngest ever dancer to make the rank of principal at the Royal Ballet.
Rumours swept the industry yesterday over whether he had been tempted by a lucrative offer from a rival company – with the American Ballet Theatre and Mikhailovsky Ballet in St Petersburg among the names speculated – or even whether he was to hang up his pumps for good.
Polunin, who has several tattoos including tiger claw marks on his torso, part owns The London Tattoo Company, based in North London. He was said to have spent time there yesterday, while later he was in rehearsals for a show he had agreed to do in Sadler's Wells.
Polunin, now 21, dropped the bombshell on Tuesday. During rehearsals for The Dream, in which he was to play the lead role of Oberon, he approached director Dame Monica Mason and told her he would no longer be dancing for the company.
Dame Monica, who is in her final season as director, said it had "obviously come as a huge shock" – especially just over a week before the first performance. She added: "Sergei is a wonderful dancer and I have enjoyed watching him tremendously, both on stage and in the studio."
One ballet insider said: "This is really unexpected and it is really quite shocking, he was ballet's boy wonder and a remarkable dancer." They added: "In career terms, it doesn't sound like a brilliant decision. He was given a lot of backing by the Royal Ballet and he was their biggest star."
It is believed that Polunin had become frustrated that his performances at the Royal Ballet meant he could not accept guest invitations with the American Ballet Theatre and in Russia, but there was no clue as to what triggered his departure.
His mother said he had called her to tell her the news on Tuesday night, but "did not tell me the reason for it or what he is going to do next. He just said he was leaving." She told the London Evening Standard: "I know Sergei is a talented young man, he must know what he is doing. Believe me, he will never be lost in this world. If he made up his mind to do this, he must have thought it over very deeply indeed."
Emilia Spitz, of the BalletBag blog, said: "He is very young still. It probably is difficult to handle all that pressure. He has talked of not being quite ready for some of the responsibility... This could be part of the 'Money Ballet' trend where companies are offering advantageous contracts to star dancers."
The Ukrainian dancer grew up in poverty in Kherson, close to the Black Sea, with no electricity or hot water after 6pm. He trained in the gymnastic school there, harbouring dreams of winning an Olympic gold medal.
Forced to quit after contracting pneumonia, which put him in hospital for six weeks, he later said he was unable to shake off the illness until he saw "this guy who heals with his hands".
His family moved to Kiev to join the State Ballet School when his mother thought he had the chance of a better life with a career in dancing. He was accepted into the Royal Ballet School in 2003 at the age of 13, and four years later was named Young British Dancer of the Year.
Polunin said he unwinds by playing the video games Call of Duty or FIFA on his PlayStation against the co-owner of his tattoo parlour. He has also said he is inspired by Al Pacino movies and Russell Crowe's character in Gladiator.
The Royal Ballet was still coming to terms with the news yesterday, although a spokesman insisted it was "business as usual" and that there were other principals ready to assume Polunin's role. In private, senior members were bemoaning the loss of an exceptional talent.
Steven McRae, who beat Polunin to the award for best male dancer at the National Dance Awards this week, is expected to take on all the lead duties.Polunin will no longer play the male lead in Romeo & Juliet or the Jack of Hearts in Alice's Adventures in Wonderland for the Royal Ballet.
The dancer will appear in Men in Motion at Sadler's Wells, overseen by Ivan Putrov, who quit the Royal Ballet in 2010. The source said: "Putrov's departure was also rather abrupt but there had been rumblings about it. In Polunin's case there was nothing."
Register for free to continue reading
Registration is a free and easy way to support our truly independent journalism
By registering, you will also enjoy limited access to Premium articles, exclusive newsletters, commenting, and virtual events with our leading journalists
Already have an account? sign in
Register for free to continue reading
Registration is a free and easy way to support our truly independent journalism
By registering, you will also enjoy limited access to Premium articles, exclusive newsletters, commenting, and virtual events with our leading journalists
Already have an account? sign in
Join our new commenting forum
Join thought-provoking conversations, follow other Independent readers and see their replies