Gay Russia finds a voice in London play
Playwright compiles victims' accounts in a compelling new drama
Sarah Morrison
Saturday 31 August 2013 22:06 Comments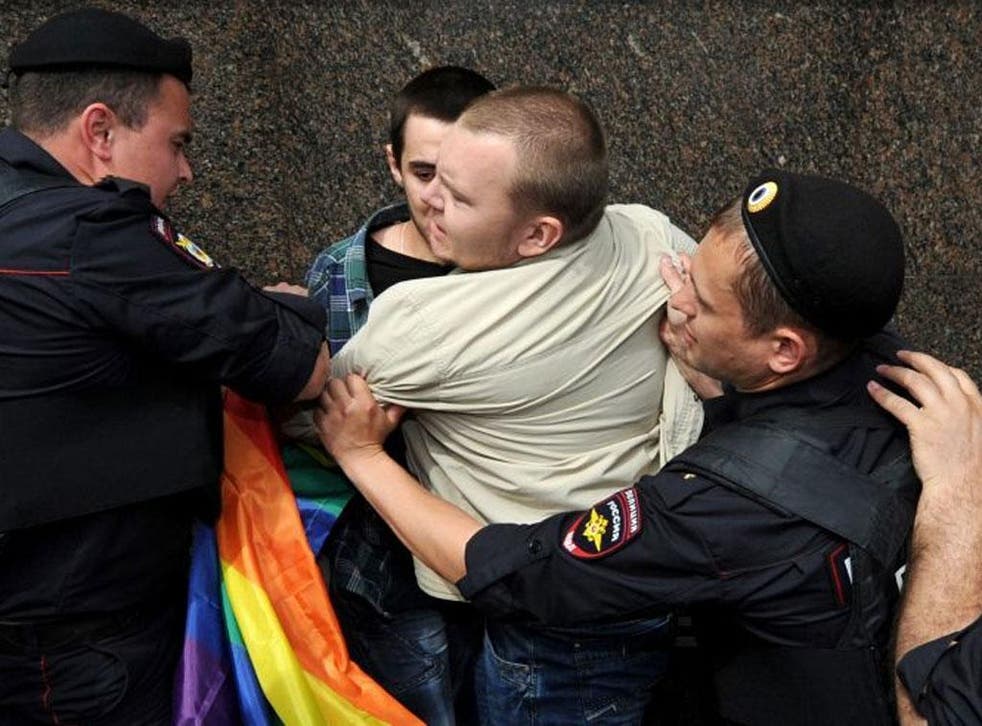 Most playwrights spend months, or even years, labouring over their work. But not Tess Berry-Hart, who was given just two and a half weeks to write a pioneering new play chronicling the lives of LGBT Russians living under the country's anti-gay laws.
The play, Sochi 2014, will be staged tonight and tomorrow at the King's Head Theatre in north London, but rehearsals are only due to start this morning. In a British theatrical first, the play will be based on 20 verbatim accounts from LGBT Russians.
Their first-person stories, including tales of homophobic abuse, arrest and detainment, have been drawn together by Berry-Hart, who trained at the Royal Court Theatre. She has spent the past few weeks frantically rewriting scenes of the play, so as to keep up to date with the rolling political story.
The playwright told The Independent on Sunday she got involved because she supports "people's fight for equality." She said there is no single Russian "gay experience", but hopes that by looking at a "cross-section of stories," she will give a "true picture" of what is happening in Russia, where it is now a criminal offence to promote non-heterosexual relationships.
The play will feature stories from the likes of Nikolai, 38, who was arrested four years ago during a Gay Pride rally in Moscow. He said: "I face homophobic prejudice from ordinary people every day. It's [the] everyday life of gays in Russia. We always hear homophobic jokes harassing us and it is regarded as absolutely normal... Sometimes it can be enough just to not look like others; you will be named 'faggot'."
Jessika, 22, agreed. In her testimony, she revealed that she has only one friend, because she is too scared to be open with anyone else. "The recent law made it almost impossible to be out without fear," she added. Antony, who is also gay, has been arrested four times at protests, most recently in May of this year. He has left Russia to live in New York and said LGBT Russians are "scared by [the] killings and beatings".
The play follows intense pressure from figures such as Stephen Fry to boycott the Winter Olympics, to be held in Sochi next year. But Berry-Hart said her own opinion on this issue changed after speaking to Russians, many of whom "want the Games to increase visibility and solidarity for them instead".
The gay rights activist Peter Tatchell, who has been beaten up and arrested four times for taking part in Moscow Gay Pride marches, said he is "really pleased" that the King's Head is "using theatre in a creative, entertaining way to expose homophobic repression in Russia".
He is organising a protest outside Downing Street on Tuesday to press world leaders to "put the persecution of gay people on the G20 summit agenda."
'Everything was a blur. They were hitting me on all sides. The police officer said no one wants to live on a street by a pervert like me'
Sergei, 31, fled Russia earlier this year and is now seeking asylum in the United States. He said he faced so much physical and psychological abuse that remaining in his home country was impossible. He was fired from the job he held for a decade when his employers found out he was gay last year. Here is an edited version of his moving testimony, which will be used in Tess Berry-Hart's play Sochi 2014:
"The week before, on Mamba [a Russian dating website], I received a message: 'Hello. My name is Stanislav. I'm 23. I am looking for a serious relationship. I would like to meet you.' We talked for five days [then] I received a message from him with a proposal to meet. I agreed.
"We went into a café and drank a glass of wine. 'Stanislav' offered me a walk in the park. I agreed. After a while I saw that in my direction ran two strong guys in sportswear. I was confused and scared. He immediately hit me in the head; I fell. Then everything was a blur. They [were] hitting me on all sides. I could hear them shouting: 'We will soon clear the city from these pederasts'. Then they ran.
"A few minutes later I looked up and saw police. I explained why it happened [and] told them I was gay. I asked them to take me to the hospital, but they took me to the police station. They put me in a cell, with other prisoners. I had to sleep sitting on the floor. Later I was accused of hooliganism in a public place, and [they] let me go. [I] had multiple bruises, internal bleeding and concussion. I had to stay in hospital for two weeks. Then a divisional police officer I knew said [to me] that no one wants to live on a street by a pervert like me, and asked me to pay him $20,000 for his silence. I said I didn't have that kind of money. The police officer told me I would greatly regret [my decision]."
Register for free to continue reading
Registration is a free and easy way to support our truly independent journalism
By registering, you will also enjoy limited access to Premium articles, exclusive newsletters, commenting, and virtual events with our leading journalists
Already have an account? sign in
Join our new commenting forum
Join thought-provoking conversations, follow other Independent readers and see their replies