James Franco and Chris O'Dowd in first Broadway poster for Of Mice and Men
The actors will play George and Lennie in the  production of Steinbeck's classic
Jess Denham
Thursday 09 January 2014 15:55 Comments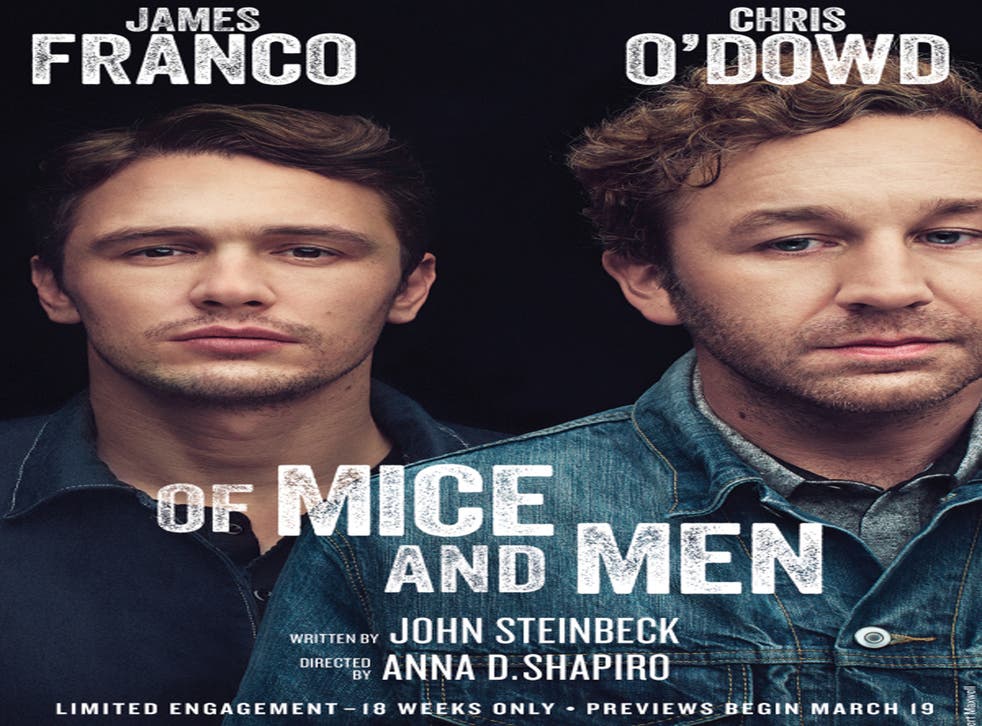 James Franco and Chris O'Dowd have made their first appearances as George and Lennie in an official poster for the upcoming Broadway revival of John Steinbeck's Of Mice and Men.
Directed by Tony Award winner Anna D Shapiro, the new Longacre Theatre production stars the Hollywood actors as two Californian migrant workers struggling to find jobs in the 1930s.
American dreamer George will be portrayed by Franco, while Irish O'Dowd will take on the role of the mentally-handicapped, well-intentioned Lennie. The duo are featured prominently on the poster, clad in denim shirts with vacant, disenchanted expressions on their faces.
The opening night of Of Mice and Men is scheduled for 16 April and will herald the first time that Broadway have hosted Steinbeck's classic since 1975.
Franco, 34, is best known for his role as ill-fated mountain climber Aron Ralston in Danny Boyle's 127 Hours, while O'Dowd, 35, played lovable cop Rhodes in hit romantic comedy Bridesmaids.
Other actors signed up for Shapiro's play include The Seafarer's Jim Norton as aging ranch hand Candy and Gossip Girl's Leighton Meester as the boss' son Curley's wife.
Register for free to continue reading
Registration is a free and easy way to support our truly independent journalism
By registering, you will also enjoy limited access to Premium articles, exclusive newsletters, commenting, and virtual events with our leading journalists
Already have an account? sign in
Join our new commenting forum
Join thought-provoking conversations, follow other Independent readers and see their replies