London to see world's first wheelchair-accessible, gender-neutral, LGBT-friendly dance studio
Irreverent Dance reaches Kickstarter target in bid to offer space to gay, straight, trans and genderqueer people of all ages, as well as people with mental and physical disabilities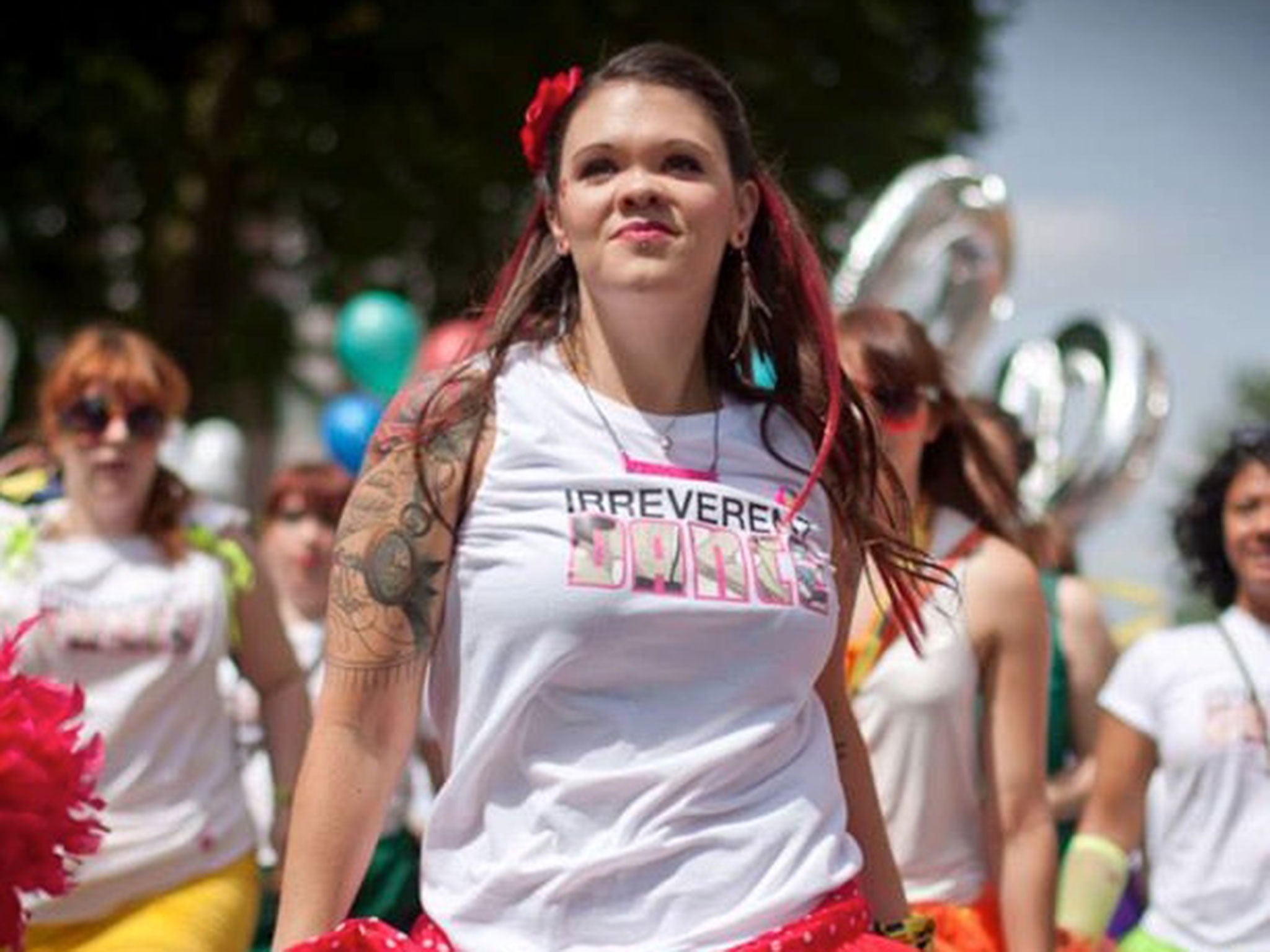 As the Independent on Sunday celebrates influential members of the LGBT community in its 2014 Rainbow List, Irreverent Dance studio is preparing to open what could be the first wheelchair-accessible, gender-neutral, LGBT-friendly dance studio in the world.
Irreverent Dance has so far run in hired spaces across London, and is open to gay, straight, trans and genderqueer people of all ages, as well as people with mental and physical disabilities.
Last night the group reached the £30,000 base target of its ongoing Kickstarter Campaign and will soon open the first permanent studio of its kind in Europe, with a view to opening further studios across the UK.
"I'm a size 14-16, heavily tattooed, ex-eating disorder, ex-nearly-professional, bisexual dancer who wanted to go back into dance and there wasn't a space for me, so I made a space," said Amanda Leon-Joyce, who founded Irreverent Dance in 2012.
Rainbow List 2014
Show all 101
"Then other people said there isn't a space for trans people; there isn't space for people with MS; we just kept opening our arms until we got here."


The dance school, which currently includes 7 teachers and over 500 students, runs ballet, ballroom, tap, Latin, salsa and swing classes.
"People who are overweight, who are trans, or who are excluded from society in any way, tend to have health problems, but dance, as a structure, is most likely to exclude the people who are going to most benefit from it," said Leon Joyce.
Being gender neutral is vital to welcome more people into dance because the traditional male/female divides don't include a lot of the spectrum, she said.
Dance student, Catherine Hennigan, 22, learned ballet as a child but felt that her body and sexual orientation didn't align with the other more "girly" ballerinas. "The vibe I got from the teacher and class was that if I didn't fit the traditional stereotype, I wasn't really welcome," she said.
"Teachers at Irreverent Dance don't assume men will lead in partner dance classes, and in ballet classes anyone who is capable and experienced enough to do so is encouraged to dance en pointe, not just the women as is traditional. This means a lot to me, as I've always felt more associated with the way that men dance in ballet," she said.
Alec Martin, 25, also stopped ballet at a young age due to an "unpleasant atmosphere".
"I wasn't the right kind of strong, cocky, confident male and less stereotypically 'feminine' females or 'masculine' males like me were pushed out," he said. According to Martin, Irreverence Dance has allowed him to "break down a lot of baggage", including the feeling of "not being 'male' enough".
Ballet exam boards have always enforced "strict rules on gender", said Leon-Joyce, but even she was shocked to be told that, unless a trans student appears – in the examiners eyes – to have been assigned their defined gender at birth, they must be submitted as disabled to pass the grade they feel fits their gender identity.
"Many dance organisations and the bodies that regulate them don't connect," said Leon-Joyce. "They are firming up their original hetero-normative beliefs and there is this desperate need for a space that doesn't do that."


Twenty-nine-year-old Chloë Tyrell, a trans woman, said that before she transitioned, gendered dance was extremely alienating.
"Having transitioned, the gendering and pigeonholing of students stood out even more and I gave it up," she said. "I felt really intimidated about drawing attention to myself, which at 6 foot tall and visibly queer, I already get too much of."


Now, through Irreverent Dance, Tyrell, feels "an acceptance and enjoyment" of her body.
At Irreverent Dance, students can wear loose clothes, or clothes that define their breast implants or packer, said Leon-Joyce, while a freedom to choose can also benefit older dancers, people with specific religious beliefs or particular disabilities.
Twenty-eight-year-old student, Nina Grant, who has Ehlers-Danlos syndrome, a joint hypermobility disorder, said that Irreverent Dance was a "safe environment".
"No one has judged me for using crutches to walk yet still being able to dance, carefully, and it's definitely helped me to accept my disability and at the same time be amazed at what I can still do," she said.
Irreverent Dance plans to fit out a dance studio in Islington, north London with wheelchair access, and gender-neutral toilets and changing rooms. "It's about offering things and letting people self-select," said Leon-Joyce.
Join our commenting forum
Join thought-provoking conversations, follow other Independent readers and see their replies