Olivier Awards 2016: Judi Dench makes theatre history with record eighth award
The award capped a night on which the industry also proclaimed its diversity with wins for Matt Henry and David Bedella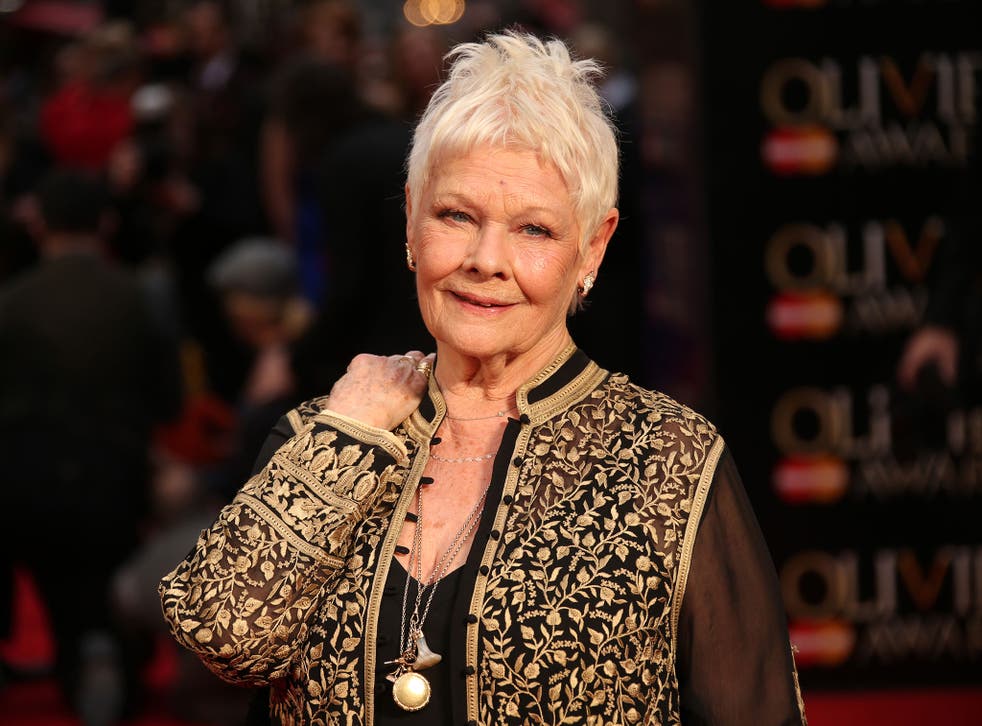 Judi Dench has become the most garlanded actor in British theatre history when she won her eighth Olivier Award.
Dame Judi was named best supporting actress for his role as Paulina in The Winter's Tale at the annual gathering for Britain's most prestigious stage honours on Sunday evening.
The 81-year-old star, who has also been Oscar nominated seven times and won an Academy Award for Shakespeare in Love in 1998, has now received more Oliviers for acting than any other performer.
The award capped a night on which the theatre industry also proclaimed its diversity with wins for The Voice finalist, Matt Henry, named best actor in a musical, and David Bedella, who was named best supporting actor in a musical.
Host Michael Ball said that the stage was leading the way over the film industry following the controversy over the lack of ethnic minority nominees in this year's Oscars.
Speaking ahead of the ceremony at London's Royal Opera House, Ball said British theatre was in "rude health" as the Olivier Awards marked its 40th year.
The two-time Olivier winner said: "There's a lot of new writing and it's wonderful that we're so much more diverse. There was a big hoo-ha at the Oscars about diversity, well there's no such problem in the theatre. I think we're doing all right."
The biggest winner of the night was Gypsy, a revival of the classic 1959 musical based on the memoirs of Gypsy Rose Lee. The West End production won four awards, including best actress in a musical for Imelda Staunton.
What had been predicted to be the closest rivalry of the night - between Benedict Cumberbatch and Mark Rylance in the best actor category - resulted in neither star winning.
Sherlock actor Cumberbatch had been nominated for his Hamlet alongside Rylance for his role in Farinelli and the King and Sir Kenneth Branagh for The Winter's Tale. But the award was won instead by Scottish actor Kenneth Cranham for the lead role in French play The Father.
The musical Kinky Boots, with music and lyrics by 80s pop star Cyndi Lauper, won three prizes, including the award for Matt Henry and best new musical.
Olivier Awards 2016 with Mastercard winners
Best Actor in a Supporting Role: Mark Gatiss for Three Days In The Country at National Theatre, Lyttelton
Best Actress in a Supporting Role: Dame Judi Dench for The Winter's Tale at Garrick Theatre
Best Actor: Kenneth Cranham for The Father at Wyndham's Theatre
Best Actress: Denise Gough for People, Places And Things at National Theatre, Dorfman
Best Director: Robert Icke for Oresteia at Almeida Theatre
Best Actor in a Supporting Role in a Musical: David Bedella for In The Heights at King's Cross Theatre
Best Actress in a Supporting Role in a Musical: Lara Pulver for Gypsy at Savoy Theatre
Best Musical Revival: Gypsy at Savoy Theatre
Best Actor in a Musical: Matt Henry for Kinky Boots at Adelphi Theatre
Best Actress in a Musical: Imelda Staunton for Gypsy at Savoy Theatre
MasterCard Best New Musical: Kinky Boots at Adelphi Theatre
Best Costume Design: Gregg Barnes for Kinky Boots at Adelphi Theatre
Best New Opera Production: Cavalleria Rusticana/Pagliacci at Royal Opera House
Register for free to continue reading
Registration is a free and easy way to support our truly independent journalism
By registering, you will also enjoy limited access to Premium articles, exclusive newsletters, commenting, and virtual events with our leading journalists
Already have an account? sign in
Register for free to continue reading
Registration is a free and easy way to support our truly independent journalism
By registering, you will also enjoy limited access to Premium articles, exclusive newsletters, commenting, and virtual events with our leading journalists
Already have an account? sign in
Join our new commenting forum
Join thought-provoking conversations, follow other Independent readers and see their replies