Orlando Bloom earns mixed reviews for his Broadway debut in Romeo and Juliet
New York critics split on the Lord of the Rings star's performance in David Leveaux's production of the Shakespeare classic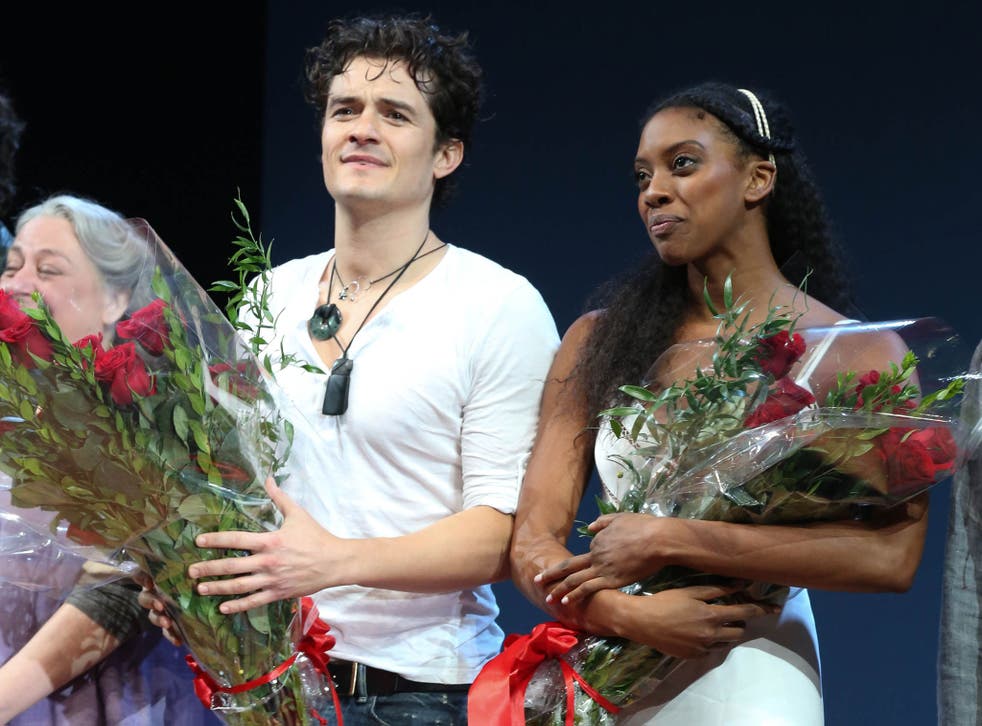 Orlando Bloom has earned mixed reviews for his Broadway debut in a new adaptation of Romeo and Juliet.
Critics were largely underwhelmed by director David Leveaux's modern take on the Shakespeare tragedy, which sees the Pirates of the Caribbean and Lord of the Rings star enter the stage on a motorcycle.
Hollywood bible Variety said Bloom and his co-star Condola Rashad "do good work when they're not hanging from a scaffold or scaling a wall," while the New York Times enthused: "For once, we have a Romeo who evolves substantively, from a posturing youth in love with love to a man who discovers the startling revelation of real love, with a last-act descent into bilious, bitter anger that verges on madness."
Other critics were less keen. The New York Post claimed Bloom "lacks stage presence", adding: "The scene in which Romeo agonizes at the prospect of being banished from his beloved is excruciatingly dull.""
The Wall Street Journal cruelly noted: "Mr Bloom is a decade older than Condola Rashad, his 26-year-old Juliet, and looks every day of it."
It continued: "Broadway is not the place to make your debut as a classical actor, and Mr Bloom turns in an energetic but emotionally unvaried performance in which he gives the impression of squeezing expression out of a tube instead of finding it in his lines."
However, The Hollywood Reporter said Bloom's "boyish prettiness" rendered the age gap irrelevant.
"His early classical training is evident in the ease and conviction he brings to the language," it said, "Bloom gives his screen fans plenty to swoon over, including a brief shirtless scene that will set lots of hearts racing."
Join our new commenting forum
Join thought-provoking conversations, follow other Independent readers and see their replies