Royal Shakespeare Company looks to discover a new musical star with competition to reinterpret songs by the Bard
The winning composition will be performed by RSC musicians as part of celebrations for the playwright's birthday in April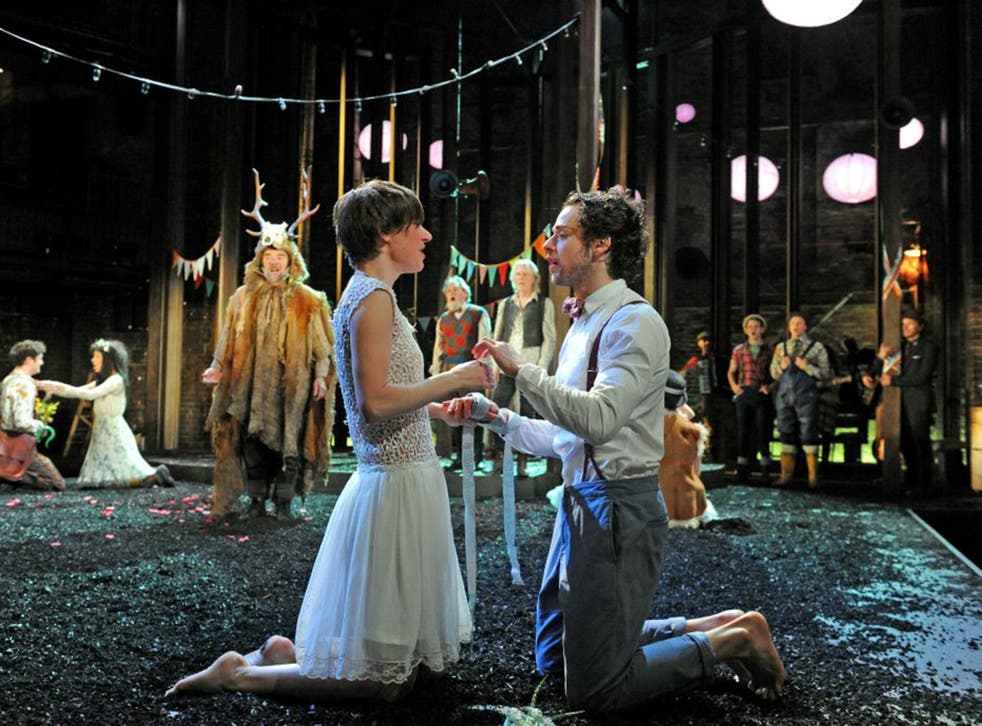 It has a worldwide reputation for showcasing the best acting talent, but the Royal Shakespeare Company's latest project seeks to uncover a musical star.
Tomorrow, as it raises the curtain on its winter 2015 season, the theatre company will launch a new music competition for both professional and amateur composers.
It will ask entrants to set to music the words of one of William Shakespeare's songs, the winning composition to be performed by RSC musicians as part of celebrations for the playwright's birthday in April, in his home town of Stratford-upon-Avon.
The winner of the competition will follow in some famous footsteps. A number of well-known figures have composed music for the RSC in the past, from the 20th-century symphonist Edmund Rubbra to singer Ian Dury.
The actor, comedian and pianist Dudley Moore co-wrote the music for a 1962 staging of Bertolt Brecht's Caucasian Chalk Circle with the German composer Paul Dessau. The Brit Award-winning singer-songwriter Laura Marling wrote the songs for Maria Aberg's 2013 production of As You Like It.
There are more than 2,000 references to music in Shakespeare's work, more than 400 separate musical terms, and about 100 songs, according to research by Hull University. Competition entrants will have a choice of 14 song texts from eight plays, including "O mistress mine" from Twelfth Night and "Sigh no more, ladies" from Much Ado about Nothing.
Composers for the RSC

Show all 10
Bruce O'Neil, the RSC's head of music, said: "We're not expecting any particular style. It doesn't have to be people coming along and playing a lute, and trying to recreate what they think it would have been 400 years ago. As long as it's a really interesting, original setting and we feel it's got some musical substance and is worth performing, we'll shortlist it."
After the competition closes on 23 March, judges from the RSC will choose three finalists. Mr O'Neil said the judges won't know who has submitted the entries so it will be a "very level playing field" for both professionals and amateur composers. "If there's an up-and-coming songwriter, who perhaps could do with a bit of a break, in some ways I hope we find that person because it's a great opportunity for them to have their work get a bit of exposure," he added.
It will then be down to the public to pick their favourite of the finalists' songs via a vote on the RSC's website between 9 and 16 April. The winner will be named on 20 April.
The chosen composition will be performed for Shakespeare's birthday on 23 April at the Royal Shakespeare Theatre, Stratford-upon-Avon, and again at the same venue on 26 April as part of the Shakespeare's Birthday Bash concert, at which actors and musicians will perform extracts from the playwright's works. This year marks a midpoint between two significant Shakespeare milestones: last year there were celebrations for the 450th anniversary of his birth, and the 400th anniversary of his death will be markednext year.
The online competition, which is partly inspired by an ongoing RSC project to record and release music from current and past productions of all of Shakespeare's plays, will be open to UK residents aged 18 or over. A composition must be original and unpublished, a setting for a solo voice and accompaniment, a maximum of four minutes long, and submitted in digital audio form with an accompanying written score of the melody and chords.
Composers for the RSC
Dudley Moore
The Oscar-nominated actor co-composed music for a 1962 Caucasian Chalk Circle with German composer Paul Dessau.
Laura Marling
The Brit Award-winner wrote songs for As You Like It in 2013
Ian Dury
The rock'n'roll frontman composed for Richard Brome's A Jovial Crew and William Wycherley's The Country Wife in the 1990s.
Julian Slade
The composer of Salad Days, the UK's longest-running show of the 1950s, wrote music for The Merchant of Venice in 1953.
Edmund Rubbra
When the British composer created music for a 1946 Macbeth, the cast included a 23-year-old Donald Sinden as Murderer 3.
Billy Bragg
Edward Hall's Henry V in 2000 featured songs by the bard of Barking.
Ralph Vaughan Williams
Provided music for Frank Benson's Stratford Company, a pre-cursor to the RSC, from 1912 to 1913.
Django Django
David Maclean and Tommy Grace from the Mercury Prize-nominated band composed for John Webster's The White Devil in 2014.
Tim Minchin
Wrote the music and lyrics for the Olivier Award-winning Matilda the Musical, still on.
Lennox Berkeley
Diana Rigg and Ian Richardson were on stage when the composer wrote for The Winter's Tale in 1960. Also worked on The Tempest in 1947.
Register for free to continue reading
Registration is a free and easy way to support our truly independent journalism
By registering, you will also enjoy limited access to Premium articles, exclusive newsletters, commenting, and virtual events with our leading journalists
Already have an account? sign in
Register for free to continue reading
Registration is a free and easy way to support our truly independent journalism
By registering, you will also enjoy limited access to Premium articles, exclusive newsletters, commenting, and virtual events with our leading journalists
Already have an account? sign in
Join our new commenting forum
Join thought-provoking conversations, follow other Independent readers and see their replies