Solved: The mystery of forgotten Christie play
The queen of detective fiction turned her uneasy relationship with her daughter into a ' brutal' drama - and now it's on the West End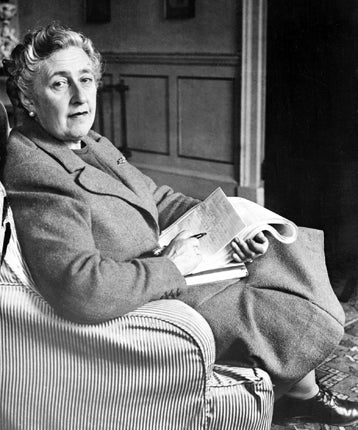 There is no debonair detective or murdered house guest. There has, however, been a mystery that can now, finally, be cleared up.
A play by Agatha Christie – the queen of detective fiction who created the brilliant sleuths Hercule Poirot and Miss Marple – is to be given a West End run more than 50 years after it was written.
For decades A Daughter's a Daughter has languished almost forgotten and unperformed because of a family dispute: Christie had based the main character on her own daughter, and the play hinted at Christie's troubled feelings towards her only child. Mathew Prichard, Christie's grandson, said this week that his mother – Rosalind Hicks, who owned the copyright to the play after the author's death in 1976 – "wasn't wildly enthusiastic" about the play.
He added that "coincidence is too strong a word" to describe the similarities between his mother and the play's central character: "I think the way my grandmother constructed characters was that she would take pieces of characteristics or habits of those around her. It's hard for me to avoid the fact that the character of the daughter reminds me a lot of my mother. It is eerie. The husband is not like my father, so it is not based on events. My mother was in her late teens when the play was written."
More strangely, events in Christie's life went on to mirror the plot of the play, which centres on the difficulties of a mother-daughter relationship, which intensifies when the mother meets a new man.
A Daughter's a Daughter – the new production starring Jenny Seagrove and Honeysuckle Weeks opens in the West End on 14 December – was written in 1956 under Christie's pseudonym Mary Westmacott, but ran for just one week in Bath. Christie was already a successful playwright – The Mousetrap had opened in the West End in 1952 and is still running. But experts believe her agents feared the play would disappoint her fans who had long rumbled her pen name and would expect a gripping whodunit.
"It's completely different from any other Agatha Christie play," said John Curran, who edited her diaries. "In 1956, Christie was at the height of her play-writing career, with three plays in the West End. She did say if she could write like Graham Greene or Muriel Spark, she would jump for joy. Mary Westmacott allowed her to write differently." Bill Kenwright, the theatre impresario who is producing the play, added that A Daughter's a Daughter is "brutal and incredibly honest". "The title comes from the saying 'A son is a son until he gets married, a daughter's a daughter for ever and a day'. I'm not surprised by how good it is ... It's a good enough play to stand up without the Christie brand. It's quite a tough play. It is a substantial night at the theatre." Kenwright came across the play when it was given a one-off performance in 2001 in Westcliff-on-Sea in Essex, during an Agatha Christie season when all her works were produced.
Ms Hicks's death in 2004 meant there was no longer an obstacle to it being properly revived. It was performed in Windsor earlier this year as a warm-up for its West End debut. "I will be a little bit nervous on the first night, but also proud," Mr Prichard added.
Join our commenting forum
Join thought-provoking conversations, follow other Independent readers and see their replies