Sweeney Todd, Harrington's Pie and Mash Shop, review: 'A close shave of alarming distinction'
Our theatre critic was both impressed and terrified by this immersive play
Paul Taylor
Monday 23 March 2015 14:10 Comments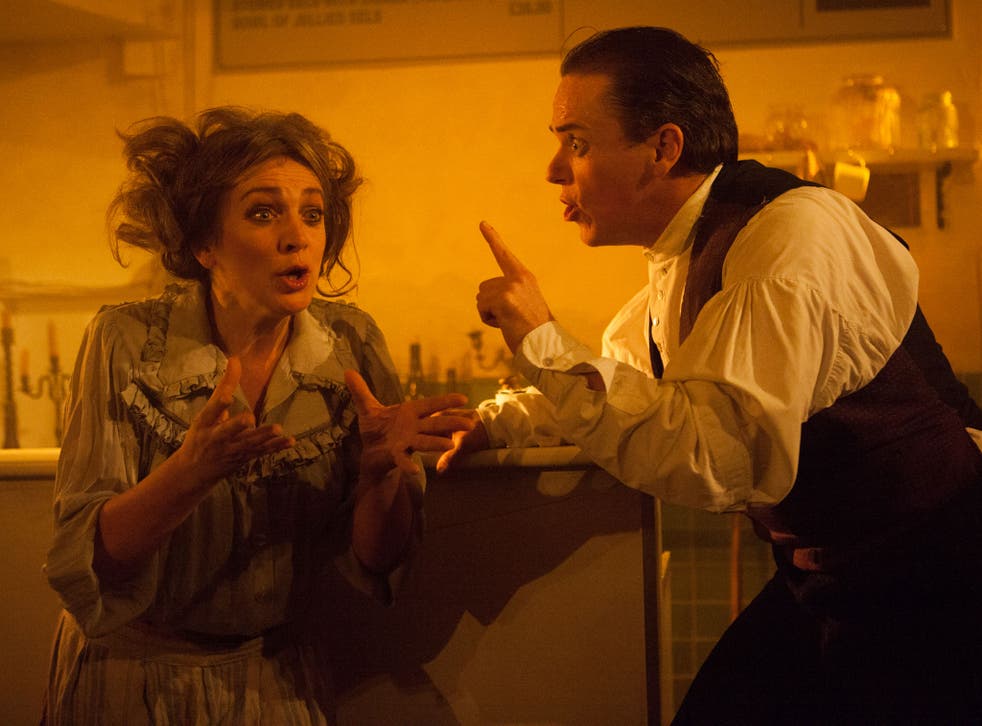 Where better to serve up an unnervingly intimate site-specific version of Sondheim's gory masterpiece than a working old-fashioned pie shop?
The composer himself was bowled over by the intensity when he caught the Tooting Arts Club production which, late last year, packed 32 punters a night round the tables of the venerable Harrington's Pie and Mash Shop.
Now, thanks to his enthusiasm and to Cameron Mackintosh's enterprise, a lovingly recreated facsimile of the shop has materialised on Shaftesbury Avenue. The trusting and intrepid can even order a pie before the show.
Not that there's anything gimmicky about Bill Buckhurst's ingeniously immersive, flickeringly candle-lit production. The in-yer-face, claustrophobic proximity heightens both the black farce and the tragic horror. You're liable to have members of the 8-strong company leap up onto your table, plunge beside you, smear your thinning scalp with miracle elixir, or whip away white table cloths that come back looking somewhat less pristine in a sequence of murders now horrifyingly re-imagined as off-stage.
And hearing the score – sung with terrific commitment by Jeremy Secomb's haunted Sweeney and cast – at such intimate quarters allows you to revel in the intricacies of the writing. A close shave of alarming distinction.
To 30 May; 0844 42 5138
Register for free to continue reading
Registration is a free and easy way to support our truly independent journalism
By registering, you will also enjoy limited access to Premium articles, exclusive newsletters, commenting, and virtual events with our leading journalists
Already have an account? sign in
Join our new commenting forum
Join thought-provoking conversations, follow other Independent readers and see their replies