Tony Awards 2015: Best actor winner Alex Sharp was rejected by the UK's 'good drama schools'
Sharp won best actor for The Curious Incident of The Dog in the Night-Time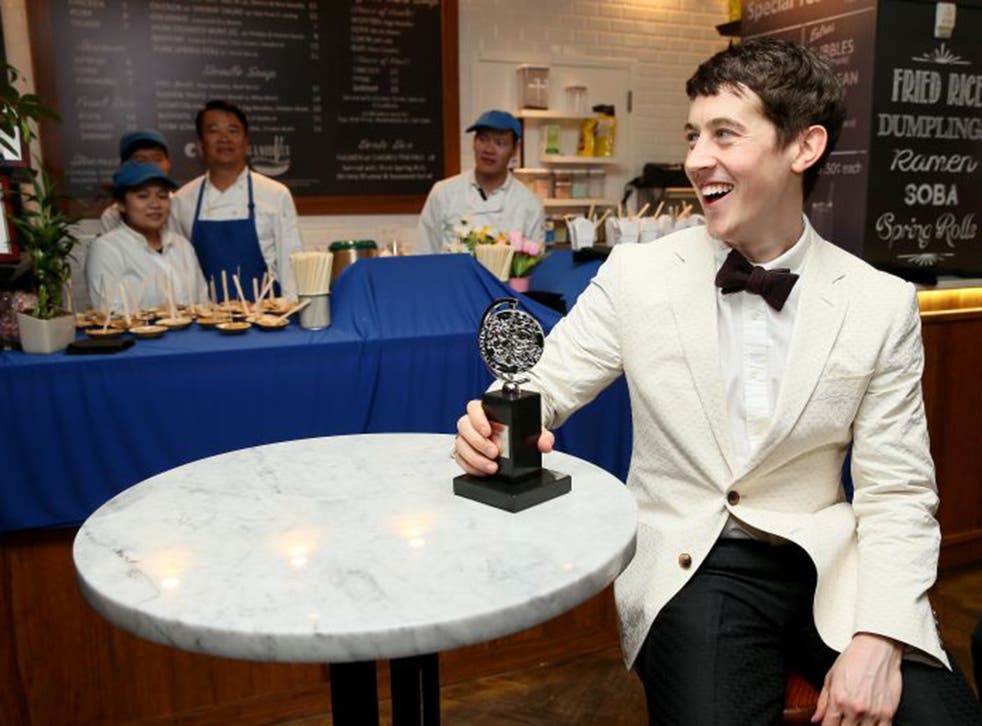 As Alex Sharp stood on the winner's podium in New York, Tony theatre award in hand, he must have been tempted to blow a raspberry at Britain's biggest drama schools.
The London-born actor was named best actor in a leading role in a play at the theatrical equivalent of the Oscars on Sunday night, following performers such as Mark Rylance and Denzel Washington in securing one of the highest accolades in US theatre.
Yet he could have remained an unknown, he revealed, because before his career took off in America he had been rejected by "all of the good drama schools" in the UK.
Sharp, who was eventually accepted by the Juilliard School in New York, won the Tony for his first professional role – the lead in The Curious Incident of the Dog in the Night-Time, which won a further four awards on the night.
But instead of settling scores at New York's Radio City Music Hall, Sharp adopted a grateful and reflective tone in his acceptance speech. "This time last year I picked up my diploma graduating from Juilliard, so to be holding this is insane," he said. "Thank you so, so much for this incredible honour."
In pictures: Tony Awards 2015

Show all 30
The actor, who took an extraordinary path to becoming the toast of Broadway – including travelling Europe and the US in a caravan and working as a handyman – beat Hollywood star Bradley Cooper and fellow Brits Bill Nighy and Ben Miles to the prize.
"This play is about a young person who is different and who is misunderstood," he concluded in his speech. "I just want to dedicate this to any young person out there who feels misunderstood or feels different and answer that question at the end of the play for you: 'Does that mean I can do anything?' Yes it does."
Marianne Elliott, who won the best director Tony for Curious Incident, told The Independent: "Alex has that quality you can't teach, where people empathise with him and like him. He has all the skills and is really open to learning more."
Sharp, 25, was playing Christopher, a 15-year-old mathematician on the autism spectrum. The play was adapted from Mark Haddon's 2003 best-selling novel for the National Theatre in London before transferring to the West End. When it arrived in Broadway last year, the creative team used US-based actors rather than transferring the original British cast.
"Alex came in so open when we first met him," Ms Elliott said. "He also had a beautifully fresh quality that was very alive and vulnerable. We found there was a side to him that meant you wanted to spend more time with the character and get to know him."
Sharp, who has both British and American passports, spent the first seven years of his life on the road in Europe and the US in a caravan with his parents, who were "just obsessed with travelling".
His first stage appearance was as Piglet in Winnie the Pooh at his Devon primary school. As a teenager, he acted in venues such as the Octagon Theatre in Yeovil, but when, aged 18, he applied to British drama schools, he was rejected.
So he set off travelling and worked as a handyman. While in America he applied to Juilliard and was accepted on a full scholarship. But even studying at the acclaimed institution left him fearing he would be "unemployed for a decade". As a struggling actor he made coffee tables to sell online before landing his life-changing role in his first audition.
Richard Feldman, associate dean of Juilliard's drama division, who taught Sharp, said he had "arrived with a political and social conscience" and his award-winning performance was "extraordinary, beyond what I had imagined".
Join our new commenting forum
Join thought-provoking conversations, follow other Independent readers and see their replies