4.48 Psychosis, Lyric Hammersmith, review: Sarah Kane's final play about her suicidal depression compells
A first ever operatic setting by Royal Opera/Guildhall Composer-in-Residence Philip Venables for Sarah Kane's play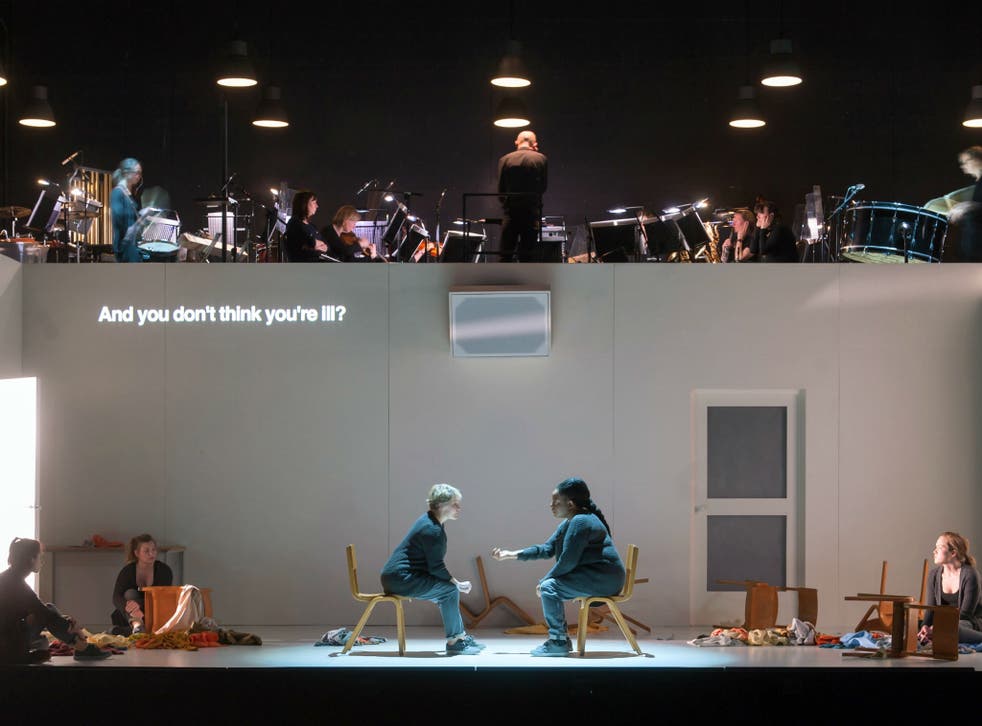 Suffering from suicidal depression, playwright Sarah Kane experienced her sharpest, most anguished clarity at 4.48am: hence her visceral final play, 4.48 Psychosis. In it, mental extremes are unflinchingly distilled. Wreathed in dark humour or bleak, lyrical beauty, words fragment and coalesce through angry pain and medicated stupor into skinless and terrible lucid freedom.
Where this first-ever operatic setting by Royal Opera House Guildhall composer-in-residence Philip Venables succeeds is through simple honesty. With a score ranging guilelessly from motoric arrhythmia to wispy renaissance, director Ted Huffman and team attempt neither dramatic adornment nor explanation but allow the text to breathe within a kaleidoscope of inner-outer conflict.
On a bare, white-walled stage, six well-matched female singers – led by an outstanding Gweneth-Ann Rand – shuffle greyly distressed. Around them, phrases appear and dissolve in projected sound and video while, above, a superb Chroma ensemble (sensitively conducted by Richard Baker) charts the disintegration of their hive mind. Duelling percussionists parley in a doctor-patient morse code. A tapestry of strings, accordion and saxes evoke polyphonies of yearning, while tenderly but inexorably we encounter hopeless recesses of the mind. Knowledge of Kane's suicide shortly after writing the play can only make this humane and understated piece the more compelling.
26-28 May, Lyric Hammersmith
ROH: +44 (0)20 7304 4000 / www.roh.org.uk
Register for free to continue reading
Registration is a free and easy way to support our truly independent journalism
By registering, you will also enjoy limited access to Premium articles, exclusive newsletters, commenting, and virtual events with our leading journalists
Already have an account? sign in
Register for free to continue reading
Registration is a free and easy way to support our truly independent journalism
By registering, you will also enjoy limited access to Premium articles, exclusive newsletters, commenting, and virtual events with our leading journalists
Already have an account? sign in
Join our new commenting forum
Join thought-provoking conversations, follow other Independent readers and see their replies