887, Barbican Theatre, London, review: Robert Lepage's beautiful solo show about childhood
Robert Lepage's one-man performance is his most autobiographical play to date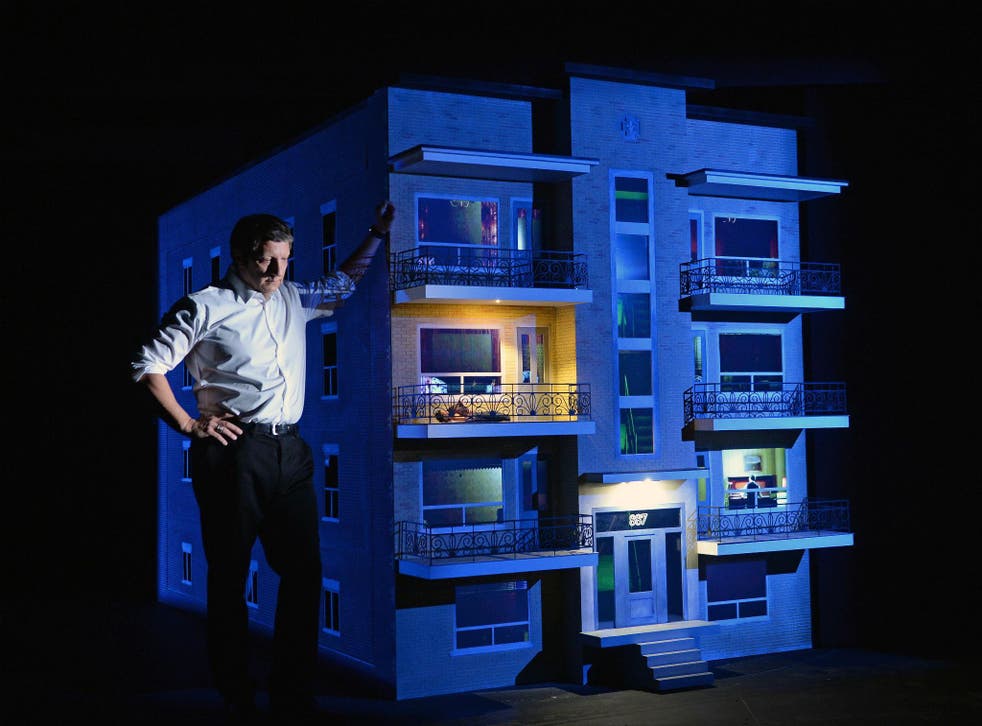 The interplay between personal reminiscence and collective memory is pondered in Robert Lepage's beautiful solo show about a childhood that coincided with the revival of Quebec nationalism in the 1960s when the Front de Liberation du Quebec were striving to overthrow the government and establish an independent, French-speaking "workers' society".
Lepage begins by telling us about a professional problem he experienced in 2010 when the organisers of an important 40th anniversary event invited him to recite by heart Michele Lalonde's 1968 poem "Speak White", which was written in protest against linguistic subjugation. Having agreed, he found that he could not learn the lines.
How come he had this mental block? It's a question that preoccupies him in this two-hour piece, performed on a rotating cube, that combines intimate recollections of family life during his formative years with musings on the associative nature of memory, the perils of communal amnesia and Canada's divided history.
887 was the number of the apartment building on Murray Avenue in Quebec City where the future theatrical visionary grew up. We peer through the windows of a doll's house replica of this mansion block at animations of the neighbours. Lepage loves to play games with scale and here the perspectives of a child and an adult arrestingly merge as when, say, staged-in-miniature scenes from the past – Charles de Gaulle in a toy Lincoln acclaimed by figurine crowds in a model version of Quebec's Parc Des Braves or popping up as tiny puppet to give a speech from Lepage's top pocket – are captured by his smartphone and hugely magnified on a screen.
It's fair to say that Lepage's deepest feelings are for his taxi-driver father whom he remembers for being hardly there, so hard did this proud, handsome former lifeguard and sailor have to work to support his family, especially when his own mother starts to suffer from Alzheimer's and moves into the cramped flat. We get poignant recurring glimpses of the taxi where this lonely man smokes and listens to US pop stations from across the border as he waits to glide like a ghost to his next assignment. Having fought for the empire in the war, the father is conflicted about the FLQ and further at odds with his separatist wife: they're right but the way that they are doing it isn't is his verdict after he's watched their terrorist tactics on television.
As is usual with Lepage, there is vein of puckish humour and self-mockery in the piece, especially in the strand where he extracts his radio obit from a once-successful friend who is now reduced to recording them and is seriously narked by its brevity and its concentration on the most pop-culture aspects of his career.
It may not have the metaphorical reach of The Far Side of the Moon (in which US-Soviet space rivalry echoed the competitive relationship between two brothers) or the intricacy of correspondence in that masterpiece, but there is more political anger than I recall from any of his previous solo endeavours as he reflects on the inequalities in Canadian culture and on the forgetfulness about the past that makes "Je me souviens" (I remember) an ironic official motto for Quebec. We're left to infer that it's only by going back and exploring his roots in 887 that Lepage manages to overcome his block about learning "Speak White".
By the end of the show, he is able to recite the whole poem – and evidently mean it – in an electrifying feat of Francophile fervour. Recommended.
Register for free to continue reading
Registration is a free and easy way to support our truly independent journalism
By registering, you will also enjoy limited access to Premium articles, exclusive newsletters, commenting, and virtual events with our leading journalists
Already have an account? sign in
Register for free to continue reading
Registration is a free and easy way to support our truly independent journalism
By registering, you will also enjoy limited access to Premium articles, exclusive newsletters, commenting, and virtual events with our leading journalists
Already have an account? sign in
Join our new commenting forum
Join thought-provoking conversations, follow other Independent readers and see their replies