A Monster Calls, Old Vic, London, review: Patrick Ness's novel is magnificently brought to life
Sally Cookson's adaptation of this best-seller about a boy coming to terms with grief is a wondrous feat of communal story-telling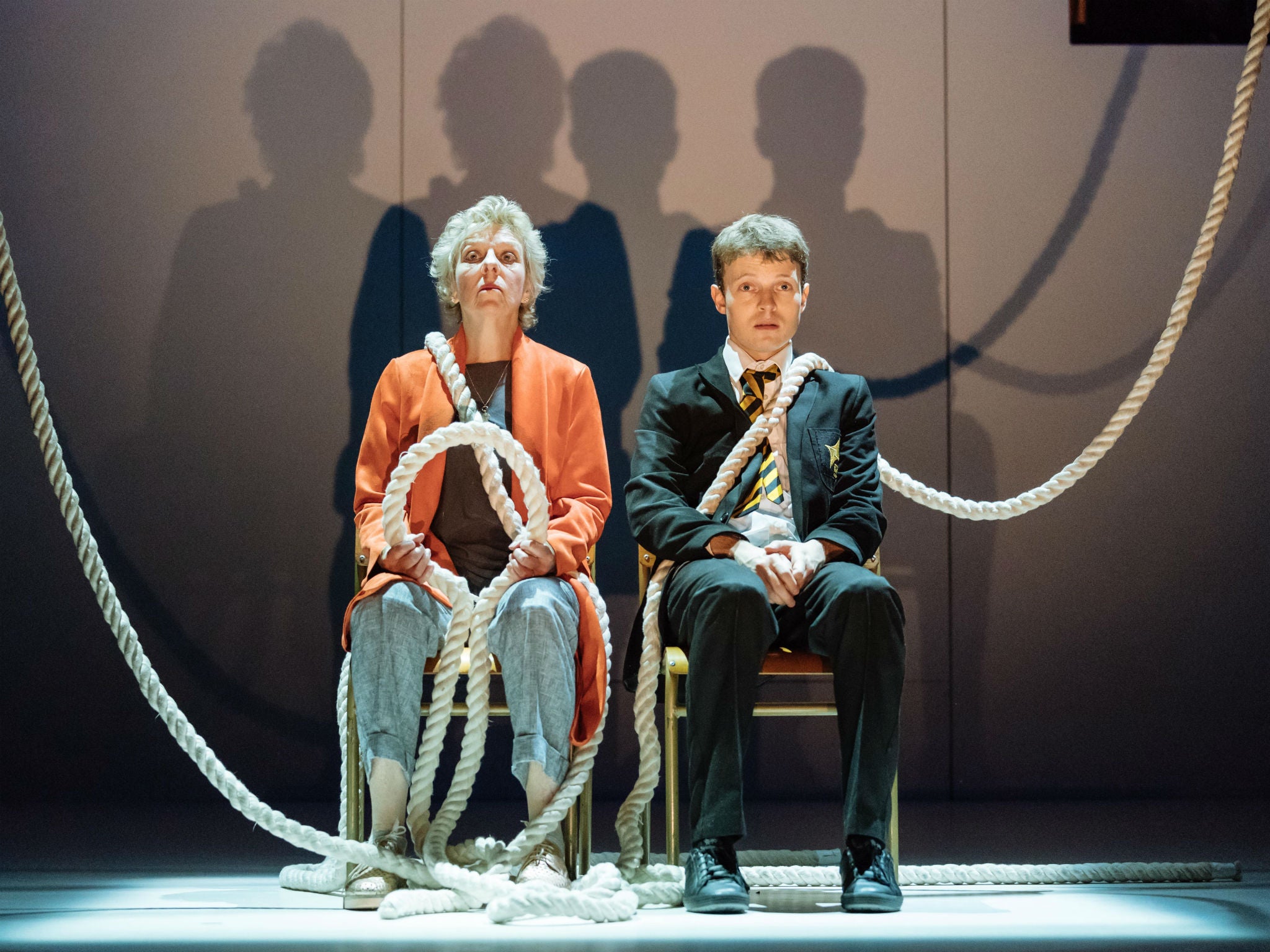 Sally Cookson's stage adaptation of Patrick Ness's prize-winning 2011 novel A Monster Calls is a wondrous feat of group-devised communal story-telling. The isolation and vulnerability of the 13-year-old boy at its centre are piercingly heightened by the playful cohesiveness of the 12-strong ensemble; they create the bewildering world around him with great physical wit and cunning simplicity on Michael Vale's bare white design.
Conor O'Malley has got to believe that his mother's increasingly aggressive cancer will respond to treatment. He's being bullied at school, his father now lives in America with a new family and relations are strained (to put it mildly) with his fussy, annoying grandmother.
One night he wakes from a recurrent nightmare to find that he's been visited by an alternative dream figure: a giant yew tree who offers to tell Conor three stories if the boy will return the favour by telling him the truth. The monster's stories, initially jeered at by the listener, are allegories that help Conor admit to the excruciatingly conflicted, innermost feelings that he has been hiding from himself.
The arboreal visitant is evoked by strands of of thick rope that are twisted and tangled, like rigging run amok, to form the trunk and swaying branches of the yew. Suspended amongst these boughs is Stuart Goodwin's splendidly ambiguous monster – bare-chested with a necklace of berries; a virile, dominant presence with a guttural boom who explicitly likens himself to such figures from folklore as Herne the Hunter and the Green Man.
Some may find this too humanising a treatment, but I thought it vividly brought home the paradox that this creature is both ogre and redeemer, Grimm weirdo and wise psychoanalyst.
Matthew Tennyson's performance as Conor is extraordinarily moving. You completely forget that you are watching an adult actor, so brilliantly does he capture the sensitivity of a lost and lonely teenager, tormented by his intertwined feelings of guilt and love towards his mother. With his drooping head and pallid, determinedly impassive features, he looks as if he wishes he could opt out of this cruel world. But there's not a moment of false pathos in his portrayal.
He also superbly shows you Conor's stroppy defensiveness and the adolescent anger that erupts in an unforgettable sequence where his bossy house-proud grandmother (excellent Selina Cadell) returns exhausted from a stint at her daughter's hospital bedside to discover that Conor has trashed her home while she was away. The pendulum on her precious heirloom clock becomes surreally magnified into a wrecking ball that pushed to and fro in her endangered sitting room. The company communicate the chaos he creates in a bizarrely rapturous sequence of upended and whirled-about wooden chairs while snatches of the Adagio from Khachaturian's Spartacus (the Onedin Line theme) surge forth in ironic uplift.
The mood of inner turbulence is underscored by the haunting harmonies (both instrumental and choral) that lie atop the electronic pulse in Benji Bower's superbly suggestive music, which is performed live from a hatch overlooking the stage.
From the lithe fluency of the acrobatics to the truth and detail of the performances, this venture – an Old Vic production in association with Bristol Old Vic – does rich justice to the book and its deeply humane understanding that "your mind will believe comforting lies while also knowing the painful truths that make those lies necessary. And your mind will punish you for believing both." Magnificently phrased and magnificently dramatised.
Unitl 25 August (oldvictheatre.com)
Join our commenting forum
Join thought-provoking conversations, follow other Independent readers and see their replies