A Princess Undone, Park Theatre, London, review: Uneven, but worth a visit
Richard Stirling's witty play examines the troubled life of Princess Margaret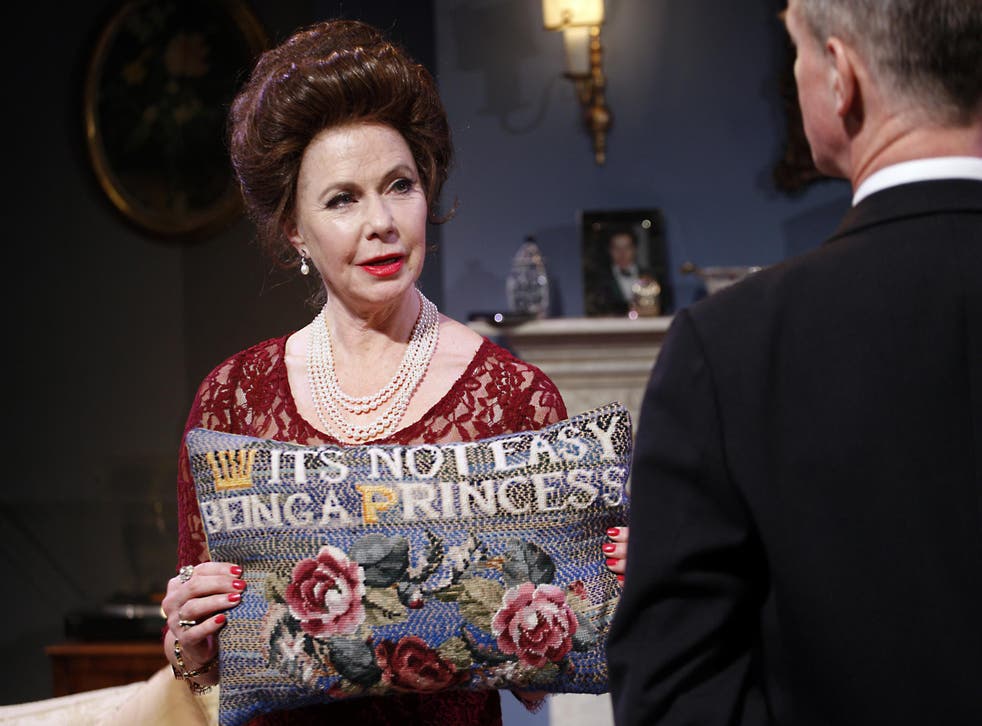 There has been a resurgence of interest in Princess Margaret lately. She's been portrayed as an emblem of Sixties modernity, riding pillion on the motorbike of her photographer-husband, in the Netflix series The Crown. She's been caught from a multiplicity of angles in Craig Brown's brilliantly waspish feat of bricolage, Ma'am Darling: 99 Glimpses of Princess Margaret.
Now she's making a very rare foray on the stage in Richard Stirling's intriguing, witty chamber play, A Princess Undone which sees the 60-something woman who was once "the Diana of her day" seeking a secret new purpose.
"It's not easy being a Princess," Felicity Dean's impressive Margaret declares at the outset, brandishing a cushion embroidered with the words. In the 1994 film The Madness of King George, the heir to the throne cries that "to be Prince of Wales is not a position, it's a predicament." The occupational hazard is the lack of a clear occupation. Nor is there a glaringly obvious role for the younger sister and sole sibling of a female monarch. Margaret reports that her father, George VI, used to say that "Lilibet is my pride and Margot is my joy" – which did not exactly shine a torch on a possible path for her to take.
Puffing incessantly on a cigarette holder and knocking back industrial quantities of Famous Grouse, Dean's Margaret swoops between condescending Cockney mateyness and steely snobbery:"Ladies wear scent; tarts wear perfume". She's grand and vulgar at the same time. She dispenses witty put-downs – about the Rent-a-Kents and Diana (whom she admits to fearing) – and she can still kick off her shoes and do the twist to Desmond Dekker. But there's the awful whiff of an intelligence that has gone bad on her like spoiled meat and a life of shallow conflicting identities that would be rudderless if she didn't always have the option of coarsely pulling rank.
The play is set in Kensington Palace in August 1993. The Royal Family are still in shock from the "annus horribilis", not least the separation of Charles and Diana. Fearing further damaging revelations about the monarchy, the Princess sets out to burn sackfuls of potentially scandalous correspondence and memorabilia belonging to the Queen Mother and enlists the latter's reluctant butler ("Backstairs Billy"– played by the author) to bring over the bags from Clarence House. She also summons a former bit of rough – the ex-actor and gangster John Bindon (Patrick Toomey) – to negotiate with him about destroying incriminating photographs of their dalliance on Mustique 12 years before.
It's been reported this week that the Queen thanked the friend who introduced Princess Margaret to Roddy Llewellyn because this affair made her sister very happy. I am not complaining that he gets only a passing mention in Stirling's play or that there is only one brief agonised acknowledgement of the most formative decision the Princess made in putting duty before love and renouncing Group Captain Peter Townsend. A play is not an exhaustive documentary and it is right that it should be able to leave large matters suggestively implied, even if some prior knowledge might be useful in this case.
Jonny Kelly's vividly acted production can't disguise the fact that the play drifts too much during the first half. There's a fantastic ding-dong, though, between Dean and Toomey in the second. "If you were a man, I'd kill you," storms the Aids-suffering gangster who may want a form of recognition that can't be measured in bundles of bank notes. "If I were a man I''d be King!" thwacks back Margaret. Alexander Knox is spot-on with the boyish charm and smarm, making a cack-handed bid at blackmail as the supposed school friend of Viscount Linley. It's just a pity that his arrival is not very likely. Uneven, but worth a visit.
Until 17 March (parktheatre.co.uk)
Join our new commenting forum
Join thought-provoking conversations, follow other Independent readers and see their replies