Absolute Hell, National Theatre, London, review: Sparkling production captures postwar Soho
Rodney Ackland's drama about the dissolute denizens of a nightclub caused a scandal in 1952 – and still feels fresh today
Holly Williams
Thursday 26 April 2018 09:51 Comments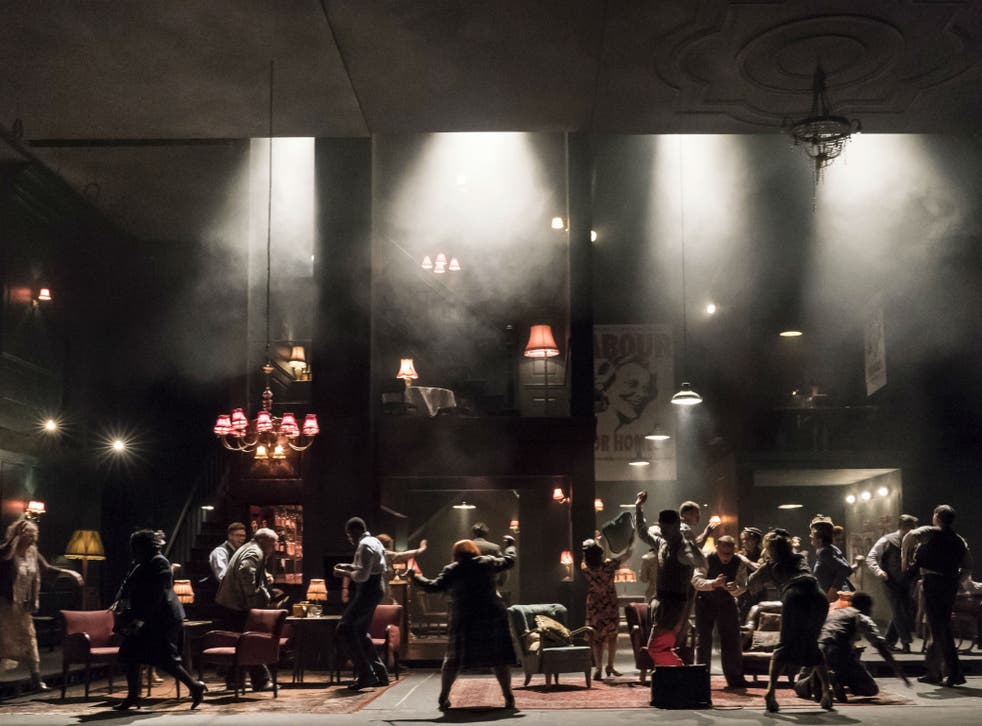 If you thought postwar Britain was full of patriotism and optimism, a drive for respectability and a desire for change – as shown by the Labour landslide of 1945 – Absolute Hell is here to pull back the curtain on a very different reality.
We're in La Vie En Rose, a nightclub lit by rosy-pink lampshades, lashings of whisky, and the half-glamorous, half-tragic (and always half-cut) host Christine. The war may be over, but the club's dissolute clientele carry it with them. Of course they do.
But mostly, they try to forget. They drown their sorrows with booze and sex and socialising.
It's a lot of fun to watch: we love seeing other people behaving terribly, after all, and set in an anything-goes Soho, this lot are deliciously bad. Rodney Ackland's script is sparkling and witty in a way real drunks rarely are, Joe Hill-Gibbins directs with zip and pace, and the massive cast have both dash and detail.
But the whiff of desperation hangs in the air like cigarette smoke, and at any time any one of them is at risk of collapse – just like the tatty old nightclub building Christine presides over.
Lizzie Clachan's dark-painted, wide-open set does little to convey the seedy cosiness of La Vie En Rose: lamps and armchairs seem lost in the cavernous yawn of the Lyttelton. The decision to erect a Labour office, and a first-floor restaurant we can't really see, gives architectural depth, height, clout… but it also sucks energy. The point may be to show these characters stranded, exposed, but it doesn't do the actual actors any favours.
Never mind though, because they rise to the challenge: this is sterling ensemble work. Sexually ravenous as Christine, Kate Fleetwood may sashay towards her prey, but she also scampers about on seemingly tiny feet, running to stand still. She's bound as tight by her misery as by her scarlet dress.
Charles Edwards plays a down-on-his-luck, sodden writer, with perfect posh English bluster covering blissfully comic panic. Sinead Matthews nails the offhand, funny cruelty of young socialite Elizabeth, desperately trying not to think about a friend interned in a "horror camp".
Liza Sadovy twirls as a glorious eccentric aristocrat, Eileen Walsh is an entertaining nut convinced Jesus was born on Boxing Day, and Jenny Galloway makes for a fearsome critic in a frightful wig. Hill-Gibbins brings out crystal-sharp character work with direction that, for him, is unusually straightforward.
Still, the play is a challenge: three hours long, and nothing really happens. Even as Labour promises change (a huge campaign poster looms), Ackland's play insists on circular lack of progress, whether that's recurring jokes or destructive traits. This lot can't quit drink, can't quit the club, can't quit each other.
Does it need to be this long? Not really. 40 minutes were shaved off somehow in previews, yet you still wish for more pruning.
Still, it rarely drags, with dialogue that seems strikingly modern. Homosexuality is barely remarked upon; "queer" may not yet be reclaimed but it's certainly performed.
Ackland's play caused a scandal in 1952, destroying his career. It was rediscovered in the Eighties, and partly rewritten, which may help explain why it still seems zingy. Or maybe we're all just in a mood to dance while the walls come crumbling down around us again.
Until 16 June (nationaltheatre.org.uk)
Register for free to continue reading
Registration is a free and easy way to support our truly independent journalism
By registering, you will also enjoy limited access to Premium articles, exclusive newsletters, commenting, and virtual events with our leading journalists
Already have an account? sign in
Join our new commenting forum
Join thought-provoking conversations, follow other Independent readers and see their replies