Alice's Adventures Underground, The Vaults, review: Bringing you closest to the experience of falling down that rabbit hole
The show looks tiring - each character repeats their performance loop up to 36 times in one night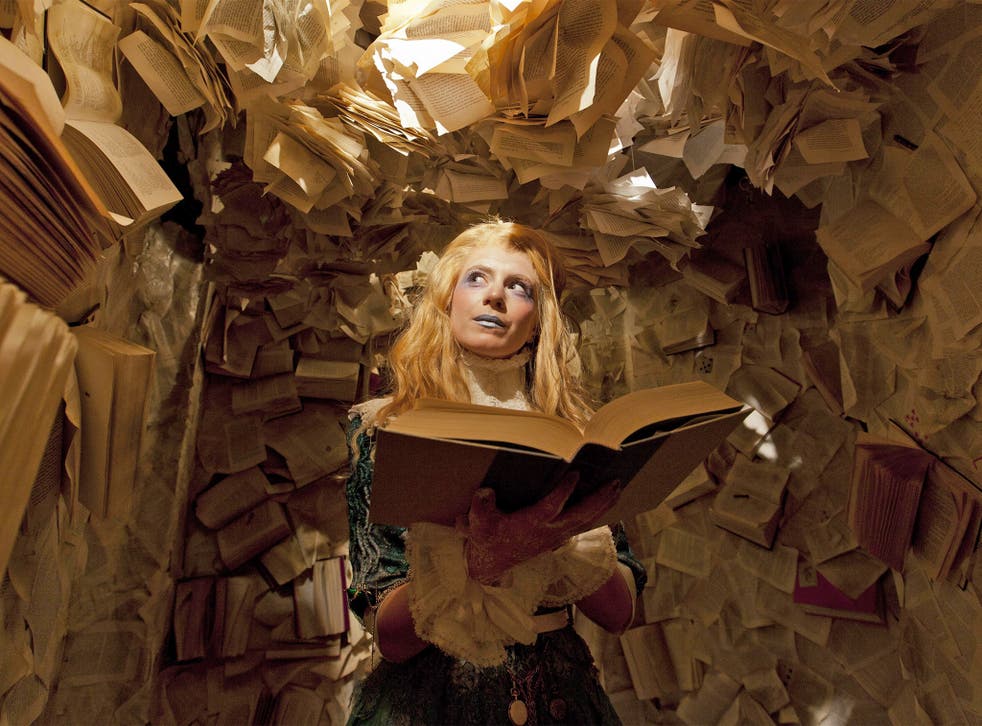 "EAT ME", "DRINK ME": the words are scrawled in white paint on a dark purple wall in front of me. Beneath my feet is a chequered floor and in front are two black doors, one is huge, and the other is half my height. The graffiti indicates that I must pick one, but as I walk towards the small door, a curious thing happens, it seems to get bigger, until it becomes a normal size. Or perhaps I am getting smaller? Curiouser and curiouser, I think, as I cross the floor and the large door also shrinks to normal proportions.
The truth is, it's a clever optical illusion; a bit of trickery that makes anyone standing on the floor appear to shrink or grow. It's one of many details in a new immersive production celebrating 150 years of Alice in Wonderland by theatre company Les Enfants Terribles.
This year there is a raft of projects marking Alice's sesquicentennial, including Damon Albarn's musical wonder.land, a modern revamp of the tale, the Shangri La field at Glastonbury, which features a "secret" Rabbit Hole bar and an Alice Through The Looking Glass shop founded by Jake Fior, a second-hand book dealer and former producer to Pete Doherty.
But Alice Underground, which opens at the Vaults, underneath London Waterloo station, this week, is the event that brings you closest to the experience of falling down that rabbit hole, explains the company's artistic director Oliver Lansley, who wrote and co-directed the show.
"Our Wonderland is based 150 years after Alice fell down the rabbit hole... the Queen has banned nonsense, and different factions are fighting." The designs, created by the company's artistic designer Sam Wyers range from tastefully dilapidated to downright scary; the circus performers who play Tweedle Dum and Tweedle Dee wear giant papier mâché heads with staring eyes and rows of grinning teeth.
"It's not Disney," nods Emma Brunjes, the producer, as she guides me through the space, "It's our slightly decaying Alice."
The decision whether to "Eat Me" or "Drink Me" determines what happens next. That might include a visit to a shisha lounge where a giant puppet caterpillar encourages you to join his insurgent movement against the Queen of Hearts, or a song performed by a mock turtle in a room containing a lake with rain falling from the ceiling.
"You really do get a totally different experience," says Lansley, "but it's quite complicated pulling it all together."
That's an understatement. The show is a logistical nightmare, timed and drilled so that even though 687 guests will enter each day, they'll be in groups of just 14. Each character repeats their performance loop up to 36 times in one evening, which is very demanding. The Mock Turtle, for example, stands in place for hours on end. There's a welly boot nearby, in case he needs a loo break.
At £36 for a standard ticket, the show is cheaper than similar immersive events like Secret Cinema's The Empire Strikes Back (£78) or Punchdrunk's current show Sleep No More in New York ($100 or £68). But unlike one of Punchdrunk's shows, the audience is not free-roaming; they are led through a clear narrative.
It was "creatively written by spreadsheet", says Brunjes, who claims no one has ever time-coded an audience in this way before. To add to the madness, there's also a show for children, and a bar area (complete with maze and flamingo croquet).
A few test audiences have already visited the show, and the team are realising that although the scenes run like clockwork, the crowds can be more unpredictable. "On Friday, the audience had a bit to drink and there were people dressed as Alice," says Brunjes, "and we said, 'Oh OK, this is slightly different now' and then one of them tried to swim in the mock turtle lake."
As we leave we pass a red sign that says "KEEP SMILING, EVERYTHING IS WONDERFUL." Brunjes pauses, "Sometimes we have to remind ourselves of that," she says, before leading me back out of the rabbit hole and into light of the real world.
'Alice's Adventures Underground' opens at the Vaults, London SE1 (0871 230 1557) on Friday alice-underground.com
Join our new commenting forum
Join thought-provoking conversations, follow other Independent readers and see their replies