All Forsythe, Sadler's Wells, London, review: Semperoper's dancers are fresh and vivid
This Dresden-based company are specialists in William Forsythe's bold, athletic work, danced here as if it were as natural as breathing 
Zo Anderson
Friday 22 June 2018 10:49 Comments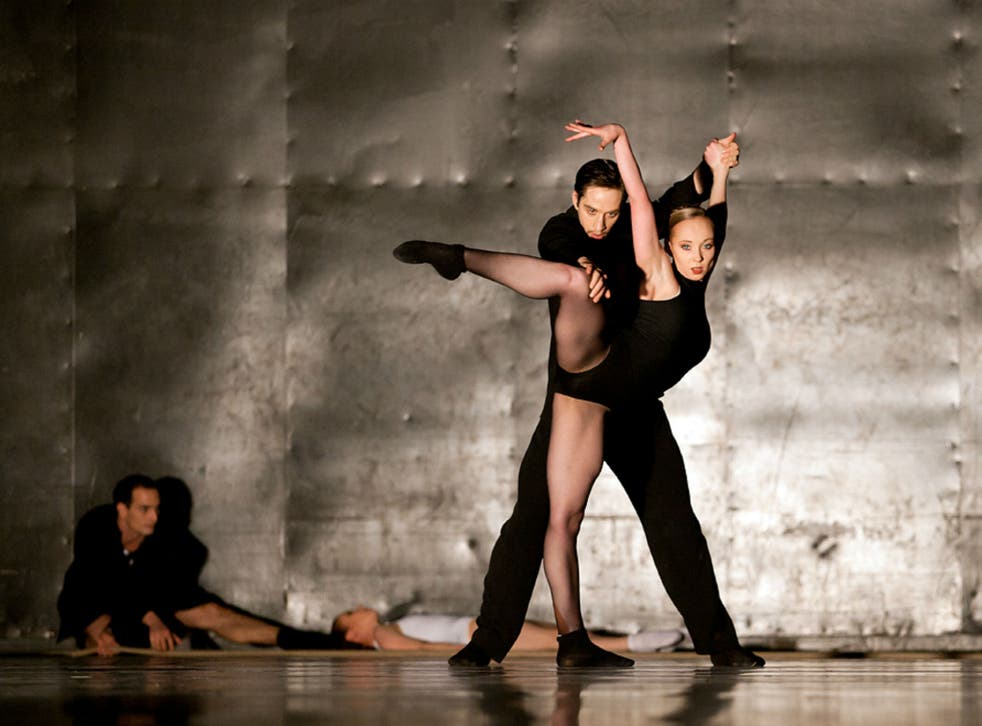 A triple bill celebration of choreographer William Forsythe by Semperoper Ballett flies from post-modernism to gentleness, from his best-known work to an enchanting rarity.
Directed by Aaron Watkin, a long-time Forsythe associate, this Dresden-based company have become specialists in his work. Bold and athletic, they make both steps and aesthetic feel as natural as breathing.
Created in 1987, for a cast that included a young Sylvie Guillem, In the Middle, Somewhat Elevated launched Forsythe as one of ballet's most influential voices. Here, traditional steps are speeded up, tilted and wrenched into new angles; the mood is chic but blisteringly competitive.
The Dresden dancers emphasise the three-dimensional quality of Forsythe's moves. As limbs slam into the extreme positions, the movement is highlighted through the torso, giving the overall image richness and depth. Svetlana Gileva's huge jump arrives in midair with photosharp precision, while Alice Mariani is alert within her steps.
This is the most familiar side of Forsythe, so the tender Neue Suite comes as a surprise. It's a compilation of new and existing duets, created or rearranged for this company in 2012.
Duosi Zhu and Gareth Haw open the series with a courtly dance to Handel, full of formal gesture and elegant manners. Though the stage is bare, Forsythe gradually adds more theatricality: lights fading on a woman spun through the air, changes of mood as he switches from one composer to another. With Italian composer Luciano Berio comes a fluid, more informal style, while the pas de deux to Bach is both stricter and more playful.
Where In the Middle pressure-cooks its classical steps, Neue Suite takes time to revel in them. There's a friendly warmth to these danced exchanges, a sweetness that never becomes sugary. The Semperoper dancers are fresh and vivid throughout.
For Enemy in the Figure, from 1989, the stage is dominated by a curving wooden wall. Sometimes the dancers are behind it, visible only through their shadows. A spotlight is wheeled around, pinning people in its glare. A rope is rippled on the floor, or stopped dead by a dancer's foot; raps on the wall suggest signalling. The costumes are a mix of white leotards and black fringed outfits, bodies exposed or covered in shimmying layers.
It can be as cinematic as The Third Man, all skewed angles and sharp image-making. Forsythe conjures an unsettling world, but sometimes the work feels brutal, too, particularly when a dancer in her underwear is rearranged under that harsh spotlight. It's performed with unflinching commitment.
Until 23 June (sadlerswells.com)
Register for free to continue reading
Registration is a free and easy way to support our truly independent journalism
By registering, you will also enjoy limited access to Premium articles, exclusive newsletters, commenting, and virtual events with our leading journalists
Already have an account? sign in
Join our new commenting forum
Join thought-provoking conversations, follow other Independent readers and see their replies