All My Sons review, Old Vic: An all-star cast draws you into the tragic machinery of Arthur Miller's classic
The script doesn't offer much in the way of set changes or stage directions, so the cast must do all the lifting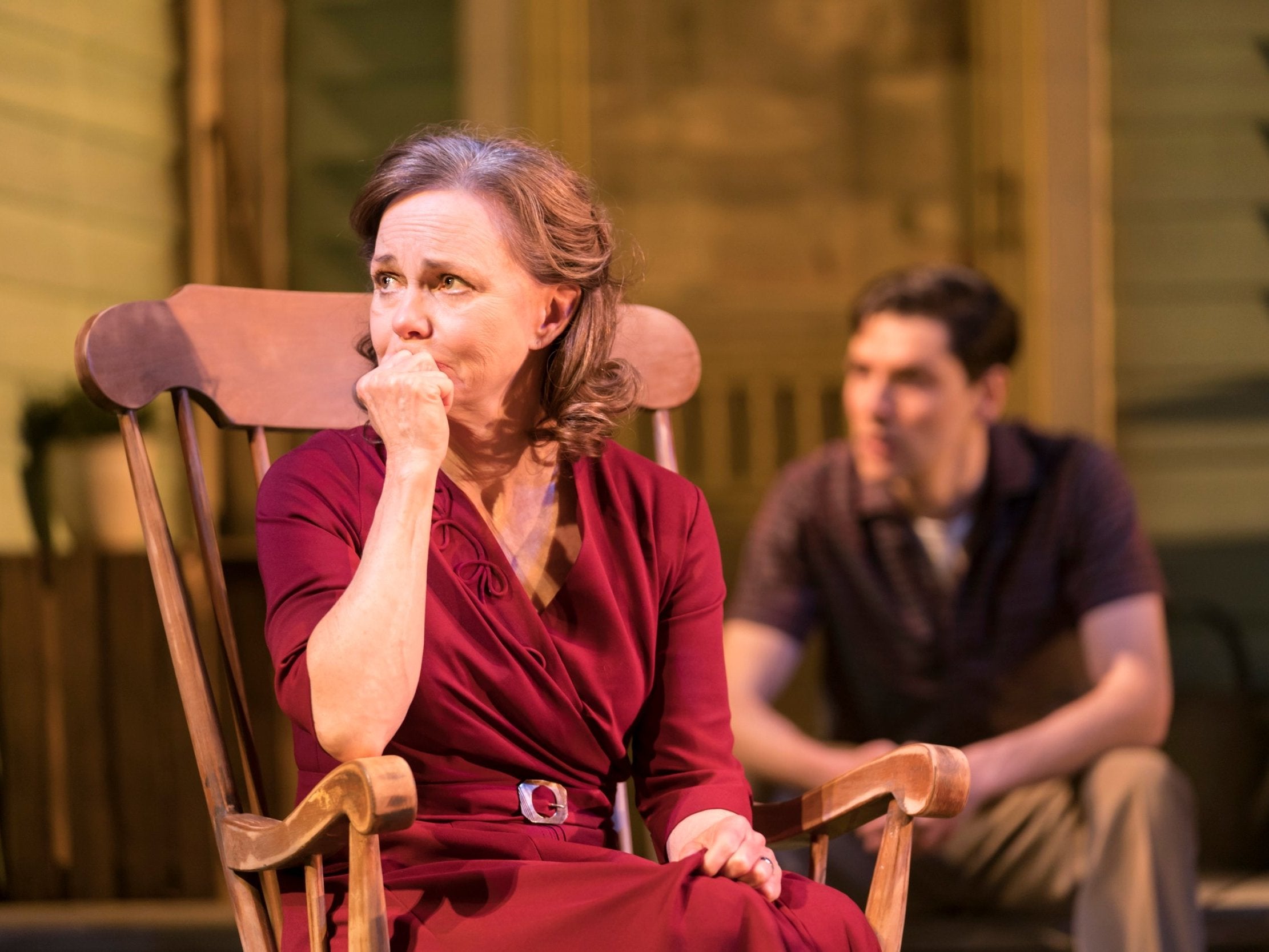 All My Sons, Arthur Miller's early tour de force from 1947, is a grand tragedy painted on a small canvas, the front garden of one middle-class home in Ohio, shortly after the Second World War. At the outset of this assured new production at the Old Vic, a large house slides forward from the back of the stage. It's as dynamic as the staging gets. The script doesn't offer much in the way of set changes or stage directions, so the cast must do all the lifting.
Director Jeremy Herrin's solution is to pack it with famous screen actors. Bill Pullman (Independence Day) plays factory owner Joe Keller, whose life is back on an even footing after a brouhaha during the war, when his firm supplied cracked cylinder heads for P-40 fighter planes, causing the deaths of 21 pilots. These days, he joshes with his neighbours and prefers the classified ads in the paper to the news.
Sally Field (everything) is his wife, Kate, still refusing to acknowledge that their son Larry, who flew different planes in the war and was reporting missing three years ago, isn't coming home. Colin Morgan (BBC's Merlin) is their surviving son, Chris, a young man whose strict ethics haven't stopped him inviting his brother's ex, Ann (Jenna Coleman, ITV's Victoria) to come to the house so he can propose to her. Unseen but hanging over the whole neighbourhood is Ann's father, who was blamed for the pilots' deaths and is rotting in jail.
Miller's script is in everyday English but dense with symbols and metaphors – houses, basements, planes, prisons, trees, cylinder heads – so the actors must choose how many to lean on without losing all semblance of naturalism. Pullman gives Joe a kind of uneasy gravitas as the ageing businessman haunted by his past who thinks he can buy his way out of any situation. (Does he remind us of any contemporary American figures?) You get the sense Pullman knows his broad shoulders and swept back grey mane are more Wall Street wolf than bootstrap industrialist, so to compensate he gives Joe a kind of downhome gruffness that occasionally renders him inaudible. The "all my sons" line itself was slightly garbled.
Field's Kate is skittish but cunning, able to turn on the charm like a tap. There is an argument to be made that she is as villainous as her husband, in her wilful blindness to the connection between private enterprise and public disaster. Coleman makes an underwritten character sympathetic, while Morgan does an excellent job of the conflicted survivor, aside from a slightly unconvincing gear change in the final act. As Ann's brother George, who believes he has discovered the truth about Joe, Oliver Johnstone arrives after the interval to inject urgency just when it needs it.
40 of the greatest plays ever written
Show all 40
Mixing British and American actors in an American play always has risks, and there are moments at the points of high emotion, where Morgan and Coleman's accents start pitching around a bit. A few cracked cylinder heads lurk in the script, too: why does Ann carry around the letter that would settle everything until the very end? But the tragic machinery draws you in, just as the Greeks intended, and the plot cracks along towards its grim inexorable conclusion. Another Miller begins down the road at the Young Vic next month, Death of a Salesman. It shares some of All My Sons's themes – business, family, the American Dream fraying at the edges. There must be something in the air.
Support free-thinking journalism and attend Independent events
Join our commenting forum
Join thought-provoking conversations, follow other Independent readers and see their replies