Amadeus, Royal National Theatre, London, review: Adam Gillen pulls off Mozart with haunting conviction
A revival of Peter Shaffer's play is directed by Michael Longhurst with live orchestral accompaniment by the Southbank Sinfonia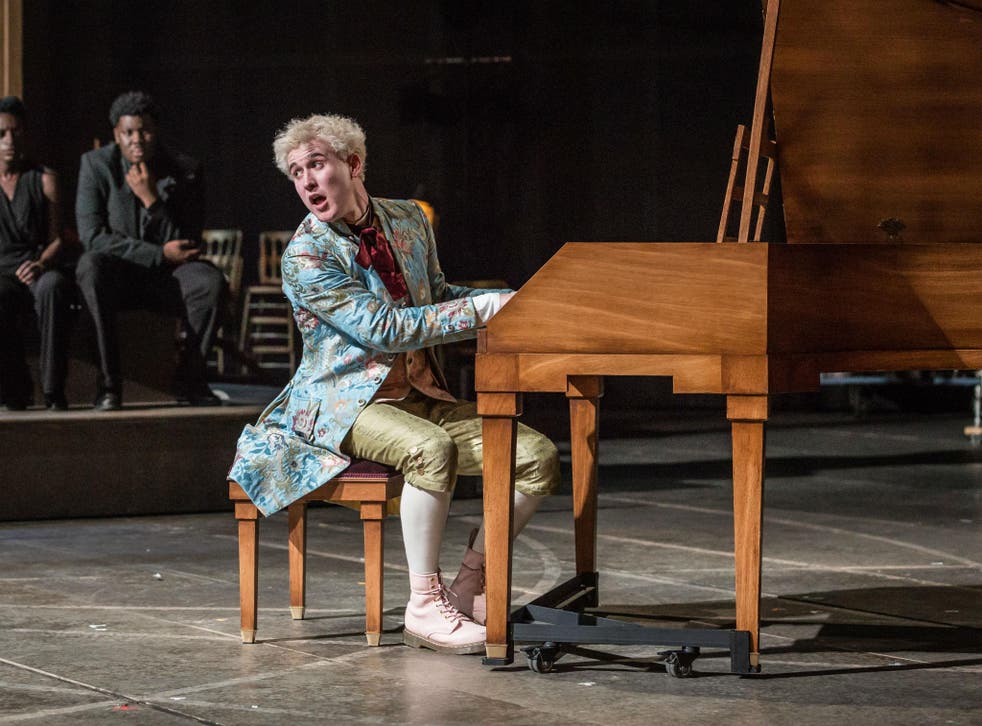 Flushed with critical success among the theatrical community, the National Theatre has now invited the music critics to give Michael Longhurst's new production of Peter Shaffer's Amadeus the once-over. And since the press is currently in a lather over the latest "young Mozart" sensation – a precocious 11-year-old who simply can't stop writing operas – it seemed a good moment to check out this classic treatment of the real one. First performed in 1979, Shaffer's play became a film of the same name in 1984 – the writer died in June, aged 90. Amadeus may be essentially a fiction, but it's an intriguing essay on jealousy and genius, and it's worn surprisingly well over the years.
Longhurst's remarkable achievement is to have turned a straight stage play into an epic piece of music theatre. It obviously helps that his designer, Chloe Lamford, has a background in opera, but I have seldom seen as confident a melding of speech and song, music and image. Equal partner with the NT actors is the Southbank Sinfonia, a hugely talented young ensemble whose performances are always theatrical.
Lucian Msamati is heroically commanding as Salieri and, with excerpts from Mozart's oeuvre interlarded with unobtrusive stretches of contemporary mood music, the whole thing coheres astonishingly well.
Shaffer's conception of Mozart is exceptionally tricky to bring off, but Adam Gillen does this with haunting conviction, while Karla Crome (Constanze), Tom Edden (the Emperor), Hugh Sacks (Rosenberg), and Geoffrey Beevers (Van Swieten) lead a superb cast through this kaleidoscopically changing landscape of sunlight, shadows, and magnificent sound. I and my companion left with the Requiem ringing in our ears and, accompanied by visions of its newly reincarnated creator, it rang for much of the night.
Amadeus will be broadcast live to cinemas across the UK on Thursday 2 February as part of National Theatre Live. To find your nearest cinema go to http://ntlive.nationaltheatre.org.uk
Register for free to continue reading
Registration is a free and easy way to support our truly independent journalism
By registering, you will also enjoy limited access to Premium articles, exclusive newsletters, commenting, and virtual events with our leading journalists
Already have an account? sign in
Register for free to continue reading
Registration is a free and easy way to support our truly independent journalism
By registering, you will also enjoy limited access to Premium articles, exclusive newsletters, commenting, and virtual events with our leading journalists
Already have an account? sign in
Join our new commenting forum
Join thought-provoking conversations, follow other Independent readers and see their replies