And Juliet review, Shaftesbury Theatre: A gloriously silly, unexpectedly poignant production
Built around the powerhouse-pop of songwriting savant Max Martin, the jukebox musical imagines a world where Shakespeare's Juliet survived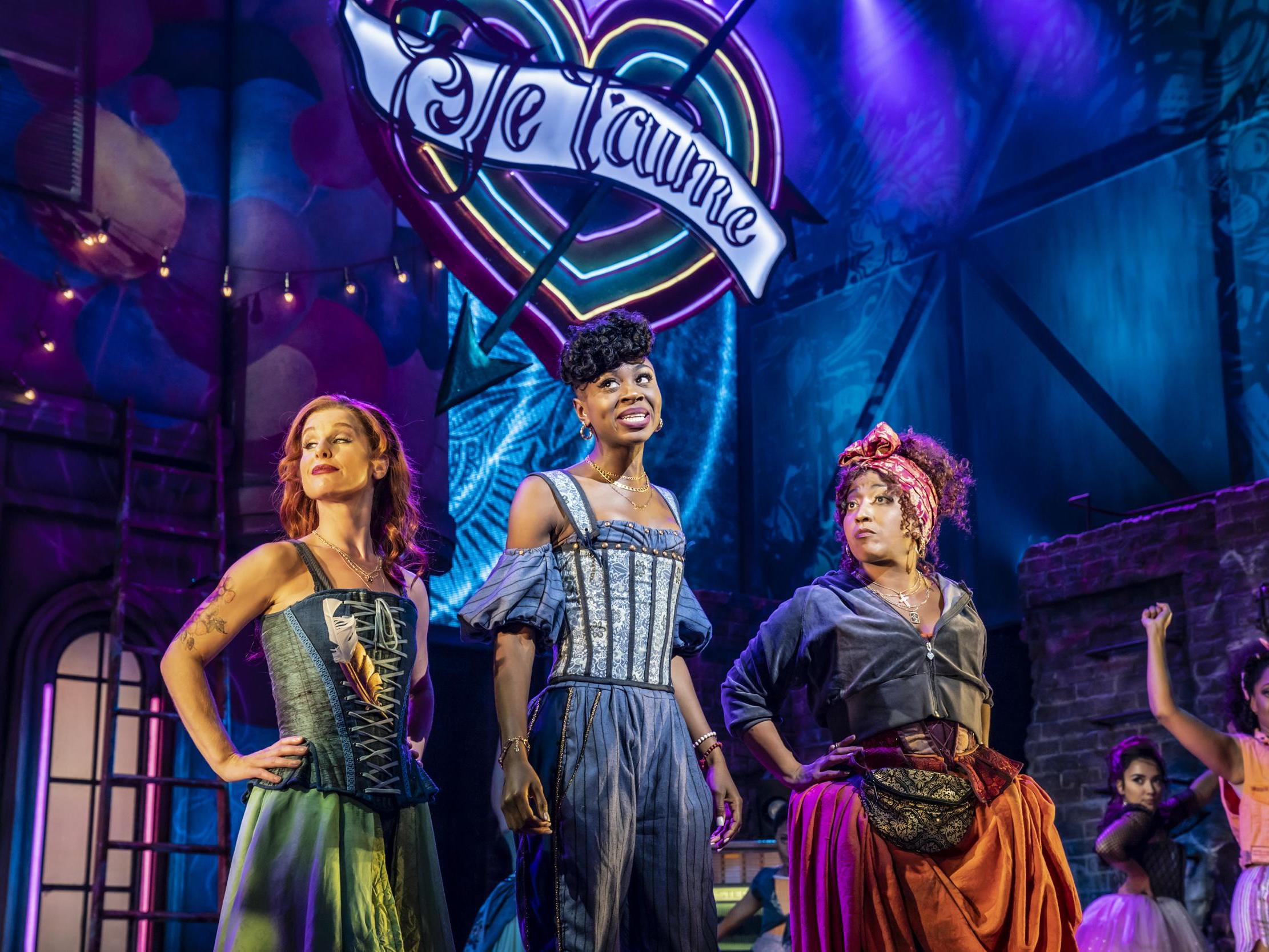 "What if Juliet... didn't kill herself?" asks Shakespeare's wife Anne Hathaway (Cassidy Janson) in this gloriously silly, unexpectedly poignant jukebox musical. "I mean, what do I know, but it seems like she's got her whole life ahead of her, she's only had one boyfriend…" It's a fair point. Will gets to work on a rewrite.
& Juliet, built around the music of songwriting savant Max Martin, takes this wry premise, douses it in glitter and runs with it. Every moment of the Luke Sheppard-directed production is soundtracked by one of Martin's power-pop hits – songs made famous by Katy Perry, Ellie Goulding, Kelly Clarkson, Robyn et al.
The shoehorning is egregious – joyously, knowingly so. Shakespeare (Oliver Tompsett) and Anne spar over the ending of his play to Backstreet Boys's "I Want It That Way". Juliet (newcomer Miriam-Teak Lee) grieves over Romeo (Jordan Luke Gage) to "...Baby One More Time". It gets laughs at first, but Lee commits so fully that it feels entirely appropriate, by the end, for an Elizabethan woman to sing a Britney song over the body of her dead paramour.
Juliet's tears soon dry up when she discovers that her star-crossed lover "crossed stars with every woman in Verona". So she puts that happy dagger back in its sheath and gallivants off to Paris instead, joined by her friend April (who is actually Anne, fancying an adventure herself), Nurse (the Shakespearean equivalent of an au-pair, played with exuberance by Melanie La Barrie) and her best friend May (Arun Blair-Mangat).
I worried at first that May would be too thinly drawn – another queer character whose sole purpose is to bolster the protagonist and offer sassy asides. "Can I just say, I am loving this journey for you," they say, channelling Queer Eye's Fab Five, when Juliet decides to take the 600-mile leap to Paris. But May, who is gender non-conforming and finds themself attracted to Juliet's new French beau Francois (played with endearing shyness by Tim Mahendran), is given their own journey.
The 50 best albums of the decade – 2010 to 2019
Show all 50
Written by Schitt's Creek's David West Read, & Juliet is witty, too – affectionately ribbing the more icky and melodramatic elements of Shakespeare's story. When Juliet, waiting in line for a nightclub, announces that she'll be 14 next birthday, Anne hastily stops the play. "We are all in our twenties," she decrees. Later, Juliet solemnly tells Francois that she just got out of a "very serious relationship". How long were they together? "Four days."
I didn't expect that all of this would be a bedazzled Trojan Horse. The show does a good job of empowering Juliet, but as it turns out, it is actually Anne Hathaway whose journey we have been watching all along. Brilliantly played by Janson – who has something of Kristen Bell about her (she certainly shares her knack for mixing sweetness with acerbity) – Anne sees this as an opportunity to break free from the confines of society, to grapple with the absence of her husband (played by Tompsett as a smug but well-meaning boyband-type) and with her own absence in his work. "How did you get through that?" asks Juliet, when Anne-as-April divulges her rocky marriage. "To be honest, I don't know that we have."
And then, of course, Katy Perry kicks in. Such violent delights.
Join our commenting forum
Join thought-provoking conversations, follow other Independent readers and see their replies