Backbone, Royal Festival Hall, London, review: A circus without sequins
Nobody is here to strike sexy poses or to act out stereotypes
Zo Anderson
Wednesday 15 August 2018 13:34 Comments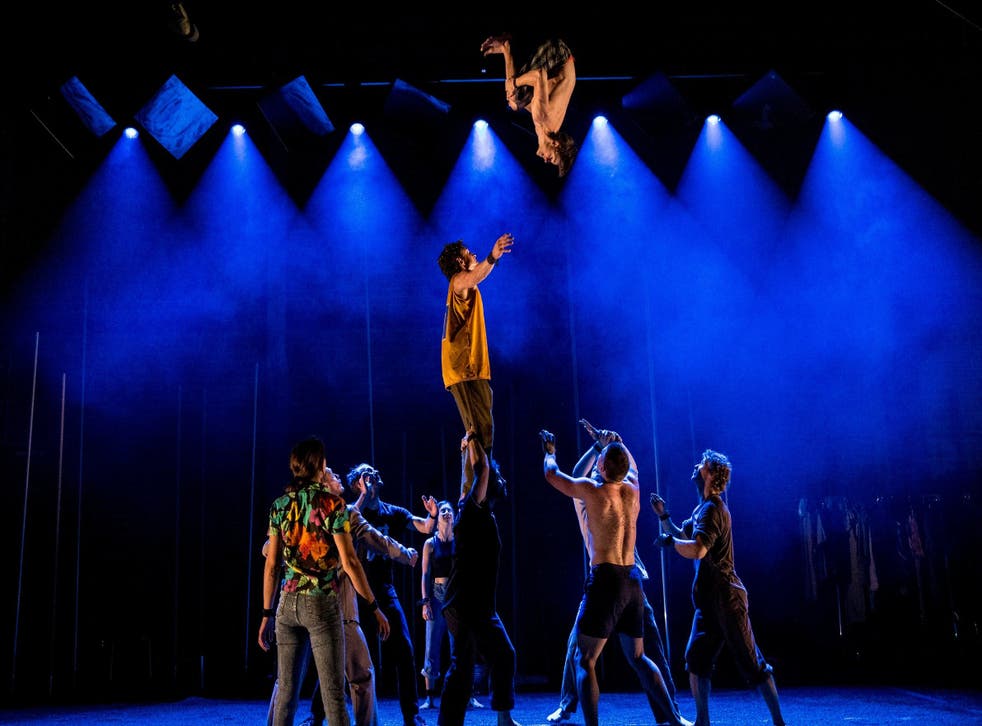 Backbone is circus without sequins. The performers of Australian troupe Gravity & Other Myths hold each other up with muscle, bone and sweat, every calculation laid bare. It's both dazzling and warm-hearted. Taking away the frills reveals the performers' camaraderie, their extraordinary trust in each other.
Backbone is the followup to the company's international hit A Simple Space. Both stripped-down and complex, it's built around the connection between the artists, from teasing to astonishing risks. The show opens with its materials neatly laid out in lines: poles, buckets, series of rocks, 10 acrobats lying on the ground. What you see is what you get, but their use of these props, and their own bodies, is unpredictable, funny and poetic.
Climbing onto each other's shoulders, they start with a two-person column, then three, even walking across the stage in their pile-up formations. By the time they reach a column of four, the topmost woman is so high that she's almost hidden by the overhead stage lights. You can see every adjustment for balance, the care of the catchers waiting on the ground, the relief and pride as she swings safely back to the ground.
Directed by Darcy Grant, with set and lighting by Geoff Cobham, the show moves swiftly through different moods. In one dreamlike sequence, a woman gazes out at the audience as she's carried aloft, twisting into backbends to keep her eyes on us. She floats like a dream through swung poses and over pileups of people, with hypnotic music played live by Elliot Zoerner and Shenton Gregory.
Swung by a partner, one artist squeals like a joyful toddler in an aeroplane game, before flying into ever more complex patterns. The acrobats put buckets over their heads before one pyramid formation, a clanking form of blindfold. In a more competitive moment, the whole cast play a game with a length of elastic, which is going to twang back to hit someone in the abs. The last competitor turns up in a suit of armour.
Throughout, there's an absence of cliche. When the performers change clothes, there are no wolf whistles as layers come off, and no laughs when some of the men put on dresses. Nobody is here to strike sexy poses or to act out stereotypes. Instead, there's a focus on the connection between these artists, their shared discipline and stamina. Poised in space, they're both superhuman and touchingly human.
Register for free to continue reading
Registration is a free and easy way to support our truly independent journalism
By registering, you will also enjoy limited access to Premium articles, exclusive newsletters, commenting, and virtual events with our leading journalists
Already have an account? sign in
Join our new commenting forum
Join thought-provoking conversations, follow other Independent readers and see their replies