Barnum, Menier Chocolate Factory, London, review: Choreography that takes the breath away
Gordon Greenberg's striking production transforms the small Menier Chocolate Factory theatre into a big top and circus ring with comedian Marcus Brigstocke in the title role 
Paul Taylor
Thursday 07 December 2017 10:58 Comments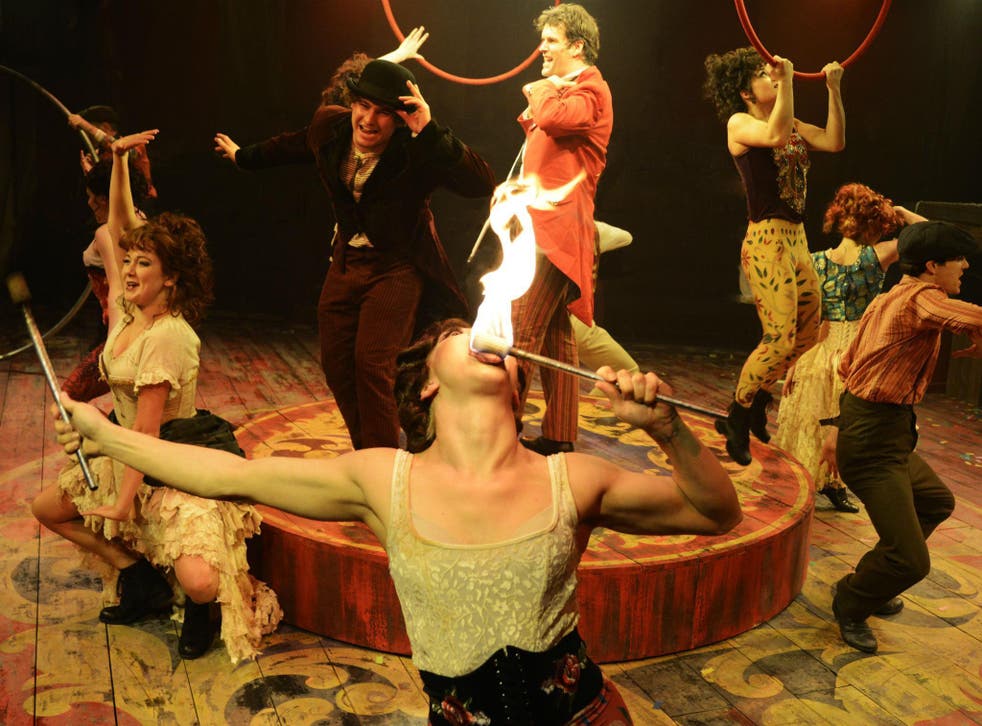 "P T Barnum is the name and miracles is the game," declares our hero in the Menier's likeable, energetic revival of this flashy, warm-hearted, rather frustrating 1980 musical (music by the great Cy Coleman, lyrics by Michael Stewart, book by Mark Bramble) about the 19th century showman celebrated for staging The Greatest Show on Earth. PT Barnum styled himself the "Prince of Humbugs" and fake news was his stock-in-trade as he suckered the public with his supposed mermaids and 160-year-old women and falsely re-rebranded attractions such as General Tom Thumb. The musical takes a genial approach to the flim-flam seeing it as evidence that he was a "dreamer" whose personality is constantly contrasted here to that of his level-headed New England schoolmarm wife Charity. She can't really resist him either and the Menier provides much to enjoy on the level of pure spectacle in Gordon Greenberg's striking production which transforms this small theatre into a big top and circus ring.
When Barnum first opened, the eponymous role (MC and ringmaster) was performed by Jim Dale on Broadway and Michael Crawford in the West End – big theatrical beasts both. At the Menier, it's taken on by the comedian Marcus Brigstocke. He establishes a very easy, unforced rapport with the audience as was immediately apparent on press night when at the start he asked a punter if he had ever seen an elephant. The man said no. "You've really never seen an elephant?" he remarked delightedly. "This show is going to blow your mind." To underline the risky temptation of starting an affair with Jennie Lind, the Swedish Nightingale (Celinde Schoenmaker), Barnum is supposed to end the first act by walking a tightrope across the stage. Word has it that the night before press night, he performed the feat in one go. The point, though, is that Brigstocke joked his way through his falls on the first night ("I hope that none of you have ordered interval drinks...") with the good humour that characterises his portrayal.
The performer, whose voice is only adequate, works well with Laura Pitt-Pulford, who sings and acts beautifully as Barnum's sorely tried but unfailingly devoted and intermittently guileful wife. You believe in their marriage, Bramble's book is very thin, though; you want to know much more about the hero's shift into politics, say, and his advocacy of civil rights. How does his life as the Prince of Humbug relate, if at all, to his being a man ahead of his time on these issues? It would help if Brigstocke occasionally appeared as driven as a figure with such a CV must have been.
It's the ensemble and the gloriously brassy band (under Alex Parker) that are the main attractions however. The former astound with their gravity-defying tumbles and twirls. The choreography by Rebecca Howell is witty throughout (in one sequence, the central couple squabble while pegging out the washing and wind up romantically tied together). She and Scott Maidment (the circus director) have come up with moves that take breath away. It's for these reasons that you should want to roll up, roll up to Barnum.
Until 3 March (menierchocolatefactory.com)
Register for free to continue reading
Registration is a free and easy way to support our truly independent journalism
By registering, you will also enjoy limited access to Premium articles, exclusive newsletters, commenting, and virtual events with our leading journalists
Already have an account? sign in
Join our new commenting forum
Join thought-provoking conversations, follow other Independent readers and see their replies