Beat the Devil review, Bridge Theatre: Ralph Fiennes stars in a slapdash and heavy-handed 'Covid monologue'
It seems sometimes like writer David Hare is attempting to explain the situation to someone who has completely missed the pandemic – rather than engage with an audience who are living through it too
Ava Wong Davies
Tuesday 01 September 2020 10:11 Comments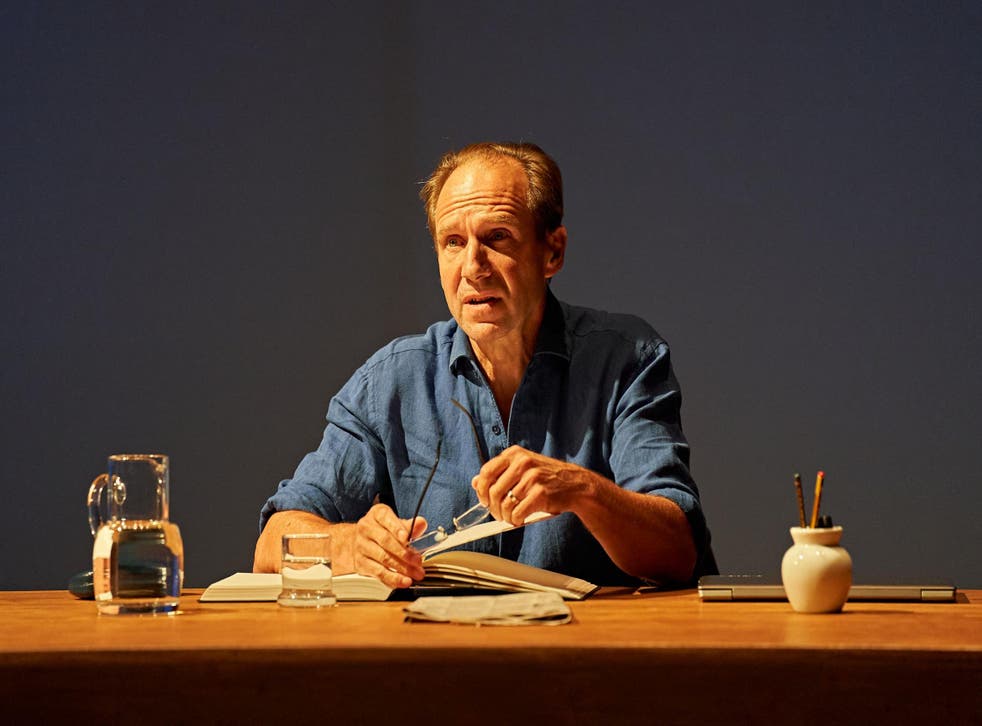 Quicker is not always better. Perhaps Beat the Devil can act as a warning of that fact to artistic programmers everywhere. After being closed for five months, the newly reconfigured Bridge Theatre (which currently seats 250 in a socially distanced auditorium, instead of its usual 900) hosts a new "Covid monologue", as written by David Hare during lockdown and now performed by Ralph Fiennes – the centrepiece of its reopening season. What a shame, then, that it is such a disappointingly slight piece of work.
Nicholas Hytner's direction, along with Bunny Christie's clean, sharp design lines, seeks to keep the text front and centre, without any unnecessary flourishes. The problem, however, is that the text of Beat the Devil is decidedly half-baked, despite aspiring towards the type of biting polemic for which Hare is famous.
Structurally, it is split into two halves; the story of Hare's own personal battle with Covid back in March of this year is viewed alongside the wider failings of our government to control the spread of the virus. Neither strand ends up being particularly rewarding – the former is diaristic and feels remarkably slender, despite the vividness of Hare's descriptions of his symptoms, and the latter can seem often needlessly didactic.
Beat the Devil is peppered with familiar statistics and sentiments which are well known to anyone who's glanced at the news in the last five months. It doesn't try to say anything new, exactly, but rather feels like an attempt at keeping a theatrical account of those first few weeks of lockdown – a time capsule, of sorts.
It seems sometimes like Hare is attempting to explain the situation to someone who has completely missed the pandemic – rather than engage with an audience who are living through it too. And Fiennes, despite his easy, leonine charm, does not always help matters, with a frustrating tendency to lean too heavily on Hare's strangely unsophisticated punchlines ("As my illness entered its mad phase, so did the Conservative government.")
Though there is something cathartic about watching someone articulate a righteous anger towards our government's innumerable cruelties – from the care homes scandal to the lack of PPE provided for NHS staff – Beat the Devil comes across as somewhat slapdash, with a lumbering heavy-handedness that feels more akin to a first draft than a finished product. "I don't have survivor's guilt," Fiennes-as-Hare declares near the play's close, "I have survivor's rage."
Hare has never been one for subtlety, but this kind of grand, clunking statement occurs too frequently for one to take the righteous undercurrent seriously. It all feels too broad, with far too little of the precise, needling critique one might have hoped for at this particular time.
Register for free to continue reading
Registration is a free and easy way to support our truly independent journalism
By registering, you will also enjoy limited access to Premium articles, exclusive newsletters, commenting, and virtual events with our leading journalists
Already have an account? sign in
Join our new commenting forum
Join thought-provoking conversations, follow other Independent readers and see their replies