Beirut, Park Theatre, London, review: This 1987 Aids allegory play is more an interesting curiosity than a valuable find
Robin Lefevre's highly charged revival of Alan Bowne's dystopian play features two lovers torn apart by a sexually-transmitted disease epidemic 
Paul Taylor
Tuesday 19 June 2018 12:34 Comments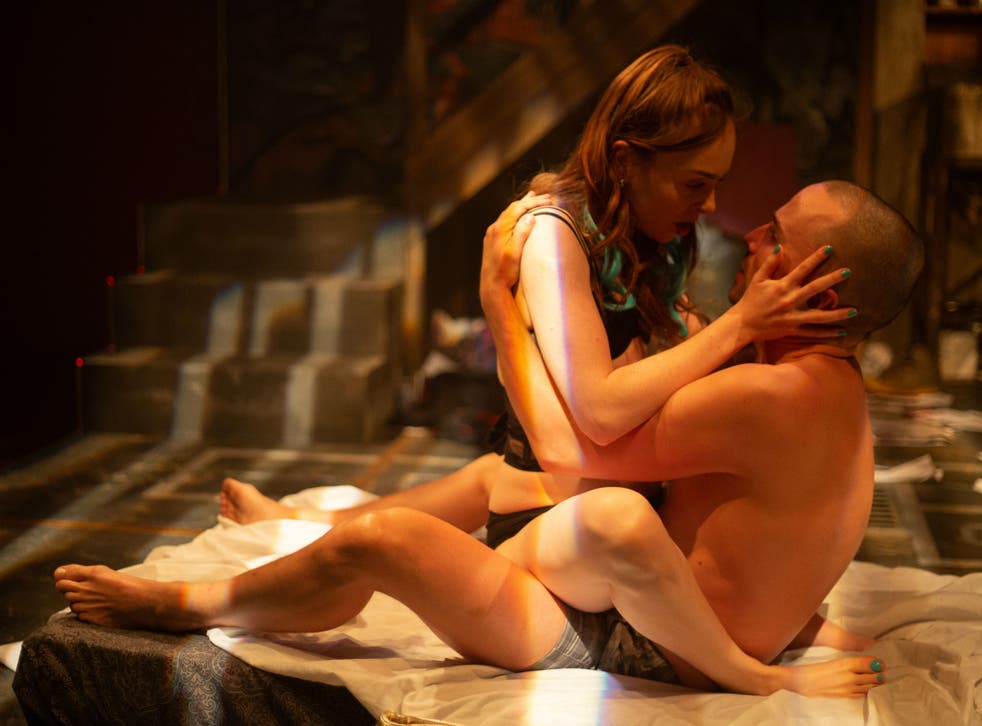 ★★★
After testing positive for an unnamed, Aids-like disease, Torch has been quarantined to a foul, dark little room on New York's Lower East Side, a district now nicknamed "Beirut" by the locals. Alan Bowne's 1987 play imagines a dystopian near-future in which the authorities have reacted to the epidemic with draconian measures. Sexual activity between negatives, and between negatives and positives, has become a capital offence for the duration, offenders hanged from lampposts as a deterrent.
Hollywood is "toast"; rich folk have swanned off to the relative safety of the Rivera; places of popular resort are all closing down as potential health hazards. Tattooed with a P on his left buttock, Torch – who is as yet symptom-free – is forbidden contact with the outside world except through a radio and when a guard comes by to check him for lesions.
His friend Blue takes the dangerous step of crossing the quarantine line, determined to consummate her love for Torch. "I can live without sex and feel dead or risk death and feel alive" is how she puts it.
In Robin Lefevre's raunchy, highly charged revival of this two-hander at the Park, Robert Rees and Louisa Connolly-Burnham have great chemistry. And, boy, do they need it. Courage, too. The couple spend most of the 60-minute play half-naked in various dry humps of desire, pulling back from abandon at the last moment. Torch aches for complete intimacy with Blue but fears passing on the infection ("This shit is all in the excretals" he says of the virus in his curious, Brooklyn-inflected argot); she yearns for him, no matter what the risks.
As you'll have gathered, Beirut is not your typical Aids play. When it had its New York premiere in 1987, the crisis was escalating. The author himself died of Aids-related illnesses in 1989 Ronald Reagan had only brought himself to mention the word "Aids" in public for the first time in 1985.
Dramatising gay men's activism – or the need for it – in the face of right-wing bigotry and governmental neglect became the pattern for plays such as The Normal Heart and the infinitely more complex Angels in America.
By contrast, Bowne focuses on a heterosexual couple (I'm not sure that gay people actually exist in this alternative universe); he leaves the name of the disease unspecified; his characters are ordinary New Yorkers rather than intellectuals and seem to have little interest in the political implications of the fascist crackdown.
I think that it flatters the play, though, to suggest that this widens its applicabilty, causing us to ask how how much we should be prepared to forfeit – in terms of love, pleasure and human rights – when society has to grapple with any rampant virus or acute syndrome. Beirut has not, in my opinion, worn well.
Its attitude to women feels particularly dated. When Blue peels off her shapeless government-issue dress to reveal some provocative black scanties, stretches out on the mattress and asks "You think, back in the old days, I coulda been a porno star", the moment seems designed as much for the audience's titillation as to turn on Torch.
There's a genuinely powerful scene where the lesion-inspector forces the pair into poses for his masturbatory pleasure. I think that this stands, though, in a somewhat awkward relation to the prurience the whole play promotes. And Bowne could me more expansive about what Blue finds so loveable-unto-death about her boyfriend – apart from a fit body.
The production is very well performed but I'm filing the play under interesting curiosity rather than lastingly valuable find.
Until 7 July (parktheatre.co.uk)
Register for free to continue reading
Registration is a free and easy way to support our truly independent journalism
By registering, you will also enjoy limited access to Premium articles, exclusive newsletters, commenting, and virtual events with our leading journalists
Already have an account? sign in
Join our new commenting forum
Join thought-provoking conversations, follow other Independent readers and see their replies