Bend It Like Beckham: The Musical, Phoenix Theatre, First Night review: Joyous and refreshing revival of Gurinder Chadha's film
Natalie Dew is wonderfully winning as soccer-loving Jess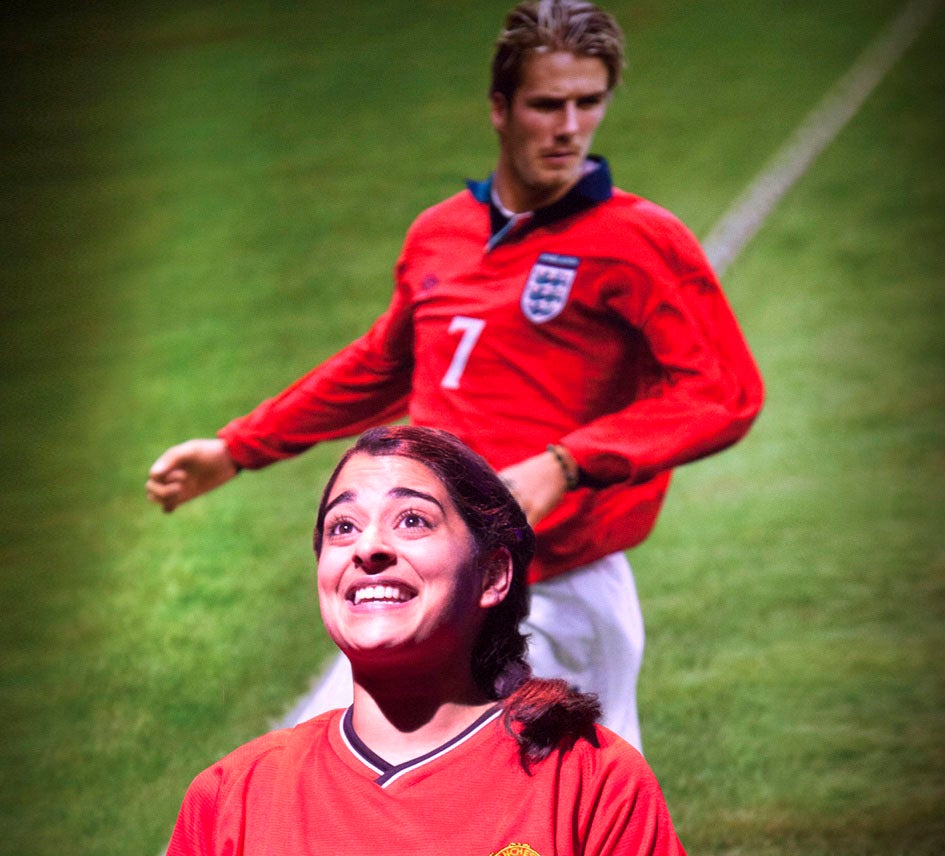 This is the most irresistibly joyous musical-theatre make-over of a much-loved movie since Billy Eliot. It does more for genuine Girl Power in the span of an evening than an eternity of Viva Forever! (the short-lived Spice Girls juke-box venture) could have achieved.
And how rare and refreshing in this particular genre to find young characters who aspire to something different from breaking into show business. Another reason to welcome the piece in which Gurinder Chadha, director and co-author of the phenomenally successful 2002 film, has masterminded a version that reinvents rather than recycles the material.
Natalie Dew is wonderfully winning and pure-voiced as Jess, the Southall teenager caught between her desire to excel at soccer and the expectations of her tradition-bound Sikh family. In the catchy opening chorus "UBT", she's out of place amongst the crowd of Saturday morning shoppers: "Dreaming of somewhere where being 'other'/Doesn't incur the/Wrath of your mother" (the witty, well-turned lyrics are by Charles Hart). This dreams-versus-duty dilemma is thrown into stronger relief here. Where the film cross-cut between, say, the climactic match and the colourful whirl of the sister's wedding, the stage – thanks to Aletta Collins's exhilarating choreography-- is able to bring these opposed sides of Jess's life into phantasmagoric collision so that the various meanings of "play the game" are dynamically underlined.
Howard Goodall's gorgeous score, which he has co-orchestrated with Bhangra maestro Kuljit Bhamra, ranges from an exquisite traditional pre-wedding lament for the loss of a daughter (hauntingly sung by Rekha Sawney) to mainstream musical-theatre fare where you can still hear Indian inflections. The title word in "Glorious" sounds, to my ear, to have a slight Punjabi brandish in its soaring melodic line. You also get to hear how it looks from the parents' point of view. Lovely Tony Jayawardena sings of his own youthful dreams, dashed by racism and of his desire to protect his daughter from similar disappointment. As the mother of Lauren Samuels's attractively headstrong tomboy Jules, Sophie-Louise Dann is very funny, sniffing for hints of lesbianism ("It's like Prisoner Cell Block H in here", she says of the girl's bedroom) and heart-snagging when (shades of Mamma Mia) she sings about the bitter-sweetness of letting go.
To my mind, it's a shame that the coach is no longer Irish as it removes a key strand from his outsider's identification with Jess but Jamie Campbell Bower has a strong heartthrob presence and adroitly suggests how his his growing love for her and his living vicariously through her are bound together. You would want any of this crack company on your team, but Jamal Andreas is particularly appealing as the shy, mischievous gay cousin with the humane message, in one of the best numbers, that "everything and everyone bends". So how do they do the soccer then? I refuse to tell you by what varied and suspenseful ways the production suggests the trajectory of the fateful kicks, but I will say that, as an uplifting celebration of multi-cultural Britain, this show plays a blinder.
BUY TICKETS FOR BEND IT LIKE BECKHAM with tickets.independent.co.uk
To October 24; 0843 316 1082
Join our commenting forum
Join thought-provoking conversations, follow other Independent readers and see their replies