Beware of Pity, Barbican, London, review: 120 minutes of nerve-racking tension
Simon McBurney's compelling co-production between his own Complicite company and Schaubühne Berlin, is based on Stefan Zweig's 1939 novel, about a man's downfall after he tries to make amends 
Paul Taylor
Friday 10 February 2017 15:35 Comments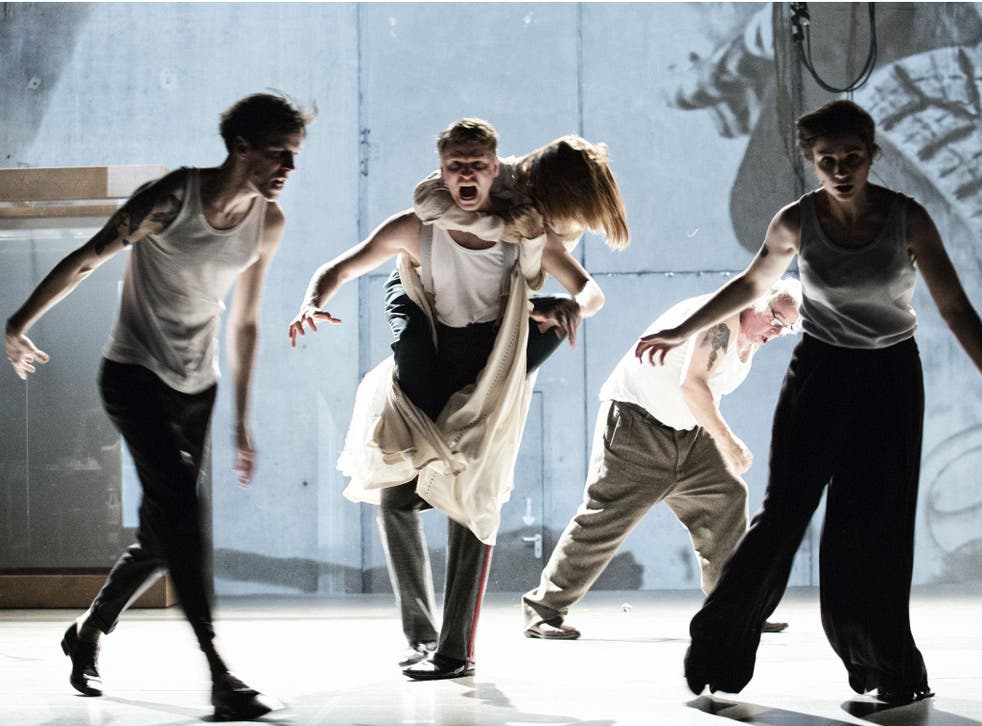 Simon McBurney was not initially met with enthusiasm when he proposed this 1939 novel by Stefan Zweig to Berlin's Schaubühne as the basis for their first collaboration with his own company, Complicite. We should be grateful that there was an eventual meeting of minds, for Beware of Pity – directed by McBurney with an ensemble of seven German-speaking actors – is an extraordinarily compelling piece of theatre. For a 120 minutes of nerve-racking tension, it uses brilliantly eloquent non-naturalistic means to build up a sense of unstoppable disaster.
The Austrian Zweig wrote Ungeduld des Herzens (literally, "impatience of the heart") while a refugee in England. Explicitly shadowed by the impending horror of the Second World War, it tells a story set in 1913-14 in which the personal crisis of the protagonist comes to a terrible crunch as the news breaks of the assassination of the Archduke Ferdinand. Anton Hofmiller now scorns the military honours he won in that earlier conflict as a young army officer. He knows that his feted bravery in battle was ingloriously spurred by a fatal failure of courage in his private life and a desire to escape.
Zweig has an acute understanding of how it's weakness, rather than outright wickedness, that often causes ruin, and of the double-edged, self-serving nature of some ostensibly fine feeling – such as pity, as opposed to true compassion. Hofmiller's woes begin with a gaffe at a party held by a rich local landowner, Kekesfalva. The wine and the waltzes bring the impoverished, socially awkward young officer out of his shell and he invites Edith, the daughter of the house to dance, only to discover that she is incurably paralysed. His attempts to make amends are only too successful. He becomes indispensable to the invalid and this sets off a catastrophic train of events – involving emotional blackmail, unrecognised obsession, deception and the giving of false promises in the hope of a cure – that cause a kind of matching moral paralysis in him as he remains immobilised in the mess his good intentions have created.
Christoph Gawenda plays the anxious, disillusioned mature man and Laurenz Laufenberg the upright, naive 25-year-old. They are simultaneous presences in a searchingly expressive staging that is reminiscent of Katie Mitchell's deconstructive adaptations of The Waves and The Idiot. The production eschews all semblance of naturalism in favour of heightening our sense of the inexorable pulse of the story and of its broadest political implications in the correspondence drawn between the crack-up of an individual and the disintegration of an empire – both leading, through self-blindness, to horror.
The company speak into microphones on a stage bare but for some tables and emblematic objects such as the glass museum cabinet at the back that serves both as the display case – in which the audience sees Hofmiller in full military pomp at various junctures and seeping a pool of blood at the end – and as the hurtling prison of a railway compartment in between. Edith's instability is communicated by having one actress lip-synch to the voice of another. In some unnerving sections, she's figured by a just white dress on a hanger that gets knocked off a table sent speeding by. When her obsession with him becomes apparent in a fateful bedroom encounter, all we witness is the wretched face of the older Hofmiller, spotlit in a gulf of darkness, creepily pawed at by more than two hands.
The production is a miracle of musicality as it coordinates live video projections, archive footage (of, say, the ballerinas masochistically fan-worshipped by Edith), a powerful soundscape (Mahlerian yearning, a thudding heart), and dazzling montages and gifs that rattle us towards our own time of European division and a refugee crisis. There's the recurring gesture of an arm stretched to full length as it presents the gift of a bunch of flowers. Is this a reaching out to the recipient or a self-approving way of fending her off? With great simplicity, it crystallises Zweig's insight about the dubious nature of pity.
Performances are sold out but you can watch the live stream on Sunday 12 February at 3pm. The live stream will be available to until Sunday 26 February.
Register for free to continue reading
Registration is a free and easy way to support our truly independent journalism
By registering, you will also enjoy limited access to Premium articles, exclusive newsletters, commenting, and virtual events with our leading journalists
Already have an account? sign in
Join our new commenting forum
Join thought-provoking conversations, follow other Independent readers and see their replies