Birthday, Royal Court, London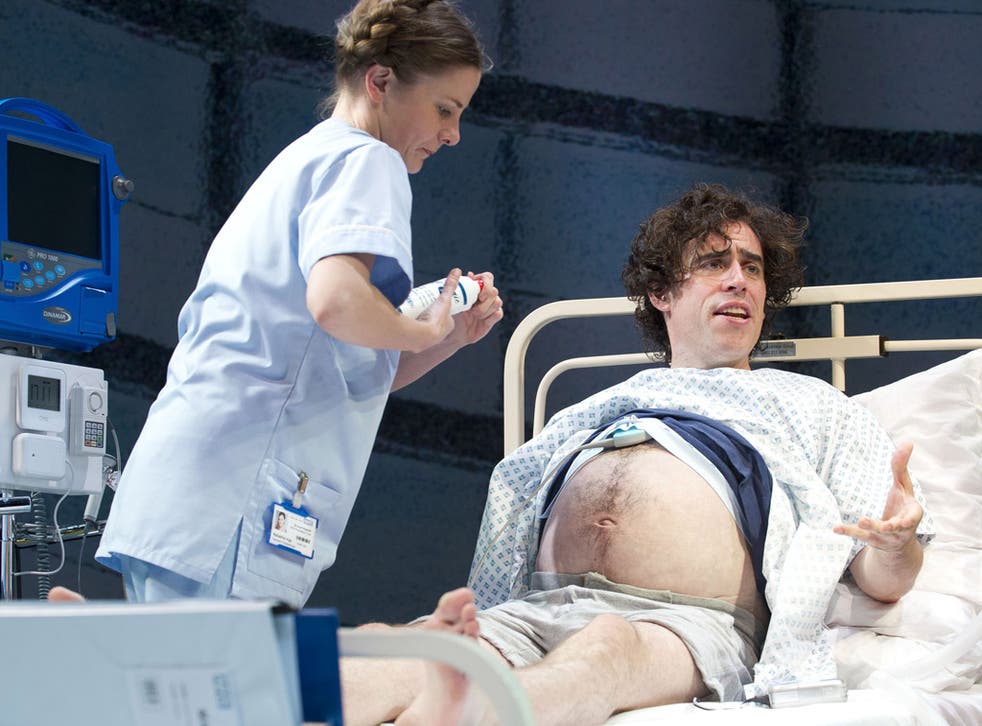 For the male members of the audience, Joe Penhall's new play gives a whole new twist to the idea of a buttock-clenching experience.
Feminist author Gloria Steinem once wrote a piece called "If Men Could Menstruate", arguing that a process that women are taught to feel ashamed about would automatically become "an enviable, worthy, masculine event" and the subject of competitive boasting:"'Yeah, man, I'm on the rag'". Penhall goes one better than this, positing a near-future world in which, courtesy of artificial wombs, men can choose to play mother and go through the multiple gruesome indignities of pregnancy and labour on their spouse's behalf
There's nothing like role-reversal drama for revealing the double standards and injustices that we accept as perfectly natural and the switch at the centre of this often hilarious and provocative play is wonderfully fertile, so to speak, in that regard. It's a tribute to Penhall that you sit there wondering why no one has thought of putting it centre stage (as here in Roger Michell's very funny and crisply focused production) before. Familiar as Guy Secretan, the bumptious anaesthetist in TV's Green Wing, the excellent Stephen Mangan is droll casting as blokey Ed, on all fours in agony, bum in air for inspections ("I've been prodded more times than an unripe avocado") and at the mercy of hormonal mood swings and all-female medical attention (and inattention).
Ed's prickly executive wife (Lisa Dillon) was left unable to have any more children after a traumatic labour with their son. It's a measure of the play's even-handedness that she's shown to be not above pulling rank in a slight dismissiveness of male pregnancy where there are no contractions and it's a Caesarian delivery. Cue an hilarious sequence where Ed, narked by this, strains grotesquely in satirical mock-contraction mode "I'm locating my inner vagina".
Male motherhood is still, we gather, a fairly new possibility and the NHS (at which Penhall takes several swipes) seems to be encouraging it on the half-baked grounds that deliveries are quicker and free up beds. It struck me that it might have been profitable to have set the play further down the line so that we could see whether the disproportionate power of a complaining male lobby is resulting in an invidious two-tier system. But Birthday is full of joys – including Llewella Gideon's laid-back seen-it-all black midwife and Louise Brealey's direct young registrar who cheerfully admits to pitying people with children. Go.
Join our new commenting forum
Join thought-provoking conversations, follow other Independent readers and see their replies