Bitter Wheat review, Garrick Theatre: John Malkovich brilliantly captures the bluster, sexual hubris and insecurities of Harvey Weinstein
Malkovich makes his return to the West End stage, after more than a 30-year hiatus, in David Mamet's new play about the Harvey Weinstein scandal, but it never fully reveals the psychological depths of this depraved character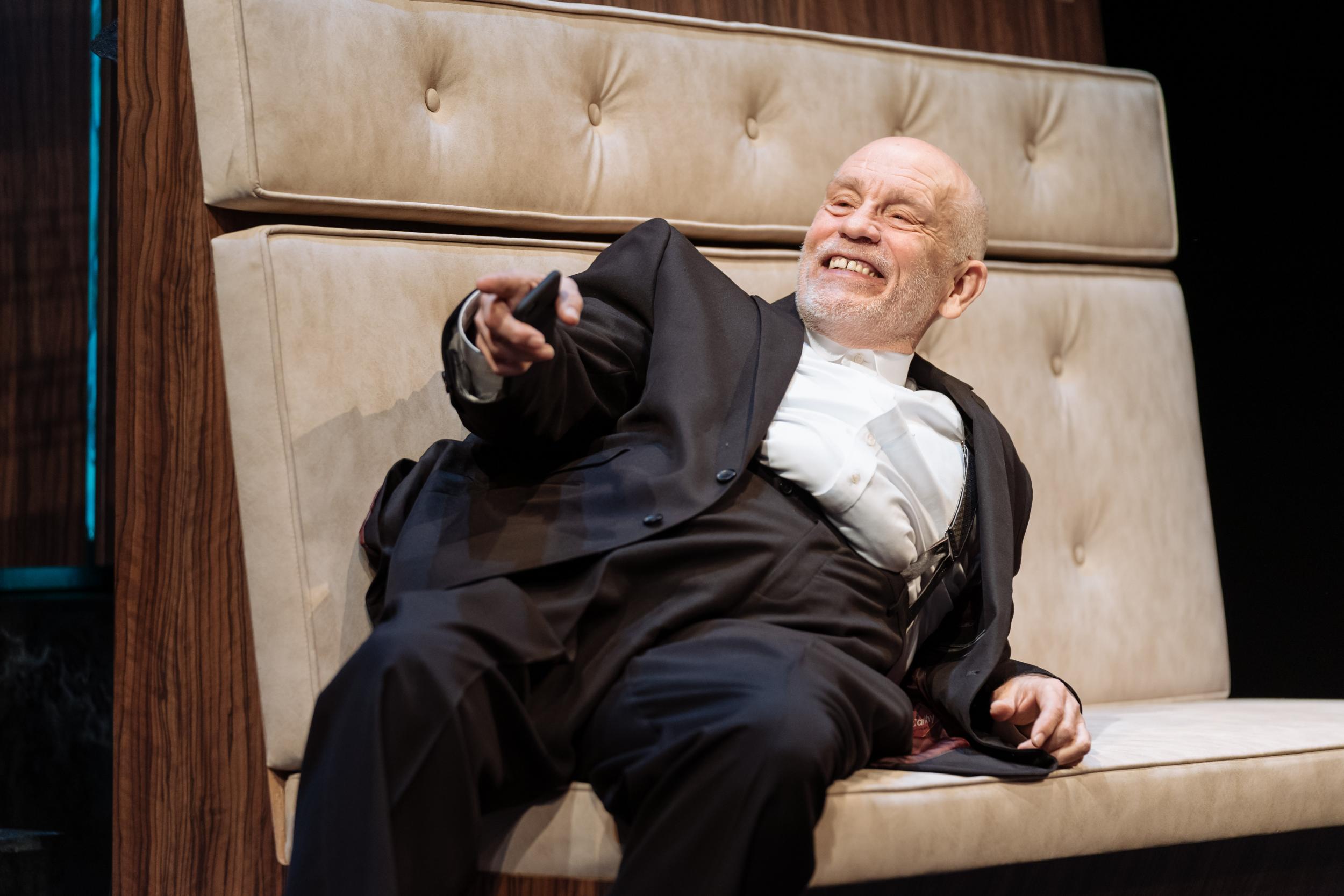 It was a mouth-watering prospect. A play about the Harvey Weinstein scandal written by a man who knows Hollywood inside out and featuring a global movie star who is also a consummate stage actor.
David Mamet is the master of witty, piercing and understated dialogue, always hinting at anxieties underneath, the great challenger of politically correct orthodoxies. If anyone could find a human side to a monster, and make us question some of the nuances of the #MeToo movement, it's him.
John Malkovich, prowling the stage like a bloated, warped colossus, plays the not even thinly disguised Weinstein figure, Barney Fein. He is present on stage throughout and dominates it with a towering performance that conveys not just the vulgarity, the bullying, and the predatory nature of the movie mogul, but also the paranoia that helped to define Weinstein.
As the play opens, Fein is responding to a screenwriter whom he has refused to pay and who is threatening to report him to the Writers' Guild. "The writers' guild would drink a beaker of my mucus if I asked them to," the all-powerful Fein assures him. From the bully, we move on to the predator. A meeting is set up, inevitably, in a hotel room, with Yung Kim Li, an English female actor of Korean descent, to discuss a possible title of her new film, also the title of this play.
The meeting is arranged, in full knowledge of what will occur, by Fein's assistant, Sondra, a seemingly moral void, as was the case with those around the real Weinstein. She is played with steely, blinkered determination, in a rather underwritten role, by Doon Mackichan, former star of TV comedy Smack the Pony.
In the hotel room, Fein, as with Weinstein, intersperses a bare minimum of charm with the bullying, before making the request that she come into the next room to watch him shower and masturbate – or he won't release the film. He has a limited time frame as he has taken a pill, presumably to enhance his libido. Humour in such a wretched and so recent scenario has its own dangers, and it's hard to laugh at such a contrivance. But there are better moments of Mamet wit. As he makes his outrageous, sexual demands, Fein adds: "I don't think you understand how much money I gave to the Democratic Party."
Ioanna Kimbook, making her West End debut, gives a remarkably assured performance in the role of the molested young woman, juggling discomfort and distaste with a need to remain polite and accommodating to get her film released. She has just been on a 27-hour flight, she says, and at one moment falls asleep, at which point Fein removes her belt.
Mamet does not stint from giving Malkovich the crude dialogue that is all too believable of the real Weinstein. "You want me to make you the Asian Audrey Hepburn, and you won't kick back one blow job, which would take one minute."
I actually witnessed Weinstein in lascivious action at a film premiere, bending a female actor in an unwanted embrace. It wasn't a pretty sight, and Malkovich captures so well the bluster and sexual hubris that unfettered power gave the mogul. But he also captures the insecurities that were part of Weinstein's psychological make-up. As with the real movie mogul, Fein is ashamed of his weight, assuming that the only possible reason his gross advances are rejected is that he is fat.
Mournfully, after a complaint is made to the police by the actor and his career is ruined, he laments: "The overweight get no sympathy."
Harvey Weinstein: his accusers
Show all 42
As Fein's career and life implode, Mamet gives us a surreal and somewhat bewildering subplot involving Fein's mother being shot dead by an illegal immigrant; the laboured irony is that Fein, again like Weinstein, was a supporter and benefactor of good causes, in this case helping illegal immigrants.
It's diverting but unnecessary, adding to the sense of frustration that Mamet at his peak could and would have explored this affair to reach more complex conclusions. Indeed, Bitter Wheat never fully reveals the psychological depths of this depraved character, or the motivations of those around him who enabled such abuse of power.
Malkovich deserved a more rounded and thought-provoking play.
Join our commenting forum
Join thought-provoking conversations, follow other Independent readers and see their replies