Black Beauty, Traverse Theatre, Edinburgh, review: 'Deserves every overjoyed round of applause'
This adaptation of Anna Sewell's classic novel boasts a panto horse in the title role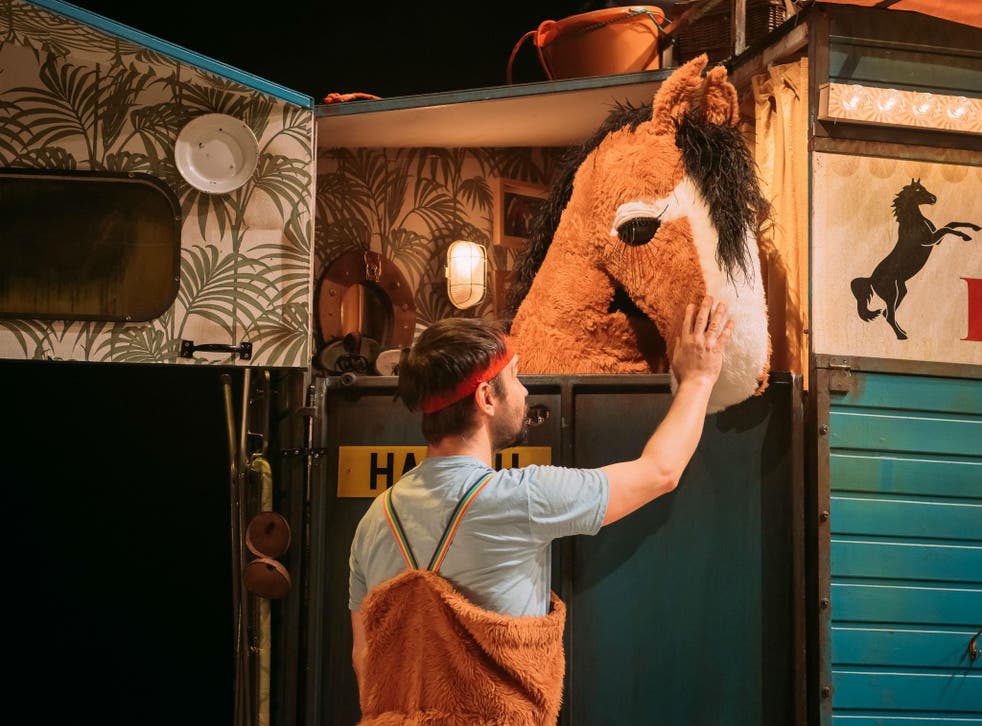 Any stage show which manages to adapt Anna Sewell's classic novel Black Beauty as a Christmas pantomime with a bona fide panto horse in the title role deserves attention for its sheer front. To do so with as much humour, dramatic engagement and sheer silliness as co-creators Andy Cannon, Andy Manley and Shona Reppe (the former pair are the two-handed cast, the latter is the designer) have mustered here deserves every overjoyed round of applause which comes its way.
Cannon and Manley play brothers and "equestrian illusionists" Andy and Andy McCuddy (a "cuddy" is a horse in Scots), living out of an immobile horsebox in a lay-by on the outskirts of Edinburgh, ever hopeful of the day when pantomime cows go out of fashion and they receive a long-awaited call to come back to work. The pair are innocent and wide-eyed as their own story merges into that of Black Beauty – which they retell on a nostalgic whim – drawing on wells of child-friendly physical comedy and very clever storytelling enacted by the perfect versatility of Reppe's horsebox set.
Hidden doors and panels flip open, and a varied group of characters emerge, not least Hamish the pantomime horse himself, a silent third member of the cast who is brought to life in perfectly human detail by the pair. Everything you could hope for in a seasonal children's tale is here, from gentle but well-realised humour to a number of "oh no he's not" exchanges and a subtle but potent message of perseverance and hope. It's no small feat that, as the silliness rises to a conclusion which is perfect in its daftness, so too does our investment in these characters and the story they tell.
'Black Beauty' is at the Traverse Theatre, Edinburgh, until 24 December, and then touring Scotland until 19 February. www.traverse.co.uk, redbridgearts.co.uk
Join our new commenting forum
Join thought-provoking conversations, follow other Independent readers and see their replies