Black Men Walking, Royal Court, London, review: This production has a wow factor
Testament delves into his hip-hop repertoire to delightfully mix melody with syncopated dialogue in his play about the image of British black men
Kaleem Aftab
Friday 23 March 2018 18:53 Comments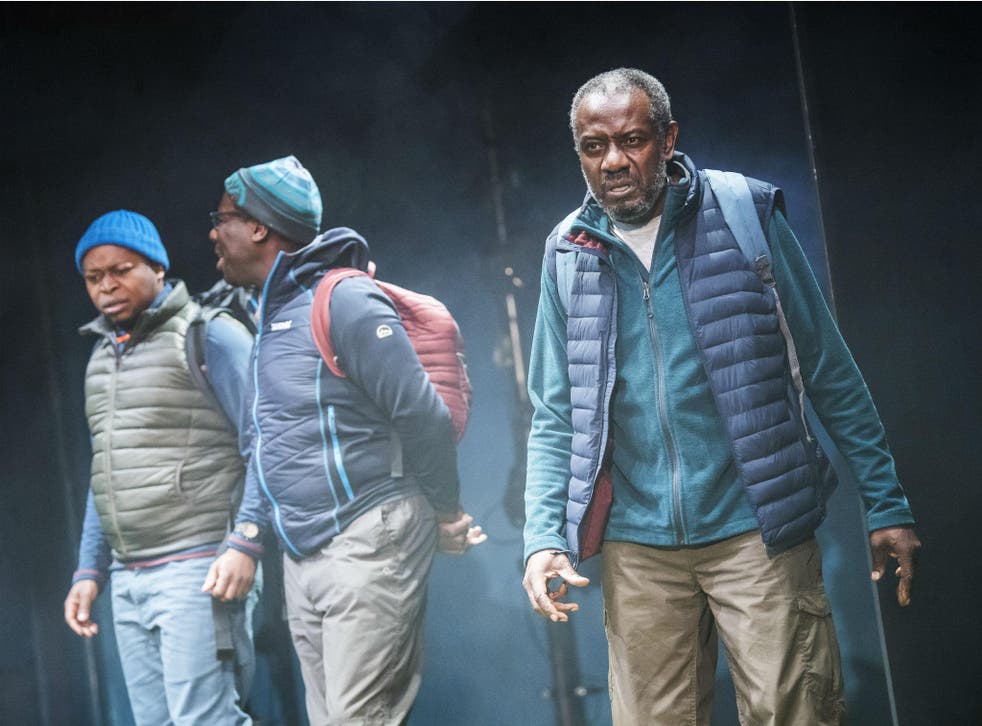 The image of black men in Britain has been dictated by fear, fused by establishment stereotypes that have rewritten history in a way that demonises and continually omits the long presence and contribution of black people in Britain. It's a burden that is heavier than the rucksacks on the backs of chocolate-loving Star Trek fan Richard (Tonderai Munyevu); Matthew (Trevor Laird), a phone-obsessed doctor with marital strife; and old man Thomas (Tyrone Huggins), who is facing his own mortality when seeing visions of people from another plane, as the group walk through the Peak District surrounding their Yorkshire homes. The fog enveloping them serves as a metaphor for their state of minds.
In 2013 archaeologists discovered the remains of North Africans buried in Barnsley during Roman times. This historical revelation is omnipresent throughout rapper, beatboxer and now playwright Testament's eloquent, lyrical and erudite Black Men Walking. As the men walk they discuss football and race, and unpick their own identity crisis, citing WEB Du Bois' notion of "double consciousness" that beholds those who define themselves as both black and British.
Director Dawn Walton created Revolution Mix, part of her Eclipse Theatre Company, which aims to create the largest ever national delivery of black British stories produced and performed in regional theatres, to challenge the notion that most black stories in British theatre, film and radio are either imported or stories about new arrivals. In breaking this trope she toys with stereotypes and visual imagery even before we meet our principal protagonists. The first person on the small turf-laden stage that swings up to the right like it belongs in a skate park is a woman in a hijab. The lighting and smoke give off a biblical impression of an African land, but it will transpire that this is England.
Testament delves into his hip-hop repertoire to delightfully mix melody with syncopated dialogue. The play is further evidence in the wake of the mega-success of Hamilton that hip-hop inspired dialogue with its rhyming couplets and florid descriptions may be the most Shakespearean of all modern languages.
Inspired by Yorkshire based 100 Black Men's Walk for Health, which organises promenades for black men and women to promote mental health and wellbeing, the play cites Malcolm X describing a new type of black man wanting to walk for himself. There are echoes in the conversation of Spike Lee's Get on the Bus, a movie inspired by the similarly aspirational Million Man March, which took place in Washington DC in 1995.
Throughout, it offers food for thought, plenty of laughs, self-consciousness and good acting, but its most salient points highlight where traditional arguments have their failings. The heartbeat quickens when the main characters encounter a young wannabe rapper Ayeesha (Dorcas Sebuyange) who gives a millennial and generational counterpoint to the male paradigm. It's this gender perspective delivered with sarcasm and emotional resonance that gives this production its wow factor.
Until Saturday 7 April (royalcourttheatre.com)
Register for free to continue reading
Registration is a free and easy way to support our truly independent journalism
By registering, you will also enjoy limited access to Premium articles, exclusive newsletters, commenting, and virtual events with our leading journalists
Already have an account? sign in
Join our new commenting forum
Join thought-provoking conversations, follow other Independent readers and see their replies