[BLANK], Donmar Warehouse review: A potent, devastating exploration of the criminal justice system
There are 100 scenes in the full script of Alice Birch's [BLANK], which marks the 40th anniversary of reformative theatre company Clean Break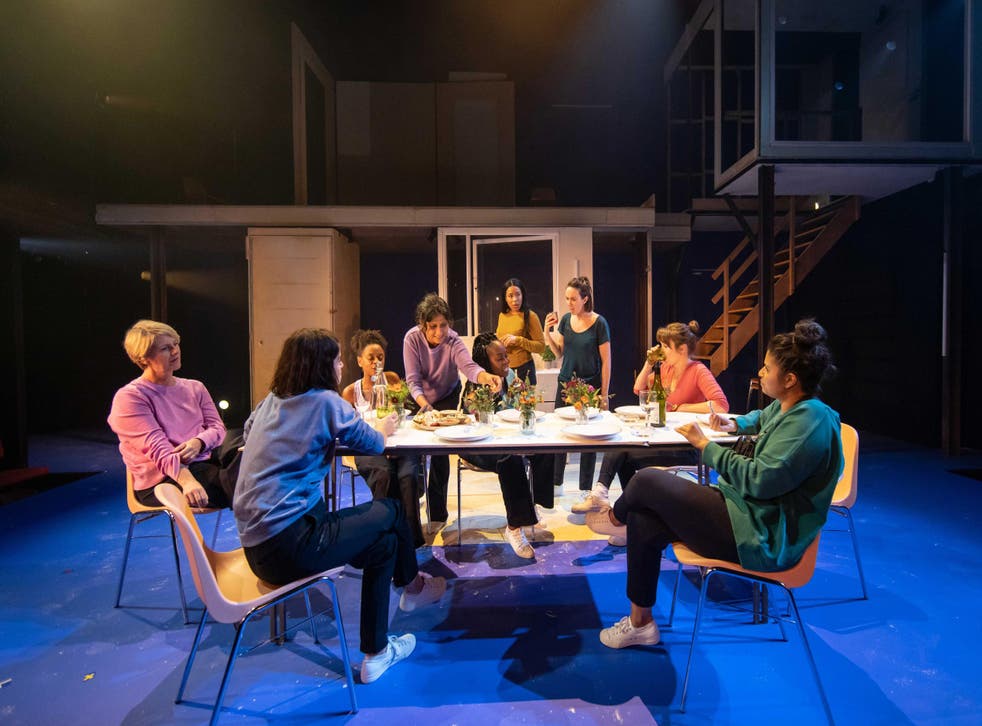 A woman escaping her abusive partner franticly seeks refuge at a domestic violence shelter. A prisoner pleads for her TV to be taken away because she knows exactly how to electrocute herself with it. An inexperienced probation worker is sent to speak to the mother of a dead inmate she's never met.
There are 100 scenes in the full script of Alice Birch's [BLANK], all inspired by women affected by the criminal justice system, and which Birch describes as an "invitation to you and your company to make your own play from these scenes". Director Maria Aberg has picked 30 of them for this potent performance at the Donmar Warehouse, which marks 40 years since two female prisoners founded the reformative theatre company Clean Break. Two of its members – Shona Babayemi and Lucy Edkins – are in the cast.
Every scene in [BLANK] is separate, played out in clinical, boxy, multi-levelled spaces – but they are all connected, too. The same handful of actors, using their real names, play out snippets of the lives of myriad different people, all dealing in some way with the collateral damage of the prison system. Sometimes, they stay on stage, sitting or standing quietly in the shadows while another scene plays out. In a devastating sequence early on, a character smashes the window of her family home to beg her mother for money. The broken glass stays on the floor for the remaining two hours – actors crunch over it until it is as fine as sand. Some messes aren't easily swept away.
If that all sounds very bleak, it is – but wit abounds, as you would expect from Birch, the story editor on HBO's Succession. The funniest and most challenging scene is saved for the end, a 45-minute tour-de-force. Kate (Kate O'Flynn) brings her new girlfriend Shona (Shona Babayemi) to an insufferable dinner with her middle-class luvvie friends, who order cocaine while humble-bragging about volunteer work in Bolivia.
What begins as a chaotic farce descends into a deeply uncomfortable dissection of class and shallow politics, its overlapping dialogue and fusion of comedy and tragedy clearly inspired by the opening scene of Caryl Churchill's Top Girls. By the end, Shona is disgusted by the group and their "bleeding heart bubble of hypocrisy". Many people in the audience will surely find themselves squirming in their seat.
In a recent interview, Birch said she doesn't think that theatre has the power to effect change. But she did express hope that "there's one audience member who feels changed in a profound way". More than one, I suspect.
Join our new commenting forum
Join thought-provoking conversations, follow other Independent readers and see their replies