Blink, Traverse Theatre, ****/ Dirty Great Love Story, Pleasance Dome, *****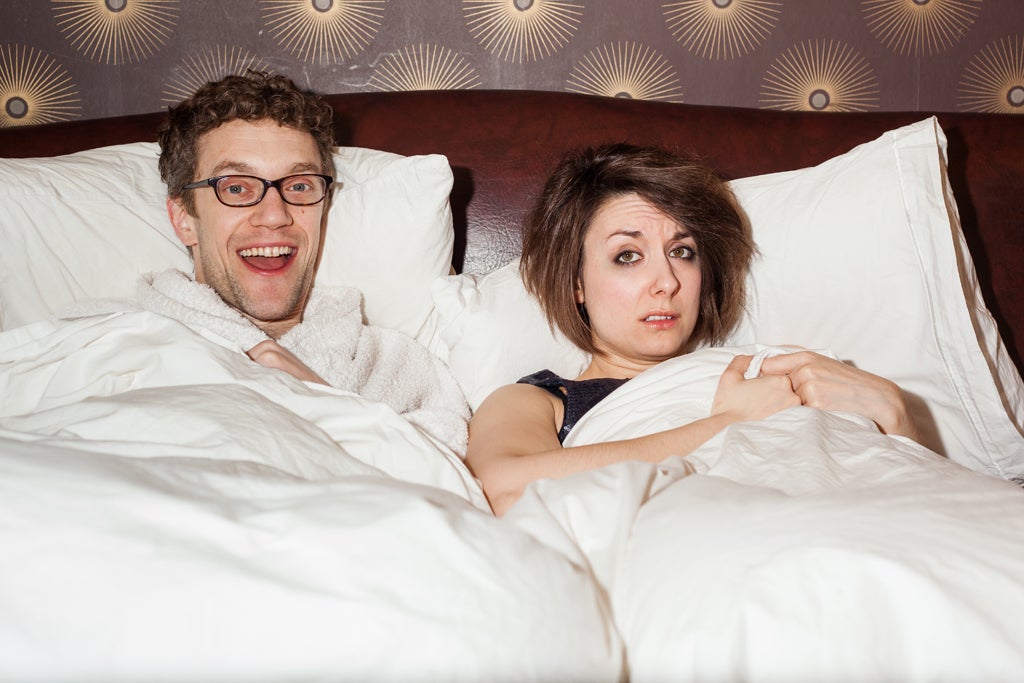 Is there such a thing as The One? Two double-handers at the Fringe ponder the possibility in tender, funny and touching style. Blink, by Bruntwood Prize winner Phil Porter is an odd little romance, recounted by two fresh-faced, guileless young pups sitting behind desks. "This is a true story and it's a love story", Jonah tells us at the start but it's rather more unconventional than that.
Jonah and Sophie are two damaged souls, both grieving for parents they have lost to cancer. Thanks to various twists and turns of fate, they end up neighbours and then, thanks to a moment of whimsical madness on Sophie's part, virtual lovers, as they begin to conduct a relationship through the screen of a wireless baby monitor.
Thus they co-exist for some time in strange, voyeuristic harmony. Outside the house Jonah takes to stalking Sophie but they never meet until one day a fateful incident throws them together.
It's all rather slight but the concept of love through a lens, at once detached and obsessive, is a memorable and thoroughly modern one. Porter is clearly a writer to watch but it's the charming performances of Rosie Wyatt and Harry McEntire's spot-on comic timing that really make the play sing.
Dirty Great Love Story does exactly what it says on the tin - and they could throw in the adjectives Lovely, Witty, Delicious too. Created and performed by Richard Marsh (the spoken word artist behind 2011 Fringe hit Skittles) and Katie Bonna, it's a Ross-and-Rachel, will-they-won't-they rom-com for 2012.
A stag party and a hen party meet in a sticky club and one night in a Travelodge later, Richard and Katie are seemingly starcrossed for life. Sparring like a modern-day Beatrice and Benedick, taking it in turns to tell their story like Sandy and Danny, neither can see that they are meant to be together. And so their story rolls on, through friendship and arguments, drunken nights and significant breakfasts.
Far from the insistent drone of much spoken word, the language zings and bounces, one minute rhyming shabby with Downton Abbey, the next snagging on heartfelt declarations of love. By the end of the hour, the entire room was willing the hapless pair to get their acts together. Warmly and fuzzily recommended.
Blink to 26 August, (0131 228 1404); Dirty Great Love Story to 27 August (0131 556 6550)
Join our commenting forum
Join thought-provoking conversations, follow other Independent readers and see their replies