Blithe Spirit, theatre review: Angela Lansbury delicious in West End comeback
Gielgud Theatre, London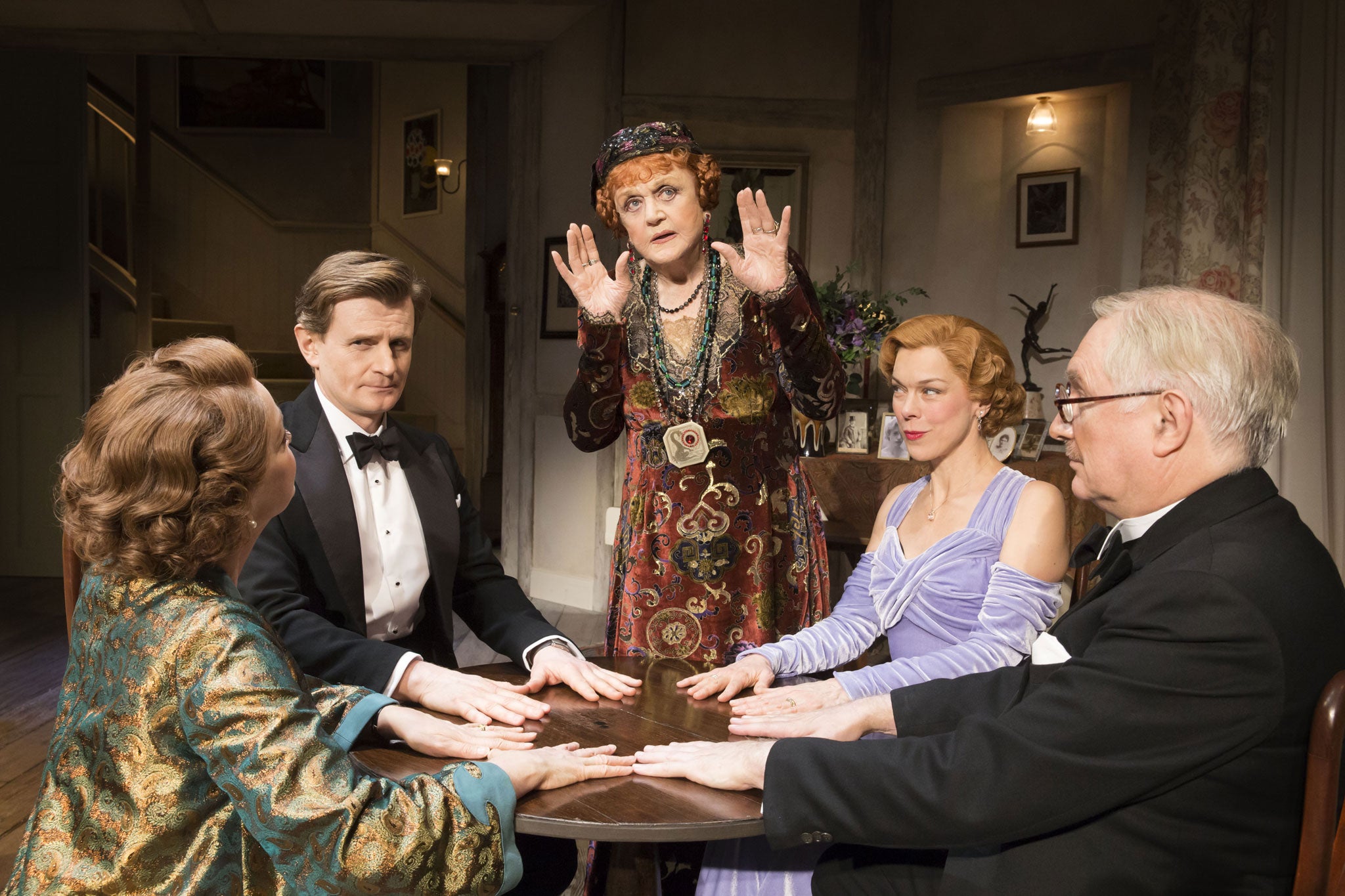 "Aw, bless her" cooed the woman behind me dotingly when Angela Lansbury finally bustled on, to a burst of rapturous applause, in this West End reprise of her 2009 Tony Award-winning turn as Madame Arcati, Noel Coward's eccentric medium.
It's a sentiment that the audiences now flocking to the Gielgud Theatre clearly echo.
The 88-year old Murder, She Wrote star, theatrical legend, and newly appointed Dame of the British Empire may not have trodden the boards in London for forty years but the public has firmly (and understandably) decided to accord her the status of National Treasure.
Her every exit and entrance in Michael Blakemore's wittily assured production is greeted with a warm round – especially the moment when Arcati goes off and pops back in again to purloin, as an afterthought, a fortifying cucumber sandwich for the bike ride home. It gives the delighted punters the chance to clap Lansbury twice in quick succession.
Highly skilled comic actresses (Dora Bryan and Alison Steadman among them) have come to grief in this role by overdoing the oddball qualities. This misses the point that the joke is, in fact, more on the snooty sceptics who invite the medium to dinner in a spirit of mockery only to find that she accidentally conjures up the ghost of Elvira, the first wife of the smug, remarried popular novelist, Charles Condomine, thus plunging him into astral bigamy.
With her red Princess Leia-style coiffure and clashing arty-meets-hearty wardrobe, Lansbury's Madame A is a quivering, deliciously erratic blend of bohemian lady novelist and girl guide as she knocks back the dry martinis and jauntily urges that "[we] really put our shoulders to the wheel" at the next séance.
It's the way, though, that she emphasises the medium's batty and strangely admirable self-belief that makes her portrayal so funny and endearing. Hence the hilariously total solemnity with which performs a stiff-kneed, lunatic getting-into-a-trance dance (with apologies to the Rite of Spring) and the long glare that could shrivel a scorpion with which she counters any hint of levity from the doctor's wife. "'Amateur' is a word I cannot tolerate," she declares with a fastidious shudder, her sense of the dignity of her calling never remotely dented by the evidence of its unruly results.
The bickering menage a trois is exceptionally well played here. Charles Edwards beautifully captures the supercilious suavity of the novelist who is knocked off balance by the idea that it's his "subconscious" which has summoned Elvira. As Ruth, his managing, tidy-minded second wife, Janie Dee is delectably waspish and distraught, while Jemima Rooper, with her strong-jawed, subversive looks, alluringly brings out the anarchic earthiness of the ghost's havoc-creating malice. Coward doesn't make either character an attractive proposition and with the novelist eventually giving both wives the slip (Edwards, wearing two black arm bands, amusingly struggles to suppress a smirk) this is a cold-blooded, arguably misogynistic comedy. But it's warmed by the presence of Lansbury who, at the standing ovation, looked to be a very happy medium
To June 7; 0844 482 5130
Join our commenting forum
Join thought-provoking conversations, follow other Independent readers and see their replies