Blue/Orange, Young Vic, theatre review: Joe Penhall's play is a contemporary classic
Paul Taylor Comments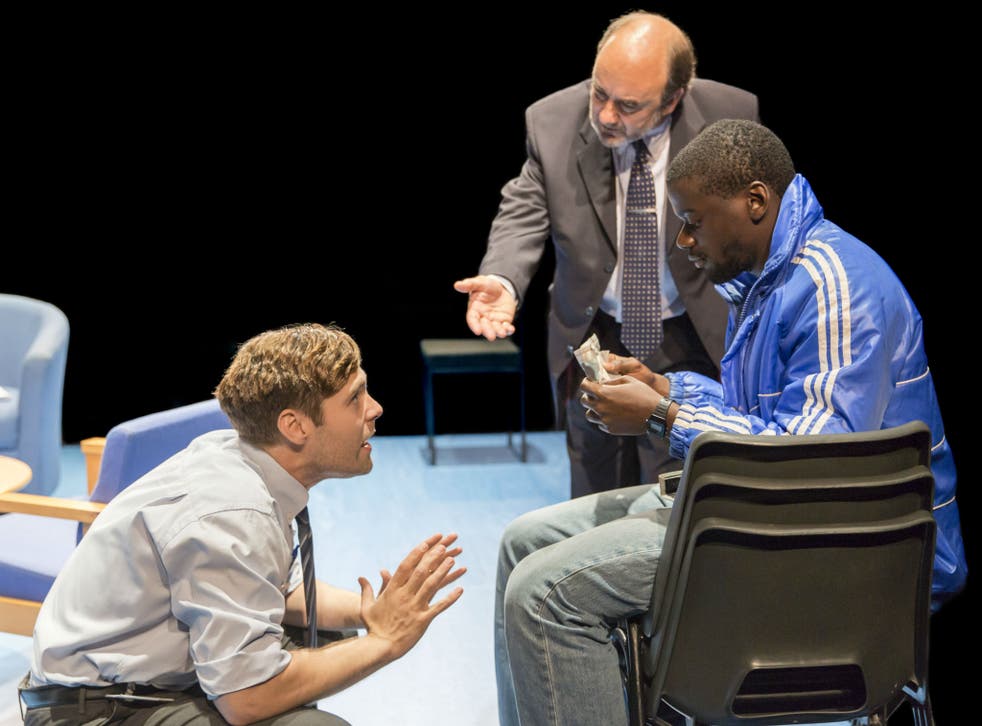 From the moment Joe Penhall's play was premiered back in 2000, it was obvious that here we have a contemporary classic. Matthew Xia's remarkably vibrant and punchily performed revival reinforces that view. The links between ethnicity and perceptions of mental illness, the politics of healthcare in a cash-strapped NHS and the sometimes career-conscious subjectivity of diagnosis – these are amongst the issues thrown up by Penhall's taut three-hander. To get to Xia 's production, the audience has to proceed through dark corridors where there's a whiff of disinfectant and citrus and through a blue consulting room that's weirdly identical to the one where the play is set. Jeremy Herbert's environmental design for this psychiatric hospital instils a Kafkaesque sense of institutional oppressiveness.
Christopher (Daniel Kaluuya) is a young black Londoner diagnosed with borderline personality disorder and about to be de-sectioned after a month's confinement. But is he well enough to re-enter ordinary life? Bruce (Luke Norris), his concerned and conscientious junior doctor, thinks that he needs further hospital treatment. Christopher believes that oranges are blue and that Idi Amin is his father. The senior consultant Robert (David Haig) is adamant that Christopher should be released back into the community. He's partly motivated by expediency (shortage of hospital beds) and partly by his conviction that there's a marked ethnocentric bias in the assumptions that white doctors make about mental illness amongst blacks. How else explain that Afro-Caribbean males are twelve times more likely to receive a schizophrenia diagnosis than their white counterparts? Why punish Christopher by institutionalising him?
The play is at its best when it shifts our sympathies between these two positions. The shrewd, witty ambiguities give way to a cruder form of comedy and to outright implausibilities as we realise how far this increasingly ugly battle of wills is fuelled by private career agendas. As Robert, the excellent David Haig veers from patronising attempts to be pally to explosive pomposity and seedy, destructive scheming but I never really believed that this comic monster behaves as he does because he's researching a revolutionary book about a cure for "black psychosis" that will clinch him a professorship. Nor did I credit it that Luke Norris's stubbornly idealistic, faintly over-controlling Bruce would be driven to a furious, career-threatening outburst against his patient.
About one of the elements, though, there's no cause for dispute. In its nervy restiveness and unpredictable lunges from jokey swagger to painful vulnerability, Daniel Kaluuya's stunning performance rightly keeps you guessing as to how ill Christopher actually is. It's the enveloping irony of this sharply funny and provocative piece that the two white professionals quarrel over his head and thereby do it in.

Register for free to continue reading
Registration is a free and easy way to support our truly independent journalism
By registering, you will also enjoy limited access to Premium articles, exclusive newsletters, commenting, and virtual events with our leading journalists
Already have an account? sign in
Register for free to continue reading
Registration is a free and easy way to support our truly independent journalism
By registering, you will also enjoy limited access to Premium articles, exclusive newsletters, commenting, and virtual events with our leading journalists
Already have an account? sign in
Join our new commenting forum
Join thought-provoking conversations, follow other Independent readers and see their replies